6 Connecticut Quartz Countertop Designs You'll Want in Your Home
Redesigning your kitchen to reflect modern trends and your personal taste can be a fun and exciting process. That said, you could get a bit overwhelmed when you first start researching your options for countertop materials and designs.
You've probably heard of quartz, but you might not know why it has become such a popular option for kitchen countertops, as well as for bathroom counters. This engineered surface, made mostly of natural quartz, is incredibly strong and resilient, and the non-porous surface is food safe and resistant to microbes like bacteria and mold.
It can also be made in a range of unique colors and patterns or designed to mimic the look of popular natural stone countertop options like Calacatta and Carrara marble. How can you choose the best product for your home remodel? Here are a few Connecticut quartz countertops serving up massive style inspiration.
1. Modern Rustic
Connecticut is rife with farmhouses, so it's no surprise that so many structures feature rustic kitchens. If you love the inviting appeal of this style but you want to bring it into the modern era, white quartz is a great option to explore, even if it seems like it won't fit the aesthetic.
The appeal of this Connecticut farmhouse kitchen says it all. The rustic aura remains, thanks to heavy-grained wood flooring, rough wooden beams, and a stone fireplace.
However, these elements are perfectly paired with modern design choices, from bright, uniform counters in what looks to be Arctic White quartz to white shaker cabinets, stainless steel appliances, recessed lighting, and modern fixtures in brass and glass.
2. Traditional Revamp
The sophisticated aesthetic of a traditional kitchen never really goes out of style, but you may still want to update it with modern elements without losing the original charm. Quartz can offer a surprising complement to your traditional kitchen, particularly when you choose a natural stone look, like Calacatta marble.
This Stamford renovation gives you an idea of what's possible, with white and gray counters and backsplash paired with white cabinets, cool gray walls, and stainless appliances and hood. Traditional touches like the shiplap ceiling, warm wood flooring, and carriage-style pendant lights in antique bronze preserve the original quality.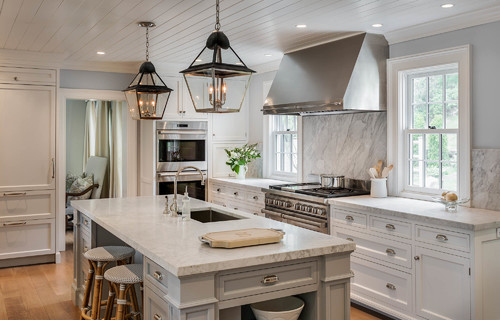 3. Contemporary Color
Because it can offer both natural and artificial looks, it's not hard to find Connecticut quartz countertops that can pair with literally any design scheme, from a tonal white kitchen or black and white motif to your favorite species of wood or any color in the rainbow.
Color trends certainly change, but when you opt for a neutral counter surface, it will look equally good with today's trending colors as with whatever paint you choose for cabinets down the line.
This transitional Tudor kitchen is a prime example, thanks to white countertops paired with a bold, blue island base. When you opt for neutral quartz, particularly with no- or low-variation, you can pair it with elements in any color.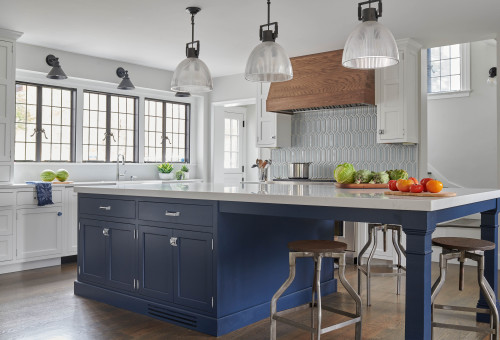 4. Modern Glam
With mix-and-match styles taking the design world by storm since the most recent turn of the century, you don't necessarily have to live in a modern home to enjoy a sleek, contemporary interior design. This modern Bridgeport kitchen offers a peek into the options available to you.
Flat panel cabinets in white are paired with countertops similar to the taupe, brown, and gray swirls of Caesarstone's Moorland Fog quartz. Paired with stainless steel appliances, recessed lighting, glass globe pendants, and dark wood flooring, the overall effect is incredibly modern but with a grounding in traditional design.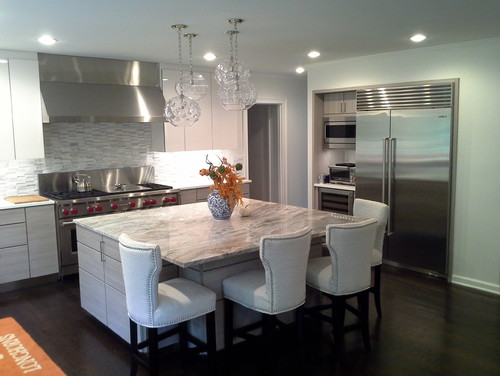 5. Dreamy Creams
Crisp whites have dominated kitchen design over the last couple of decades, but homeowners today are embracing warmer neutrals like beiges and creams, as seen in this traditional Bridgeport kitchen.
Off-white cabinets serve up an almost buttery appeal, which pairs beautifully with perimeter counters in a pale gray shade, like Caesarstone's Symphony Gray, and an island countertop in a cream hue. Honeyed wood flooring and a rich, chocolatey island base also contribute to the welcoming ambiance.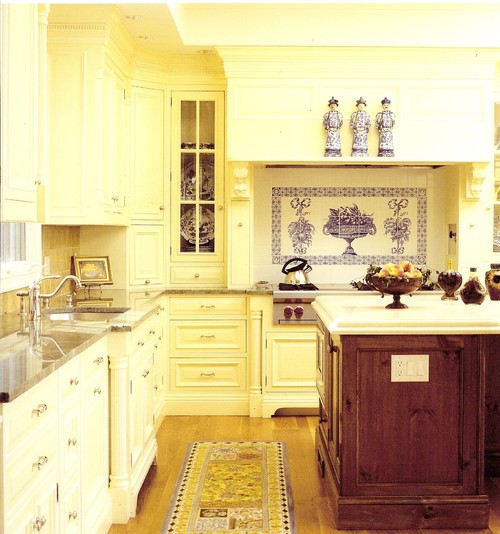 6. Moody but Mellow
If you're lucky enough to live in a spacious farmhouse, you likely want to preserve its natural, warm appeal. However, you might not necessarily want to keep everything original, especially if materials are damaged, outdated, or simply not living up to the demands of a busy, modern lifestyle.
With suitable Connecticut quartz countertops, you can kick off your kitchen remodel right.
An updated farmhouse look needn't go all white. Instead, pair rich, knotty woods with slate-like flooring tile and countertops in a dark, speckled design, as in this Bridgeport farmhouse kitchen. The dark palette feels cozy, with the perfect blend of modern and rustic elements.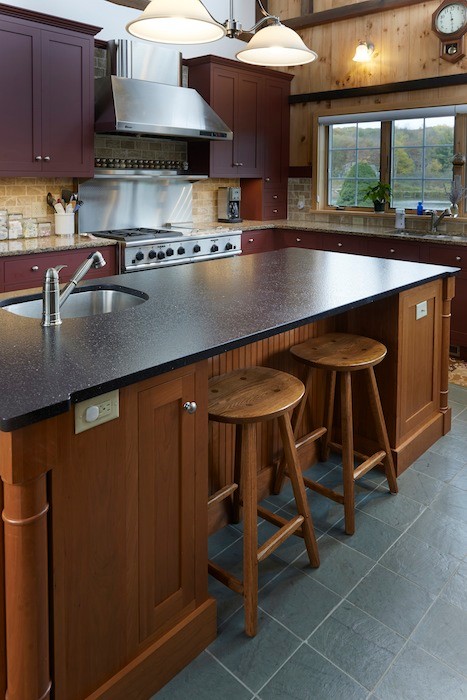 Create Your Own Copy-Worthy Kitchen Countertop Designs
A kitchen upgrade or remodel, especially selecting a kitchen countertop design, doesn't have to be daunting. With the right quartz countertops from Academy Marble, you'll have the basis for a beautiful, modern upgrade. Stop by the area's largest showrooms in Bethel, Connecticut or Rye, New York today to get started. Contact Us to Request a Quote