Why You Need Mitered Edge Countertops for Your Modern Kitchen?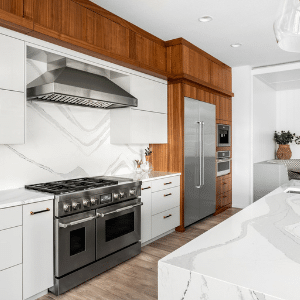 Just by calling out certain design elements, it's not difficult to tell which era a kitchen came from. For example, if you see appliances in avocado green or harvest gold, it's a good bet they've been in operation since the '60s or '70s (which is both impressive and a little frightening). If countertops are ceramic tile, the kitchen design likely dates back to the '80s.
As natural stone countertops gained popularity throughout the '90s and early 2000s, plenty of options for edge profiles emerged, including ornate designs like the curvy Ogee Bullnose, the tiered Triple Pencil, or the confluence of angular and curved edges found in the Dupont style.
Over time, however, the novelty of this style wore off. Today, the most popular edges tend to observe simple, clean lines. Mitered edges are nothing new, but they certainly appeal to modern sensibilities. So what is a mitered edge countertop, and why is it perfect for your kitchen remodel?
What Is a Mitered Edge?
A mitered edge is created when two edges are cut at 45-degree angles, then set together to create a 90-degree edge. This means that the seam is at the corner, resulting in a seamless illusion of a horizontal countertop appearing to spill over onto the vertical edging surface. It's particularly attractive when used with expansive waterfall designs, but it works well for any 90-degree countertop edge.
Benefits of Choosing a Mitered Edge
If you live in a house with children, you might naturally prefer a smooth, rounded, eased edge design for practical purposes. When little heads are at counter height, and small children are still developing spatial awareness and ambulatory skills, you don't necessarily want a lot of sharp edges in the home.
With that being said, there are several reasons why many homeowners prefer the aesthetic of a mitered edge for an upscale, modern kitchen design.
Invisible, Seamless Finish
There's both a practical and aesthetic reason to choose a mitered edge: It creates a seamless finish that's essentially invisible because it runs along the transition from horizontal to vertical space.
Whether you're adding a regular edge piece or a waterfall-style island or peninsula, this allows for an unbroken continuation of the pattern, provided you have enough slab material.
The Calacatta marble in this U-shaped New York transitional kitchen features bold, distinctive veining, so it would be obvious and jarring if two different slabs were slapped together at the seam. However, with the mitered edge, the pattern flows seamlessly over the edge and down to the floor, lending visual cohesion to the design.
Modern, Minimalist Aesthetic
Traditional home styles tend to feature a range of embellishments, but modern architecture is much more streamlined. The minimalist aesthetic calls for clean lines and simple design, creating a sophisticated interior marked by uncluttered appeal.
This contemporary New York kitchen offers an ideal example, with a modern, two-tone color scheme that includes flat-panel cabinets in white, while the flooring and granite counters are in gray. The sleek, mitered edges on the waterfall island perfectly complement the effortless aesthetic.
Add Luxury Detailing
It's easy to confuse richness with overabundance, but when it comes to design, less is often more, especially in modern design. This elegant, contemporary kitchen provides an excellent example, with every piece curated to reflect the international tastes of well-traveled homeowners.
Influenced by luxury hotels from New York to Denmark to Croatia, this kitchen features black, flat-panel cabinets, a copper range hood, and dynamic Val d'Orcia granite countertops. The mitered edge on the waterfall island not only preserves the unique pattern as it spills over the edge but also highlights the thickness of the slab, promoting a luxury aesthetic.
Versatile Design Choice
Not all counter surfaces are going to look great in every design. For example, you might not choose a honed granite counter in Absolute Black for your Victorian cottage kitchen, but it would definitely elevate the appeal of a contemporary space.
The same is true of the edge design you choose. While an Ogee edge would probably look lovely in an ornate, feminine, French provincial kitchen, it would stick out like a sore thumb in a minimalist, modern design.
Because a mitered edge is both simple and elegant, it truly can work with any design style. While it seems tailor-made for modern interiors, this homey, transitional kitchen proves that it's equally appealing in a rustic setting, where heavy-grained wooden cabinets and flooring, rough-hewn ceiling beams, and industrial lighting are paired with a trendy waterfall island.
Ease of Cleaning and Maintenance
Aesthetics are always a primary concern when it comes to kitchen renovations when you expect a significant return on investment, but you can't forget practical considerations. Mitered edges deliver here as well.
This edge treatment is easy to clean and maintain, with no seams running along the horizontal counter surface that could invite grime buildup or an increased risk of breakage.
Whether you're interested in marble, granite, or an engineered surface like quartz, a mitered edge can help create the streamlined, modern aesthetic you crave. Visit an Academy Marble & Granite showroom in New York or Connecticut today to speak with a qualified professional and learn more about attractive home upgrade options.