The Leathered Quartzite Trend is In! Here's What You Should Know
It's easy to confuse engineered quartz and quartzite, which are both comprised largely of quartz. The main difference? Quartzite is mostly solid quartz stone, while engineered quartz is a manmade product featuring about 90% or more crushed quartz, mixed with binding agents, like resins and polymers, to create a nonporous surface material.
If you're looking for the prestige, strength, and durability of natural stone, quartzite is a fantastic option. It ranks at about 7 on the Mohs hardness scale (approximately the strength of granite if not harder) and often features soothing colors and delicate veining similar to marble. If you want something that looks like marble but is harder than granite, quartzite offers the perfect combo.
While polished quartzite provides the classic elegance some homeowners prefer, many modern homeowners as of recent are leaning toward matte looks like honed or leathered finishes. They have a similar matte look, but honed surfaces are relatively smooth, while leathered finishes have a pebbly, textured look that is completely unique.
Before you decide whether leathered quartzite is right for your next home upgrade or addition, there are a few things you should know about the appearance, the appeal, and the upkeep for this trendy, modern finish.
The Look of Leathered Quartzite
Quartzite is a beautiful, natural stone that comes in a wide range of colors and patterns. Some of the most popular quartzite options feature pale, neutral colors (cream, beige, gray) with light veining, similar to marble.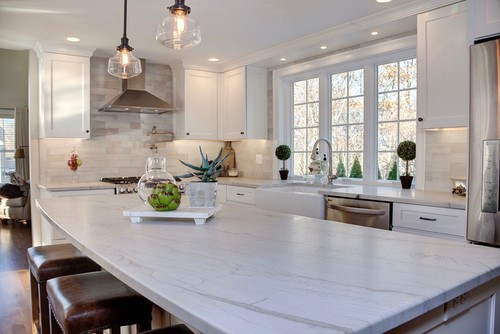 For example, the Mont Blanc quartzite in this bright, transitional kitchen could easily be mistaken for a popular marble variety like Calacatta or Carrera.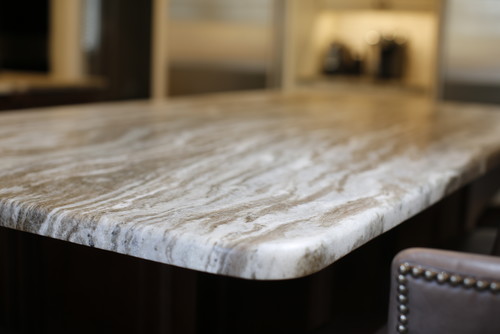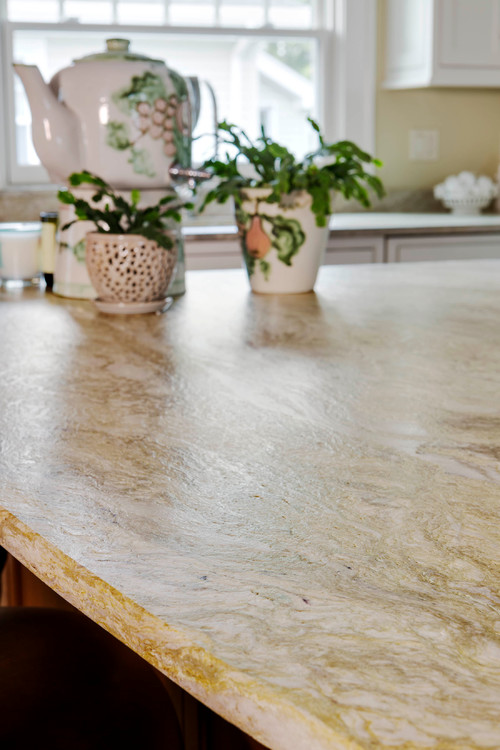 Or take for example this
transitional kitchen
featuring warm tan, brown, and golden tones of the Soleil quartzite.
One major difference from other stone types versus quartzite is that the veining in quartzite can be textured, adding depth and visual interest to this lovely natural stone.
While polished finishes typically show colors and striations in natural stone surfaces to the best advantage, leathering can actually play up the divots and fissures inherent to quartzite.
Leathering displays the distinctive characteristics of this stone in an eye-catching way, and the fact that it doesn't reflect the light like a polished surface means you'll enjoy a lot more of the natural grain of the stone, which would otherwise be lost.
If you want the color of your quartzite to be the star of the show, selecting a polished finish may be the way to go, but if texture is your main concern, you'll get a lot more depth and dimensionality with a leathered finish.
A Laidback Ambiance
Aside from the aesthetic appeal of a leathered finish, many homeowners are leaning toward leathered countertops as a way to create a more casual feeling in much-used family spaces like the kitchen.
While natural stone always imbues a home interior with a level of luxury and sophistication, polished surfaces carry a connotation of formality.
Whether you're lounging in the kitchen, cooking a meal for your family, or you're getting some R&R by soaking in a steamy bath, a leathered finish is going to be less reflective and therefore less formal. This helps to create a laidback ambiance many homeowners crave in their personal sanctuaries.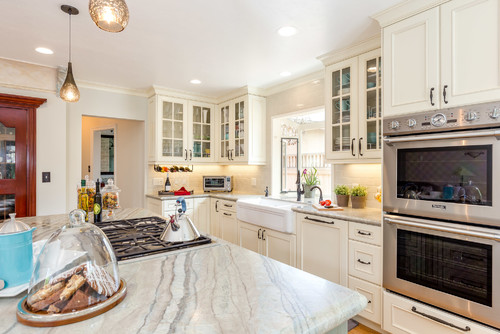 While there's still a satiny sheen to leathered quartzite, as seen in the creamy Corteccia slab in this
elegant, transitional kitchen
, the added depth and dulled complexion of the surface help to create a warm, inviting feel that encourages lounging and relaxation.
Cleaning and Maintenance of Leathered Quartzite
Any natural stone countertop is going to require some amount of cleaning and maintenance to prolong the life of the surface, but leathered finishes may require slightly more.
You might assume that the textured finish will hide dust, stains, water spots, and fingerprints, but the opposite is true. The polishing process actually reduces some of the natural porosity of the stone, making it somewhat easier to clean and maintain.
What does this mean for the upkeep of leathered surfaces?
In truth, it's not much different from other stone surfaces. Quartzite is susceptible to etching and staining, although it resists scratching, chipping, cracking, and other major forms of damage. This means you have to be careful to wipe up spills, especially those with high potential for staining (such as wine, pasta sauce, coffee, etc.).
Frequently wiping the surface with a damp, microfiber cloth will help to keep dust, grime, and build-up to a minimum, but this is pretty much par for the course with any natural stone countertop.
You may have to reseal leathered surfaces more often than polished ones, but it will depend largely on usage and daily care. Cleaning with a product designed for natural stone can help to extend the life of the sealed surface.
Does leathered quartzite offer the look and feel you want for your tranquil kitchen or bathroom space? If you're searching for the perfect slab to complement your décor and satisfy your personal preferences, it's time to check out the Academy Marble & Granite portfolio. Or you can visit one of our convenient showrooms in Bethel, CT or Rye, NY to speak to a friendly and qualified professional.