Look Out New York: Taj Mahal Quartzite Countertops Are Taking Over Kitchen Designs, and Here's Everything You Need to Know About Them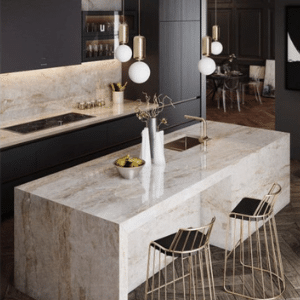 Design trends change over time, but certain elements come back into vogue again and again. You only have to look at building styles throughout history to see marble come and go, and of late, granite has held a position of dominance when it comes to counter surfaces throughout the home.
Quartzite, while less sought-after than its marble and granite cousins, is an incredibly underrated natural stone alternative. With its subtle color and pattern, quartzite doesn't have the same flash, but its quiet serenity is nothing to sniff at, especially when creating a timeless design.
Taj Mahal quartzite, in particular, has recently emerged as a popular option for homeowners looking to create a Zen retreat in these mad times. Why should you consider this calming variety for your New York loft, row house, or manor renovation? Here are a few reasons to love this breathtaking stone.
Taj Mahal Has Subtle Personality
From afar, Taj Mahal quartzite looks like a low blanket of clouds floating through gently sifting white sands. Soft white intermingles with pale beige striations, marked by sparse, delicate veining in golden — and sometimes amber and chestnut — tones.
Patterning is typically lengthy and linear, emphasizing long, narrow counter spaces as in this traditional, L-shaped kitchen featuring an expansive island.
Brazil may be best known for unique and exquisite granite varieties (an estimated 70% of the world's granite supply is quarried there), but you can't overlook the country's quartzite output.
While exotic varieties like Golden Blue, Da Vinci, and Mirage quartzite are certainly eye-catching, Taj Mahal offers an entirely different aesthetic with neutral hues, soft patterns, and an overall air of utter tranquility that many modern homeowners are looking for.
Neutrals Bring Beauty and Warmth to Your Home
While this quartzite is light in color, it has a pale warmth that pairs well with both light and dark tones to create an inviting home interior. It looks especially lovely with wood tones, as in this traditional, U-shaped kitchen.
The warmth of the quartzite is particularly notable against bright, white cabinets, but the coloration mirrors the natural wood planks of the flooring and the beige tones of the herringbone tile backsplash.
While the Taj Mahal countertops in this masculine, contemporary kitchen design offer incredible contrast against darker elements, the golden tones draw on the coppery backsplash tile and the espresso hue of the cabinets, creating a cyclical warmth that permeates the entire room.
It Lends Your Space an Air of Serenity
During these trying times, the last thing you want is to come home to a space styled to within an inch of its life. Your home should be a place of refuge from work demands, personal obligations, and the never-ending cycle of cataclysmic news.
You want to enter an interior that feels calm and inviting, and Taj Mahal quartzite can add to this ambiance in a big way. Just look at this contemporary kitchen replete with neutrals, including flooring, countertops, and backsplash in soft, soothing natural stone.
Stainless fixtures and hardware provide a mild contrast to an otherwise airy space in cream tones that include the Shaker cabinetry and wall color. Just slightly darker is the beigy quartzite, marked by soft striations that add just a hint of movement to the space. It's easy to imagine yourself relaxing in a room like this.

Quartzite Is Incredibly Resilient
In case you didn't know, quartzite is the hardest natural stone counter material on the market. Stronger than even granite, quartzite lands on the Mohs' hardness scale at a solid 7.
Although it's not impervious to damage, quartzite is incredibly durable, offering resistance to common forms of damage like heat, UV rays, etching, scratching, chipping, cracking, and staining. This makes it a practical and beautiful choice for busy homes that suffer a lot of daily wear and tear.
Timeless Appeal Adds Value to Your Home
Because of quartzite's unique properties, pricing can be slightly more than comparable natural stone options like granite or marble. However, choosing a subtle, neutral variety like Taj Mahal can dramatically boost the value and appeal of your home, especially when you opt for a timeless design.
Consider this expansive traditional kitchen space. The Taj Mahal counter and backsplash are paired with white cabinetry featuring simple recessed panel doors, heavy-grained mid-tone wood flooring, a standalone cabinet in rich mahogany, and hardware and fixtures in silver and gold.
This not only offers a visual transition between light and dark tones but also creates subtle movement amid relatively flat planes. The result is a kitchen that will look equally inviting in 10 or 20 years or more.
If you're looking for a soothing natural stone to make your home into an inviting retreat, Taj Mahal quartzite is right up your alley. To learn more about this stunning countertop material, consult with the talented professionals at Academy Marble & Granite's New York showroom today.