Summerhill Cambria Quartz Is the Perfect Serene Color for Your Coastal Home
When you think of coastal designs that embody the classic, seaside aesthetic, you probably picture whitewashed walls, weathered wood furniture and flooring, tons of natural light, comfy, slip-covered seating, and nautical décor. You might imagine fishing nets and colorful floats, oars and anchors, and seashells galore. It's not hard to spot this style, which brings in elements of the sun, sand, and surf.
What you might struggle with is finding ways to upgrade your coastal home with modern appeal, inviting in current trends without losing sight of the hallmarks of the style.
One great way to make a casual, beachy home feel more luxurious is by upgrading countertops to modern, luxury quartz. Engineered surfaces, such as quartz, offer the beauty you crave while preserving the easy lifestyle you love.
Cambria's Summerhill quartz, which is part of their Coastal Collection, is a great fit for homeowners who are seeking a way to add personality to their space without upsetting the natural balance that's key to preserving a coastal aesthetic. What makes this gorgeous countertop perfect for your tranquil beach home? Continue reading for how to perfectly pair Summerhill Cambria quartz to your existing coastal decor.
A Balanced Aesthetic
Named for a Welsh coastal village known for silver clouds floating above gray seas, this quartz from Cambria is nothing if not the perfect blend of serenity and drama. The base is creamy and dreamy, with gray swirls and black flecks that add incredible dimension to the surface.
However, the soothing expanse is broken up by thick veining in pale gray that streams across the surface like rivulets forming a river delta. The overall effect is calming, but the patterning adds an element of drama that draws the eye, making this countertop material a great option to upgrade any coastal kitchen.
Perfect Pairings
Neutral Summerhill goes with any modern design, but it's particularly well-suited to the beach home aesthetic.
Bright and Airy
An abundance of bright, white surfaces and natural elements form the basis of the classic, coastal design, as seen in this
transitional, I-shaped kitchen
. Summerhill quartz is used to maximum effect on long perimeter countertops, as well as the backsplash, where veining runs longways to emphasize the spaciousness of the room.
White cabinets and silver hardware perfectly complement the countertops, while pale wood flooring adds natural appeal and a hint of warmth to balance an otherwise cool palette.
This
open-concept, transitional kitchen
offers another good example of the classic style, with white cabinets, stainless appliances, and mid-tone wood flooring to ground the tableau.
Gray Days
Bright doesn't have to mean white, as this
two-tone, transitional kitchen
proves. The modern space pairs Summerhill quartz with upper cabinets in white and lowers in gray. The space features an eye-catching arabesque backsplash tile in white and paint in pale taupe to warm up the design a bit.
For a look that's a lot more modern — albeit considerably less coastal — try a darker gray, as in this open-concept galley kitchen. Dark gray upper and lower cabinets are offset by large, white backsplash tiles. Light gray Summerhill quartz countertops create the middle ground visually, along with mid-tone gray walls and weathered wood flooring.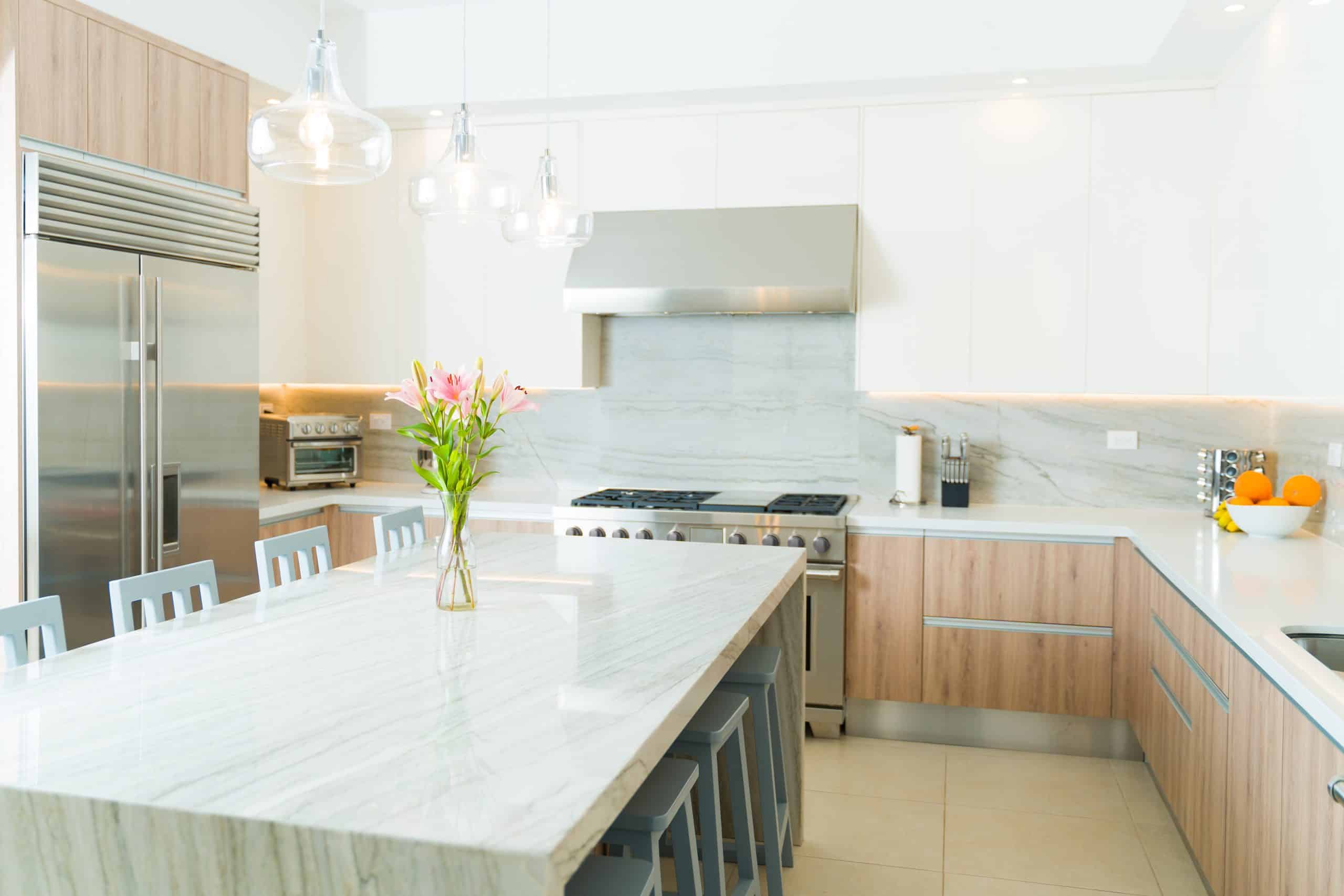 Going Rogue
Light and breezy is the name of the game when it comes to coastal design, but that doesn't mean you can't buck the trend. If you prefer darker, more masculine designs, you might like the look of this
transitional kitchen
, featuring dark wood cabinets above and below.
The white subway tile backsplash stands out in stark contrast, while Summerhill quartz countertops ease the transition between light and dark and provide some much-needed pattern in a sea of flat surfaces.
Dark gray tile flooring completes the masculine look. It might not be entirely in keeping with the coastal aesthetic, but it could certainly work for an upscale, modern residence with an ocean view.
Green with Envy
White is the trend de rigueur in coastal design, but if you need some color, you can definitely find ways to update this staid style. Case in point? The eco-friendly transitional kitchen in this Craftsman home.
Quartz countertops are also an excellent eco-friendly alternative to other surfaces. The biggest draw is that engineered quartz doesn't necessarily have to be quarried, which means it saves on the energy, pollution, and waste inherent to mining industries. In addition, quartz countertops are extremely durable, so much so that many manufacturers offer a warranty, including Cambria. This means that the countertops won't need to be replaced as quickly as some other materials, and in many cases, quartz is recyclable.
Not only does the stunning, green backsplash tile elevate neutral white cabinets and playful quartz countertops, but the Passive House design includes ultra-high efficiency windows and doors, tons of natural daylight, Energy Star appliances, and solar power. In short, it proves how great green can be, both visually and practically.
Clean and Casual
Quartz is not technically a natural stone, as it's not quarried in unbroken slabs from the earth. With that being said, it does consist of 90% or more natural quartz content. This is paired with binding resins and polymers to create a strong, durable counter surface that also happens to be non-porous and food safe. Unlike natural stone, it requires no sealing.
Quartz is also resistant to scratching, etching, staining, and other common forms of damage. It's easy to clean with little more than soap and water or an all-purpose cleanser. If you're looking for an ideal kitchen counter surface for your coastal home, you really can't go wrong with convenient and attractive Summerhill Quartz from Cambria.
The experienced professionals at Academy Marble & Granite are always happy to help you find the perfect counters for your home remodel. Start by perusing our portfolio for style inspiration.