What is the Most Recommended Thickness of a Quartz Countertop?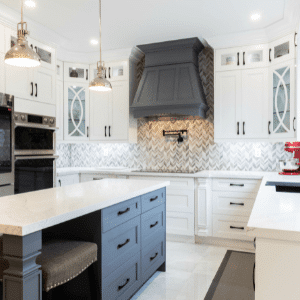 While there's no denying the beauty of natural stone, such as marble, granite, or quartzite, engineered quartz has gained significant popularity over the last several years, and it's not hard to see why. There is a recommended thickness of Quartz countertop, learn more below.
Not only is this countertop material incredibly resilient, but it offers a non-porous, food-safe surface that's easy to clean and maintain, with no need for special cleaners or sealing.
Even better, you can find options that mimic the natural beauty of your favorite marble and granite varieties, delivering the look you love paired with the many practical benefits of quartz. Quartz countertops are ideal for busy households with messy kids and little extra time for cleaning.
Once you've chosen the design that best meets your design aesthetic, the only decision that remains is to choose the thickness. How do you know which thickness is right for your home upgrade project? Is there a standard to go by?
Industry Standards for Counter Thickness
You might think that because quartz is a manufactured surface material, it needn't be the same thickness as a marble or granite slab. While it's true that quartz can be made thinner — and it sometimes is — the standard thickness is the same.
Both natural stone and engineered quartz countertops have a standard thickness of 3 cm or about 1.25 inches. These materials are similar in density, which means they'll be about the same weight at the same size and thickness.
This is important for practical and aesthetic design considerations. When you see a quartz countertop, you might not think much about the thickness.
Consider the inky quartz in this black and white transitional kitchen, which looks like black galaxy granite.
You probably don't know that if it wasn't thick enough, it would likely require an added base for stabilization, necessitating an edge piece to hide the underlayment. This would ruin the clean line of the edge and serve as a dead giveaway that the slab wasn't thick enough — and probably indicate that it wasn't natural stone.
Benefits of Choosing Standard Recommended Thickness of Quartz Countertop
The main reason to choose standard thickness quartz for your counter surfaces is that it offers the best balance of strength and durability versus weight. There's a reason why a standard was adopted.
While you might think thicker is better, sticking to the standard is in your best interests. Why? For starters, thicker, heavier countertops may not suit less robust cabinetry. They could also be detrimental in older homes that have settled and feature cracks, sagging, and overall wear and tear.
Optimal Strength
A thickness of 3 cm is strong enough to support a lot of weight but not so heavy that it will compromise the integrity of the supporting cabinetry.
While you might not necessarily stand on countertops, you may want to add an array of small appliances, heavy dishware, or even a cabinet for cookbooks — as in this traditional kitchen, featuring white quartz counters that elevate an old-world design.
Ease of Installation
Counters in a standard thickness can be applied directly atop cabinets, eliminating the need for added materials, like a plywood base and edging materials, as well as the additional labor they entail. The 3 cm quartz will cost more than thinner stock, but don't forget to factor in all of the fabrication and installation costs.
Design Opportunities
With a slab of standard thickness, you can create an overhang of up to about 16 inches without added support. With a thinner slab, you can only add about 8 inches before you need supports, and this isn't enough room to add bar seating, for example.
The Crystal White PentalQuartz used in this contemporary kitchen is actually 1.5 inches — just slightly thicker than standard. Standard (or greater) thickness is essential with an extensive island overhang with no added legs for support.
When you choose a standard thickness, you'll also find that your favorite looks are readily available at competitive pricing.
Potential Drawbacks of Thinner Counter Surfaces
As noted earlier, a thinner surface material will require the added support of a plywood base and edging to hide the plywood. This could add to costs and the time needed for fabrication and installation. Failure to observe these extras could result in a weak counter surface or unsightly, exposed underlayment.
Still, there are times when you could get away with using a thinner base. This is only really appropriate for small counter surfaces, like a small bar or coffee nook or a bathroom countertop.
The general rule of thumb is to choose 3 cm thickness for any surface larger than 24 square inches. Keep in mind that thinner slabs may not come with the same warranty as thicker ones, and since the potential for damage is higher, this can cost you in the long run.
Choosing the Perfect Quartz Countertop
If you need some help choosing the right quartz countertop options for your home upgrade, the experienced professionals at Academy Marble & Granite are here to help. Visit our convenient showrooms in Connecticut or New York to speak with a friendly associate today.