6 Quartzite Countertops You'll Want to Add to Your Outdoor Spaces
Quartzite is among the most beautiful and durable of natural stones, which makes it ideal for countertops in kitchens and bathrooms that take a lot of daily abuse. It's also recommended for use in exterior spaces, like outdoor kitchens, bars and cooktops.
Slightly harder than granite (it ranks at 7 on the MOHs hardness scale while granite comes in at 6-7), quartzite is also denser and less porous, which makes it more resistant to damage from heat, as well as common issues like staining, scratching, etching, cracking, chipping, and more, especially when properly sealed and maintained. It's also resistant to the effects of UV rays, which means it's unlikely to fade when used on a sunny patio.
On the flip side, quartzite often has the look of marble, which makes it an attractive option for those who love the look of this natural stone, but want something more durable for outdoor use. Quartzite varieties tend to be dominated by paler color palettes and limited patterning, but many homeowners love the calming appeal of this natural stone, and there are a few truly stunning varieties to peruse if you crave more visual interest.
If you're drawn in by the many benefits you'll enjoy when you choose quartzite countertops for your outdoor entertaining spaces, here are just a few gorgeous options to consider.
Princess White
Elegant Princess White quartzite is an excellent choice for anyone who leans toward the look of luxurious Calacatta or Carrara marble but needs something much more resilient for their busy household. The largely white surface is punctuated by pale gray patches and veining, and even subtle hints of pink, as well as quartz deposits that add a hint of sparkle.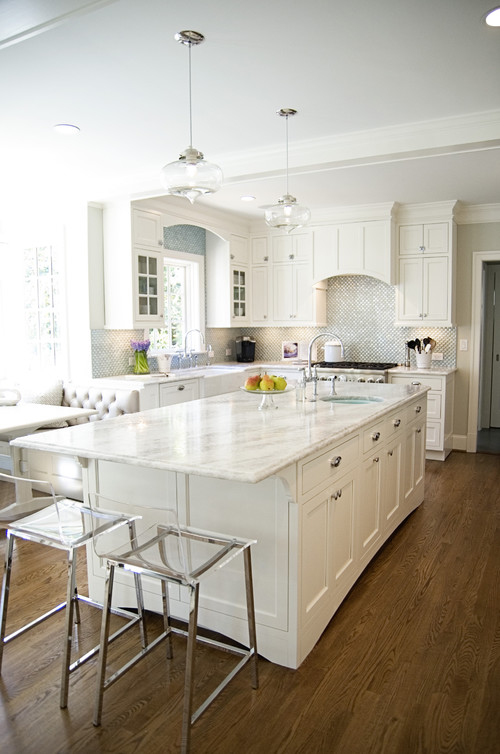 It makes for a beautiful addition to bright, white cabinetry, as in this traditional kitchen, but also pairs well with natural wood tones, stacked stone, and pretty much anything you want to place it on when designing your outdoor kitchen.
White Macaubas Quartzite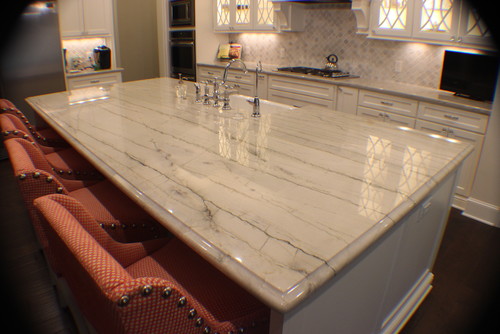 Like all natural stone slabs, you're going to find a lot of variation. If you're not keen on the feathery, indistinct patterns that give many quartzite varieties their soothing appeal, you're like White Macaubas, seen in this contemporary kitchen with linear, dark gray striations against a crisp, white background.
Like White Princess, this creamy quartzite pairs well with everything from white cabinetry to a wide range of wood tones, as well as intensely dark cabinets, if you like a lot of contrast. It also looks lovely with stainless steel outdoor appliances.
Taj Mahal Quartzite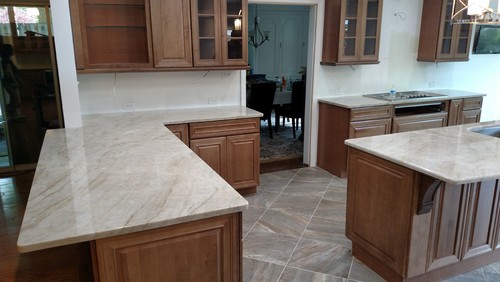 Bright white looks fabulous in most kitchen settings, but for an outdoor kitchen, you might lean toward something with more warmth and subtlety, that more closely matches the natural surroundings. The creamy, golden hue and whisper-soft striations in Taj Mahal quartzite are sure to catch your fancy, and as you can see in this unfinished kitchen space, it looks absolutely dreamy next to natural wood and stone tile flooring.
Sea Pearl Quartzite
One of the most beautiful examples of classic quartzite, Sea Pearl quartzite features a multitude of intertwining gray and white striations, creating patterning that looks like swirling northern seas, rather than the cerulean oceans of Brazil, where the stone is quarried.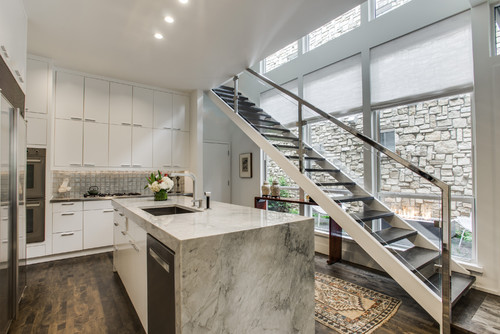 A truly stunning addition to any kitchen space, as in this modern townhouse, this mesmerizing quartzite can't help but draw attention, and it's sure to serve as a showstopper when you choose it for your outdoor kitchen.
Azul Macaubas Quartzite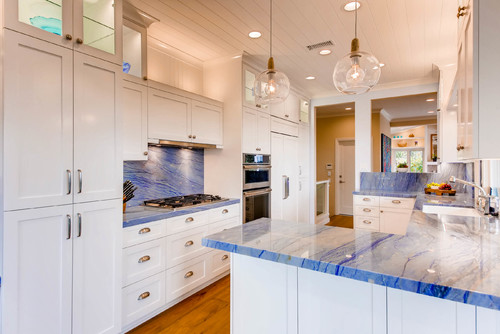 This exotic variety from Brazil is not your average quartzite, featuring bold, blue hues that are a far cry from the pale, creamy color palette you might expect. It's not for everyone, but if you want a countertop that mimics the azure sky or picks up the cobalt in your pool, you can't go wrong with this colorful quartzite, which looks like a river running through this white kitchen.
Amazonite Quartzite
If you want to mimic the browns and greens of nature, you might despair of finding a quartzite variety to jive with your vibe. You might be surprised to discover this striking variety, punctuated by turquoise and emerald carved by white and taupe veining.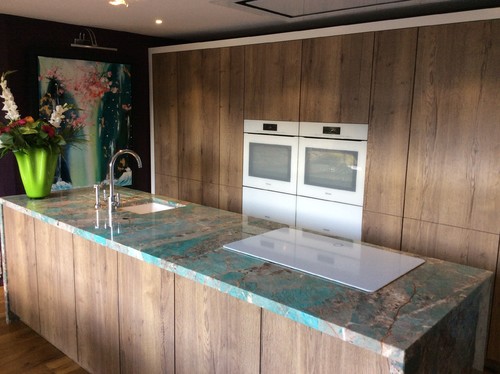 It doesn't particularly look like a marble, a granite, or really, a quartzite for that matter, but it will be the absolute star of the show in your outdoor kitchen. Just look how it fares against the medium tone wooden flooring and cabinets of this contemporary kitchen, and you can imagine how it would shine in natural light.
When it comes to countertop surfaces, you'll have no trouble finding reasons to appreciate quartzite from a purely practical perspective, especially when you're seeking options hardy enough to stand up to the elements in your outdoor kitchen. However, you'll also find a wide range of stunning varieties that allow you to express your personal taste by standing out, or alternately, pairing perfectly with the natural surroundings. Whatever you choose, quartzite countertops will surely elevate your outdoor space.
Need Help on Your Project?
We would love to help you pick the perfect countertop material for your next outdoor kitchen upgrade or addition. To request a complimentary consultation with one of our design experts, click here.