The Recent Trends for Your New York Kitchen Renovation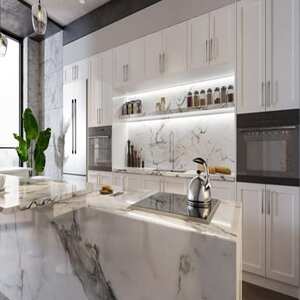 New York kitchens are among the most beautiful and trendsetting in the world, but like any home interior, they become outdated over time. If you're ready for an upgrade that pairs practical innovation with modern aesthetics, there are several timely trends you might want to take advantage of. Here are a few to add to your renovation checklist.
Massive, Multi-Functional Islands
The pandemic saw an explosion of residential remodeling projects as people started spending a lot more time at home. As always, kitchens were popular, especially the New York kitchen. Not only because of the favorable return on investment but because of how much time people spend in this hub of the family home. New York kitchens as well as Connecticut kitchens.
One trend that has persisted is the inclusion of massive islands that offer multifunctional appeal, providing space for increased cooking, baking, and meal prep, as well as activities like homework or working remotely. This is especially nice in open floor plans that don't offer a lot of separate workspaces.
This traditional kitchen serves as a great example. The 12.5' island in Spring White granite has a central sink and plenty of space for food prep and kitchen storage on one side, as well as an expansive seating area on the other side for intimate dining or other activities. New York kitchen trends are moving away from granite and into Quartz, Quartzite and Marble.
Organization
Okay, being organized has always been vital in the busy kitchen space, especially in small homes where every inch counts. These days, however, homeowners want built-in solutions, from drawers designed to hold utensils, knives, and spices, to cabinets meant specifically for baking sheets and cutting boards, to pull-outs for trash and recycling.
This mid-century modern kitchen even has a hidden spot for a standing mixer, complete with an electrical outlet.
Quartzite Countertops
Marble and granite are always popular options for natural stone countertops, and resilient, non-porous quartz has quickly become a favorite in busy households.
However, quartzite has been giving these surfaces a run for their money. It's not hard to see why when you learn that quartzite is even harder than granite and resistant to heat and damage like staining, scratching, chipping, and more.
It's also incredibly beautiful, with varieties ranging from bold colors and patterns to soft, soothing neutrals. A perfect example of the latter is found in this classic kitchen, featuring golden wood flooring, darker cabinetry, and contrasting counters in White Macaubas quartzite.
Saturated Cabinet Colors
Colored cabinets have enjoyed a resurgence in recent years, with dark hues like navy and lighter pastels like mint dominating. However, things have recently taken a turn for the bolder. Rich, pigmented jewel tones like sapphire and ruby are taking center stage.
While some adventurous homeowners are willing to go all out with this trend, others opt for a more understated approach. If you're nervous about adding shocking color to all of your kitchen cabinets, consider adding a pop of color on the island or butler's pantry, as in this contemporary kitchen.
Detailed Cabinets
An all-white kitchen makes for a bright and breezy place to cook, but it can look a bit flat and featureless if you're not careful.
Although clean, classic, flat-front cabinets remain a popular choice for minimalist design styles, newer renovations are seeing more details like Shaker, beveled, and other door styles that add dimension, detail, and subtle personality to the kitchen.
This traditional kitchen adds some visual interest to white cabinetry and Cambria quartz countertops in Torquay with Shaker-style cabinet doors, double-stacked glass cabinets, and an island base and subway tile backsplash in the palest of gray hues.
Smart Appliances
Can your oven send you an alert when it needs cleaning? Can you set a timer or change the temperature without leaving the couch? Does your fridge help you make your grocery list or check if you're out of milk or eggs while you're at the grocery store?
Smart appliances are invading the kitchen space in a big way and adding tons of convenience to your daily life. Modern, black stainless steel is also popular, as seen in this transitional New York kitchen.
LVT Flooring
Luxury vinyl tile flooring is waterproof, warrantied, and made to look like natural wood planks at a lot lower cost — what's not to love? It also feels comfortable (not cold and hard) underfoot and can dampen noise, unlike other hard flooring known for creating an echo indoors.
This makes it an ideal choice for modern home renovation, especially in areas like the kitchen or bath where moisture and spills could occur.
As you can see, it looks fantastic in this contemporary, open concept kitchen, where it's paired with espresso cabinets and a Dekton waterfall island, perimeter counters, and backsplash in a Calacatta marble look.
If you want to update your kitchen to align with the recent New York kitchen trends to exhibit the latest design trends, it's time to speak with the qualified experts at Academy Marble & Granite. Check out our portfolio for design inspiration, or visit our New York showroom to find the perfect counter material.