How to Prepare for Countertop Installation on Delivery Day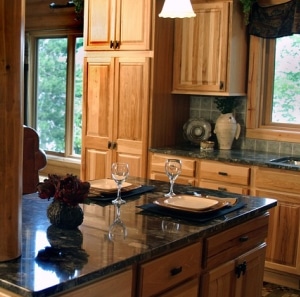 Delivery and installation of your stone countertop is probably the most exciting day after selecting your stone and stone color. The arrival of delivery day means you're only a few steps away from installation and the use of your new countertop. You want the installation to go well and so do we! The good news is we've done this thousands and thousands of times, so we have the procedure down to an exact science. Our installation comes complete with a step-by-step process that ensures everything goes smoothly and efficiently. We know you're nervous and excited and wondering what to expect, so we've created this article.
Prior to installation, our team will work with you to set a date for the installation, and to make sure the project area is prepped properly. A properly prepped area means your installation will go as quickly and smoothly as possible. Before our installation team arrives, we will have reviewed what responsibilities are yours and which ones we will manage. Working together, we'll make the process easier for the installers so that you can start enjoying your investment!
Depending on the size of your kitchen (bath etc.) and the complexity of the job, the installation will take from ½ to 4 hours. The average kitchen will take about 11/2.hours We ask that you not schedule anything else during that day in case there are delays. Our team will be able to give you an estimated time prior to installation.
Setting the Installation Date
Setting the installation date is important in preparing for delivery day. Get your calendar out and set a date and time where you can be there and not be rushed or pressured to be anywhere else. We require someone authorized to be home during the whole process. Please make sure other contractors are not working that day, or that they are in an entirely different part of the house if they are working. If you have children, guests, or visitors, they will need to know to stay clear of the area during installation.
It's best if they are not at the site during the installation, if possible. Setting your installation date means also setting a date for removing your existing countertops. If this is a new home or kitchen removal of existing countertops is obviously is not needed. However, it is important to ensure that new cabinets are secured, level, and ready to receive their new top.
Prior to Installation
Before we arrive you or your contractor will need to remove your existing countertop(s) unless you asked  us to remove it. Please don't forget we can not touch your plumbing. Disconnecting and reconnecting plumbing is not our business. Your countertops will need to be removed completely and your kitchen cleared of anything and everything that might interfere with installation:
All laminate and countertops have been removed from the cabinets and taken out of the house.
Any cabinets or islands are secured to the floor so as not to be a tipping hazard.
All sinks, cooktops, and other counter installations have been removed and are out of the area.
Only your cabinets are visible.
All nails and screws from the prior installation are removed from the cabinets, backsplash area, and any dust or debris from the cabinet removal has been cleaned as well.
Any kitchen appliances next to the installation area are moved out of the way.
Any islands, rugs, tables, furniture etc. in the kitchen are moved into another room or outdoors in order to allow our team entry and a clear area to maneuver the countertop in.
Your cabinets must be completely level. If you've never done a demolition or this kind of work before, we ask that you seriously consider hiring a contractor to do it for you. If we are doing the countertop removal ourselves, we'll take of this process before your stone counters arrive.
Have a decision-maker on-site
Where possible, set a date where you, or you and your spouse or someone with decision-making powers, like, architect, builder, contractor, designer are available for the entire installation process. This ensures that any critical decisions, should there be any, can be made quickly by someone on the scene. This is rarely needed, but when it is necessary it will greatly facilitate things. If you can't be there, or can't have someone on site, we will have to postpone the installation
Installation Day
Secure or remove any pets or animals, no matter how friendly or mellow they may be before our team arrives. We don't want to inadvertently let them out an open door, step on them, or drop something on them. Please put them in a room, in a kennel, or leave them with a neighbor or someplace safe during the installation. They won't be confined long — a few hours at most if everything goes well!
Clear a path to the installation
When we first go out to your home to measure everything for your counter we also survey the home to determine the best way to access the site once we have the stone cut. Our installation leader will walk you through this process when they measure your counters. They'll note any furniture that will need to be moved, and ask you to make sure the path is clear of rugs, furniture, and other items prior to the installation time. Please don't wait until installers are there to begin moving items.
Depending on the type of installation, you may want to cover furniture with painter's plastic, or sheets to cut down on any dust. Your installation team leader can advise you about that.
Ask any questions before we begin installation
If you have any questions, please ask them before our installers start unloading your countertop. You are more than welcome to watch the installation from a distance (outside the work area). We think it's a pretty interesting process and we welcome your attention! However, installation is also a very precise process that requires a lot of focus from our craftsmen once they begin work.
It's best to allow our installation team to work uninterrupted, without distractions or questions. during the installation. The countertops are very heavy and require their total attention. Our installation teams have detailed procedures that allow each team member to get their task done so the next procedure can happen on cue. They trust that their team members are following the time-table and preparing for the next task so every step goes smoothly. Of course, we're happy to answer any questions after the installation as well as before.
Clean up
Once your counters are installed our team will clean up the area, and use acetone or denatured alcohol to remove any excess epoxy, caulk, and any dust left over from the installation. We'll clean up the job site as much as possible, answer any questions you may have, and give you instructions on how to clean and care for your counters. We'll thank you for your business, ask you to sign the job approval forms and any other paperwork, and then leave you to admire your new countertops.
If you have any questions about choosing countertops, feel free to contact us at any time.