Embracing the Beauty of White Marble Countertops in Your New York Home
Some design elements never seem to go out of style. Wood flooring will always add warmth and richness to your home, while the texture of a stacked stone fireplace creates a focal point and a welcoming gathering spot.
White marble also fits into this category, adding timeless elegance and luxury to the kitchen, bathroom, and living spaces. With its pristine look and luminous glow, the characteristics of this natural stone make it an ideal addition to both classic and contemporary design styles.
It looks equally stunning when elevating a farmhouse interior, a trendy loft, or a busy, maximalist design, and it's versatile enough to pair with any color palette. If you're looking for a countertop material that will stay with you through decades of design updates, look no further than Calacatta, Carrara, and other stunning varieties. How can you incorporate white marble countertops into your home?
Farmhouse Chic
The farmhouse aesthetic is typically equal parts rustic and shabby chic, but you can modernize the whole vibe by adding loads of breezy, bright white to the mix, as in this transitional New York kitchen. This simple space features pale wood for the flooring, island base, and architectural features like ceiling beams, shelving, and accents.
More wood could be overwhelming, but these elements are offset beautifully by white shaker cabinets and counter surfaces in Calacatta marble or a similar variety. Farmhouse standbys like an apron sink and antique-finish fixtures help to preserve the traditional feel of the space while supporting an altogether modern take on the style.
Novel Victorian
The Victorian style is known for opulence, from detailed woodwork and intricate wallpaper to plush carpeting, drapery, and furnishings. That said, you don't necessarily have to dive into the deep end of traditional design elements. In fact, it's perfectly acceptable to update and modernize spaces with a sleeker aesthetic.
This classic Victorian New York home offers a lovely example in shades of gray. Cabinets in a trendy, greige hue imbue the space with warm appeal but pair perfectly with the marble countertops, featuring a white background and gray veining. White walls and black window frames transition from the grays, while heavy-grained oak flooring mirrors the tray ceiling above. Traditional elements tie in perfectly with modern touches to create a contemporary space that still feels timeless.
Shiplap and Shingle Style
The beauty of a traditional, East Coast, shingle-style residence is that it features classic design elements yet embodies a casual, informal quality. Perhaps this is why the style is so often seen in beach homes and country retreats.
How can you add elegant white marble countertops to the mix? It's easier than you might think. For example, take the classic, tonal white kitchen in this Spring Harbor, NY, shingle-style home. Clean lines and bright whites are the order of the day, thanks to shaker cabinets, shiplap walls, and a ceiling that hearkens to the casual appeal of farmhouse design.
The look could feel a bit too informal with a butcher block counter, but instead, the design is elevated by a chic subway tile backsplash and countertops in a soft, charming Carrara marble. Pale wood flooring that features a grayish, weathered hue keeps the space cool and sophisticated.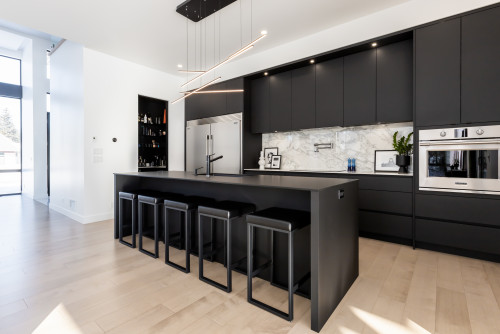 Modern Masculine
A dramatic, high-contrast kitchen isn't for everyone, but it can demonstrate the level of versatility associated with white marble varieties. This contemporary New York kitchen proves the point with sleek, flat panel cabinets and an island surface in black, paired with bright white walls and blonde wood flooring. The pièce de résistance, however, is the perimeter counter and backsplash in classic Calacatta, which offers a striking focal point and adds visual texture to this statement style.
Maximal Delight
After two decades of minimalism dominating interior design, the hottest current trend is a total swing of the pendulum to the color, contrast, pattern, and texture inherent to maximalist styling. When done right, the visual clutter creates a sense of cozy appeal and loads of personality within a space rather than the overwhelming mishmash you might expect.
To get an idea of what this might look like in practice, just take a peek at this eclectic New York kitchen, featuring beadboard cabinets in white paired with pale pink walls, a lemon yellow ceiling, and a wallpaper featuring a pattern in hot pink and beige hues. Beige flooring planks and a waterfall peninsula countertop in Carrara marble recede amidst the riot of color and pattern but offer a perfectly stable foundation for the larger design.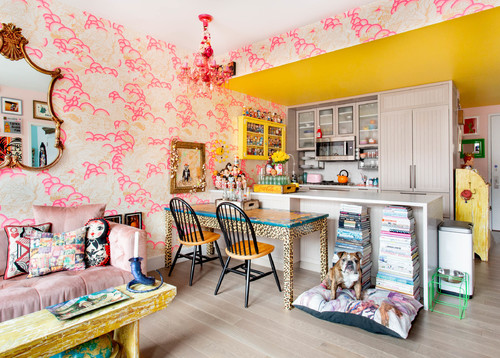 Elevate Your Design With White Marble Countertops
Whatever your design style, now is a great time to find the gorgeous white marble countertops that will help to define and elevate your space. Visit an Academy Marble showroom in Bethel, CT, or Rye, NY, today to get started.