5 Small New York Apartment Kitchen Design Ideas that Maximize Space and Functionality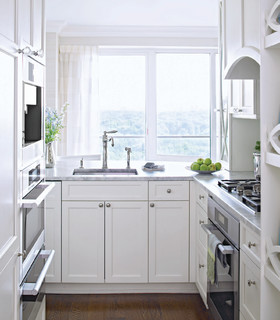 A small apartment is a fact of life for many homeowners in New York City, but just because your living space has a small footprint doesn't mean it can't be functional and appealing. Here are just a few ideas to optimize your small New York kitchen space for daily use while imbuing your kitchen with a welcoming ambiance.
1. Keep It Breezy with Tonal White
Perhaps the most difficult aspect of effectively designing a tiny kitchen is making it feel both functional and spacious. When your area is small, you have to optimize storage. Unfortunately, this can make your kitchen appear cramped. A bright white palette can help to balance it out.
Consider this transitional galley kitchen in New York City. The space is incredibly tight, with floor-to-ceiling cabinets and a lot of appliances packed in. While the design maximizes function, it could easily start to feel claustrophobic with the wrong color choices.
In addition to choosing shallow shelving and eliminating cabinets over the window to let in more light, the designer chose an all-white palette, including bright white cabinets and a white marble countertop surface, to ensure that the tight space still feels airy.

2. Blend Modern and Classic Design
One easy way to make a small, enclosed kitchen more functional is to open up a wall, ideally into the dining room, living room, or combination entertaining space.
This might sound counterintuitive since doing so will likely eliminate some upper cabinets. However, function is about more than just storage. If you need a kitchen designed for modern entertaining, opening a wall can be a great way to add social function to your home.
Take a page from the playbook of this Greenwich Village transitional kitchen. A small galley kitchen feels much more expansive thanks to an open peninsula bar transitioning seamlessly into the living room area.
The mostly white kitchen, including cabinets and a subway tile backsplash, is bright and open, with dark flooring and counters in black granite that create visual interest through contrast and the classic appeal of a black-and-white motif.
3. Plan for Versatility
Affordable living spaces in the city can be incredibly small, which means you have to work hard to optimize function and make every inch count. The good news is that you can find ways to make even a small kitchen both functional and spacious with versatile pieces.
This modern eat-in kitchen is a prime example. The kitchen unit itself is a marvel, with a compact combination of appliances and storage that can be hidden behind closed doors.
For increased usability, the dining area features a narrow table and chairs that tuck under wall shelves and pull out for use. Display shelving doubles as storage for barware or other kitchen essentials. When the kitchen isn't in use, it all tucks away to create a more spacious environment.
4. Use Overhead Space Wisely
In a cramped space, you have to make every square foot count, and this contemporary galley kitchen shows you how to do it right with storage that extends all the way to the ceiling.
Flat-panel upper cabinets feature a glossy sheen and hidden hardware, creating a bright, sleek overhead area that lends height and space to the room. Adding a row of cabinets up to the ceiling — instead of leaving the space above standard cabinets open — not only creates more usable storage but also eliminates difficult dusting.
Because the lower cabinets are also white, this kitchen is at risk of feeling a bit sterile. Fortunately, the monochrome cabinetry is broken up by dark wood flooring and quartzite countertops that add a ton of character and movement to the space. The quartzite extends to a full-height backsplash that guards against splatter.
5. Add Storage Solutions that Work for You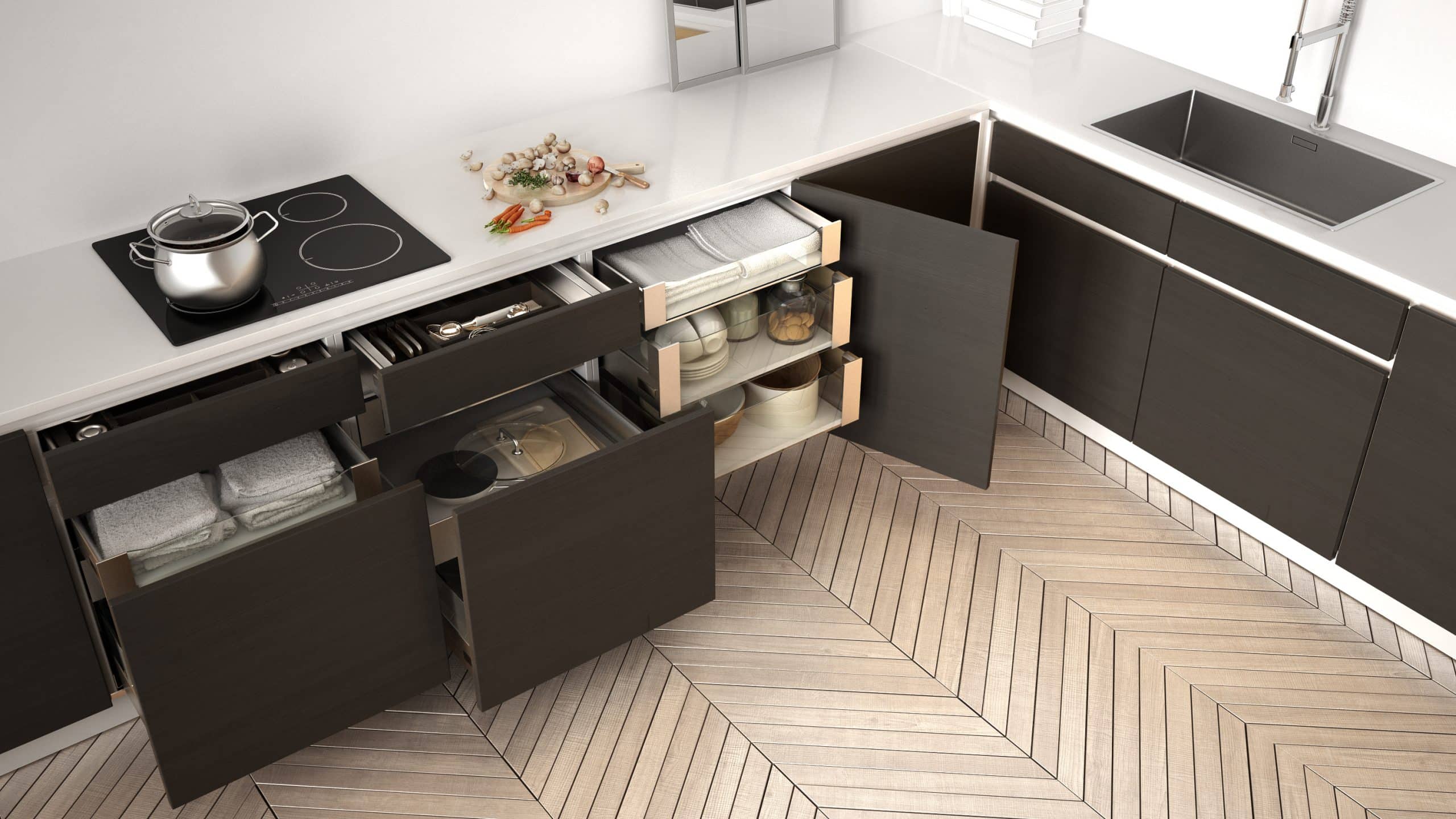 Typical configurations of drawers and cabinets in a kitchen will surely work fine if you don't have a lot of dishes, utensils, gadgets, and small appliances. However, if you live to entertain or you're a dedicated gourmand who spends a lot of time in the kitchen, you need a space that provides high-function storage solutions.
This contemporary Upper East Side apartment shows off some dazzling options that optimize space and offer convenience.
Look at the coffee bar area. This could have been a fairly typical pantry with shelving behind a door; instead, it is a handy nook with an appliance shelf, cabinet storage overhead, and a ton of drawer space below, including a drawer right under the coffee bar with a hinged front to serve as a drink prep area.
The use of blond wood throughout creates a warm Zen vibe, which is elevated by the flow of the curvilinear 3D backsplash. Countertops in what appears to be a sparkling white quartz contribute to the overall calm of the space while adding subtle visual interest through a sprinkling of shine.
If you need help turning your small New York kitchen into a functional space you'll love, a great place to start is choosing a stunning countertop to serve as the basis for your design. Check out the Academy Marble & Granite, located in Rye, New York and Bethel, Connecticut, portfolio today for design inspiration.