5 Reasons Why You Should Choose Sea Pearl Quartzite in Your East Coast Home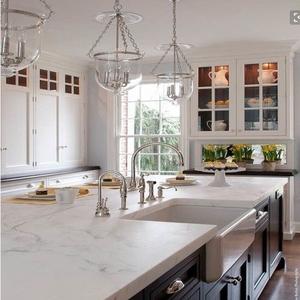 Sea Pearl quartzite, mined in Brazil, is the perfect example of why people love this metamorphic stone. Quartzite is renowned for offering the luminous, crystalline beauty of marble paired with the hardness of granite, and the Sea Pearl variety delivers both of these coveted features.
When it comes time to upgrade your East Coast home, you have plenty of options for natural stone to elevate the aesthetic of every room. What makes Sea Pearl quartzite the perfect option for your kitchen countertops, shower stalls, or other surfaces?
1. Cool Neutrals Complement Coastal Design
Coastal design is about bringing the natural elements of the coast — sun, sky, sand, and surf — into your home. It also focuses on beachy vibes, with a calm, breezy ambiance that creates a peaceful retreat.
Sea Pearl quartzite fits the bill perfectly, delivering both timeless elegance and soothing, casual vibes. This natural stone features a backdrop in white and light gray hues, with striations in darker gray sweeping across the surface, ranging from fine lines to heavy fissures.
The neutral tones make for a lovely addition to any coastal interior and are perfect for countertops, backsplashes, fireplace surrounds, shower walls, and more. In fact, this quartzite is incredibly versatile and will work with any number of home styles, both modern and traditional.
Just look at this beach-style New York kitchen, where Sea Pearl counters are paired with white shaker cabinets, wood flooring, and a modern backsplash in smoke gray glass tiles (subway and arabesque). The quartzite pulls it all together with a range of cool hues and gentle patterns that serve as a focal point for the room.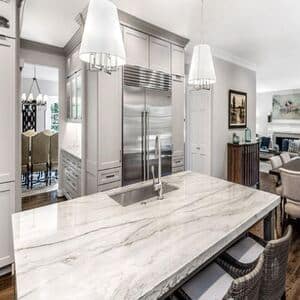 2. Patterns Mimic Natural Elements
Depending on the slab, striations in quartzite can be bold and dramatic or soft and soothing. You might also see a combination of both, with areas of heavy, dark veining interspersed with more delicate striations.
Sea Pearl quartzite, in particular, can look like a sandy shoreline, were ebbing and flowing tides have created undulations and striping across the beach. The variable nature of patterns adds organic appeal to interior spaces.
This ethereal primary bathroom offers a great example of how to use a unique slab for maximum impact. The floor-to-ceiling stone wall serves as a backsplash for the soaker tub, along with an abutting mosaic tile at chair-rail height.
With the heaviest striations situated along the upper third, the quartzite draws the eye up and emphasizes the height, light, and airiness of the space, creating a truly spa-like experience.
3. It's the Perfect Balance of Statement Style and Serenity
While quartzite is not yet as popular as marble or granite in home remodeling, it has certainly gained notice thanks to its many desirable qualities. One of the most compelling aspects of this natural stone is its air of elegance, paired with a tranquil aesthetic.
This midcentury modern, transitional kitchen is a great example, featuring an island and perimeter countertops in Sea Pearl quartzite paired with shaker cabinets in a pale, silvery hue. The lighter neutrals are complemented by warm, mid-tone wood flooring and bar stools, creating an overall feeling that is both modern and serene.
Sea Pearl quartzite works just as well in a beach bungalow as in a more formal, traditional kitchen space.
4. Quartzite Is Incredibly Tough
Whenever you undertake a home remodel, you naturally want a design that feels modern and adds to the potential resale value of your property. However, if you have a busy household, you can't ignore practical concerns for the sake of aesthetics.
With Sea Pearl quartzite, you'll enjoy the best of both worlds. Not only will it serve as a breathtaking focal point in any room, but quartzite ranks at 7 on the Mohs hardness scale, making it considerably harder than marble (3.5-5) and even a bit tougher than granite (6-7).
Quartzite is strong, durable, and likely to last a lifetime with proper care and maintenance.
5. It's Easy to Clean and Maintains
Whether you love the pristine appeal of an all-white kitchen, you're keen on classic black and white, or you want to explore trendy, colored cabinetry, you'll find that Sea Pearl quartzite is versatile enough to elevate any design. It's also easy to clean and maintain.
A design like this transitional Colonial Craftsman kitchen could give you pause, despite its beautiful appearance, because of all of the bright surfaces. While the white cabinets may require a lot of elbow grease to keep clean with a house full of kids and pets, the quartzite countertops won't give you much trouble.
A quick wipe with a damp microfiber cloth will keep counters clean daily, while a simple solution of gentle dish soap and water will take care of grime. You could also choose a stone cleaner for the ease of spray-and-wipe cleaning, and it may even help to protect the sealant.
With regular resealing, you won't have to worry about scratches, stains, and other damage.
When you're ready to pick a gorgeous slab of Sea Pearl quartzite for your home upgrade project, the talented pros at Academy Marble & Granite can help. Just stop by our Connecticut or New York showrooms to get started today.