5 Black Granite Countertop and Cabinet Pairings that are Anything but Spooky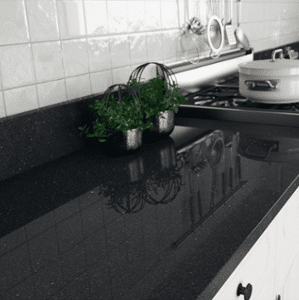 Unlike black cats, there's nothing superstitious about black countertops.  While many homeowners feel like choosing white countertops is a safe choice,  selecting a slab of Absolute Black, Black Galaxy, or Jet Mist granite can deliver the same versatility and design aesthetic, while also making a bold statement.
The question, of course, is how to work dramatic and dazzling black granite into your interior design in a way that makes sense for your home. You might assume that only a contemporary setting could bear this dark hue, but the truth is, with the right cabinet pairing, black granite can work in any home, even if your style is more traditional. 
#1: Stark White Cabinets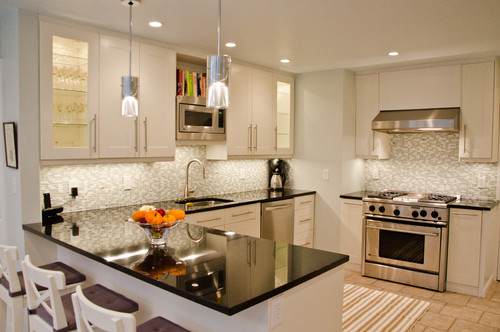 There are few better ways to create a striking feature than by juxtaposing black and white, especially when you pair high-shine, black granite countertops with stunning, stark white cabinetry, as in this New York kitchen featuring polished Absolute Black granite. You might think the black and white contrast would be too much, but this kitchen clearly proves that these neutrals are perfectly complementary, especially when you throw in stainless steel appliances and a mosaic tile backsplash in shades of gray to soften the palette.
Black and white is a classic pairing, but it's not for the faint of heart. One thing this particular design gets right is the amount of light. In addition to a general wash of overhead lighting to brighten the entire space, there's plenty of under mount lighting and pendants to cast on the countertop surface, making the most of the high shine and subtle, dimensionality of the granite.
#2: Rich Hardwood Cabinets
If you love the appeal of warm hardwood for your kitchen countertops, you may hesitate to pair it with black countertops. The trick here is to pick the right shade, and while you might naturally be drawn toward lighter tones to contrast with the dark countertop surface, consider really leaning into the richer end of the hardwood spectrum.
This transitional kitchen, for example, takes a surprising approach by pairing Black Galaxy granite with cherry wood in a nutmeg finish. The result is warm and welcoming, thanks to rusty undertones in the wood that bring out the gold flecks that are particular to this variety of granite. 
#3: Light/Dark Combo Cabinets
Over the last several years, pairing light and dark cabinets have become a popular trend. Whether you're working with light and dark hues of wood or opt for upper cabinets in white and lower cabinets in gray, black, or navy, you can definitely pair this contrasting look with black granite.
This transitional kitchen provides a great example, with lower cabinets in black and upper cabinets in white. In order to make the Pearl Black granite stand out from the cabinets it rests on, they've taken the interesting approach of applying a leathered finish to dull the surface.
If you want a more traditional look with a high-shine granite, the polished countertop in this contemporary kitchen, paired with a black island and glossy white cabinetry, is a different take on the same design idea. Or you could soften the overall effect with upper cabinets in white and lowers in gray, as with this two-tone kitchen that also features Black Pearl granite.
#4: Modern Gray Tone Cabinets
Dark gray can be a bold choice in smaller spaces, like this modern New York apartment, where glossy gray cabinets and stainless steel appliances complement a black granite countertop. The cream backsplash and under mount lighting opens up the space and creates a nice contrast between the dark grey cabinets and black countertops.
Of course, a modern gray cabinet and black countertop pairing can still be bright and airy, as with this beachy kitchen. The blue-gray cabinet color adds interest to the otherwise sleek, minimal kitchen design. The open, expansive kitchen and natural light really make this room work.
#5: Bold Colored Cabinets
It's not just any homeowner that feels comfortable adding colored cabinetry, but it can serve as a beautiful complement to black granite when you choose the right color, as with this craftsman galley kitchen featuring a dark, blue-green hue on the cabinets. It's easy to see how the right colored cabinets could add real drama and personality to your kitchen when paired with black granite, without feeling over-the-top.
Read more tips on how to design a Craftsman Style Kitchen here
Need help with your next project?
We would love to help you pick the perfect countertop material for your next countertop upgrade or addition. To request a complimentary consultation with one of our design experts, click here.