5 Island Countertop Trends to Transform Your Kitchen
Your kitchen is the heart of your home, which means it's not only a functional workhorse, but also a social gathering area. This is why kitchen renovations tend to be the most expensive upgrades, but also deliver the greatest return-on-investment of any home makeover project. 
The countertops you choose are extremely important for both practical and aesthetic reasons, and whether you prefer dazzling marble, granite, or quartzite to beautify your space, you should know that there are modern ways to install kitchen countertops, particularly for your island countertop. Here are just a few trendy, island countertop ideas to transform your kitchen.
1. Waterfall Countertops
When it comes to installing kitchen cabinets and countertops, the formula is fairly tried and true. However, once in a while, a design trend has the power to completely revamp a classic style.
This is what waterfall countertops have done, by extending stone surfaces like marble, granite, and quartz so that they cover not only the top surface of kitchen countertops, but also the exposed sides of cabinets. Waterfall countertops create a continuous flow of natural or engineered stone, making it a modern addition to any kitchen. It may not sound revolutionary, but it can completely change the look of your kitchen.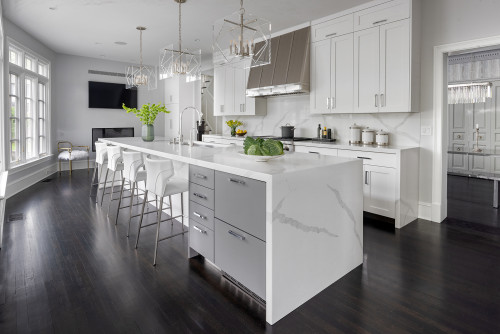 A stunning example is this contemporary New York kitchen design by Deane Inc of Connecticut. Gray cabinetry subtly highlights gray streaks in the stone of the engineered Aurea quartz countertop, particularly the striking veins running down the "waterfall" side. This unique feature creates an eye-catching effect that becomes the focal point of the room.
2. Contrasting Kitchen Island Design
Contrasting cabinetry has been trending for a while now, leading to kitchens featuring upper and lower cabinets with different wood tones or paint colors, often with lighter colors on top and darker colors below to ground the design and intensify visual interest. Did you know that you can achieve a similar effect when you contrast the countertop on your island with either the cabinetry below or the surrounding counter surfaces?
This New York loft does a lovely job of incorporating this island trend into this kitchen renovation. The dark countertop surface mimics surrounding countertops, backsplash, and flooring, but contrasts starkly with white cabinetry, making the island stand out against the background.
This New York farmhouse kitchen accomplishes the opposite effect by pairing white marble for the island with white cabinetry, helping the surrounding countertops in a darker shade to take the spotlight and define the perimeter of the space.
Learn more about incorporating the farmhouse design style into your kitchen here.
3. Oversized Islands
Kitchen islands do not only create a beautiful focus point in the kitchen, they are also highly functional. These centralized additions help to break up a large kitchen space and provide added storage cabinets and work surfaces for food prep. They do even more, though, when you enlarge the countertop space by extending it beyond the edges of cabinetry.
Multi-purpose solutions are always welcome in the kitchen, which serves as not only a place for storing food and making meals for the family, but also the central hub of family social life. An oversized island can elevate both beauty and function, whether you use it for extra workspace or add bar-style seating.
Just look at this Fairfield, CT design featuring an overhang on one side of the island. The Calcutta Gold marble extends far enough to add a couple of bar chairs, creating greater opportunity for social time in the kitchen, or a spot for an intimate meal in lieu of a more formal dining room setup. If you want to get more function out of your kitchen island, an oversized countertop is a great solution.
Expansive islands can also allow for unique storage or display space, as with this transitional New York kitchen. Open shelving on the endcap could be used for large platters or delicate linens, while slim drawers placed under an overhang can hold extra silverware without impeding barstools.
4. Multi-Level Islands
There are a couple of potential benefits of installing a multi-level island in your kitchen. For one thing, it can add dimensionality and visual interest to your space.  From a functional standpoint, however, it also helps to separate your counter space into zones.
For example, a raised bar area delineates space designated for a specific use, which may stop you from letting kitchen countertop clutter invade the area where family members sit to eat. If you happen to have an open concept floor plan, a raised area could also help to block appliances or drying dishes from the view of the common area.
A prime example is this eat-in Connecticut kitchen, where the raised bar on the island hides the functional workspace, including a sink and food prep surface. By contrast, a raised central area, as in this farmhouse kitchen in New York, could act as a pedestal to display décor. 
5. Quartz Countertops
Marble, granite, and quartzite remain timeless choices for kitchen surfaces, but don't rule out quartz. Quartz, a highly durable engineered stone, is available in as many colors and textures as your imagination can conjure and has become a favorite among homeowners and professionals. This countertop surface enjoys the distinction of being non-porous, making it a practical addition to any kitchen.
It also looks a lot like natural stone, with eye-catching dimensionality, but has minimal imperfections. Plus, it comes in almost any color, so you can get the custom look you prefer. With so many benefits, it's easy to see why quartz has become such a popular addition to kitchen design over the years, and why it can be an ideal option for your kitchen transformation.
Need Help on Your Next Project?
We specialize in creating custom countertops for kitchen in Fairfield County, CT and Westchester County, NY. Please visit us today or contact us here to learn more about our large selection of stone countertop surfaces.