2022 Kitchen Countertop Trends – from Honed Finishes to Waterfall Designs
Some kitchen designs are timeless. For example, if you install a Calacatta countertop, chances are it will last a lifetime and remain just as appealing 20 or 30 years from now as it is today.
With that being said, countertop trends change over time, and if you're looking to renovate an outdated kitchen, you want to make design choices that will boost its aesthetic and keep your kitchen looking attractive for years to come.
While looking into the new year, there are many exciting, emerging trends to take note of. Here are a few trends for the new year that are sure to make your kitchen a modern marvel.
Trend #1: Natural Materials
Concrete and steel were trendy for a hot minute — and they may continue to show up in industrial lofts — but most modern homeowners are seeking the soothing appeal of natural stone after being stuck at home for the better part of two years.
Options for marble, granite, and even engineered quartz made to look like natural stone are going to remain popular heading into 2022.
Trend #2: Bold Marble
When you want a bold, statement countertop material, you might lean toward granite, and you'll certainly find plenty of stunning options to consider. However, bold marble patterns are slated to take over in the coming year.
While granite has dominated for the last couple of decades, marble offers a soft, soothing appeal that homeowners living in a pandemic world find appealing after so many months spent stuck at home, coping with astronomical stress. Still, you can have the best of both worlds when you choose a dynamic marble variety.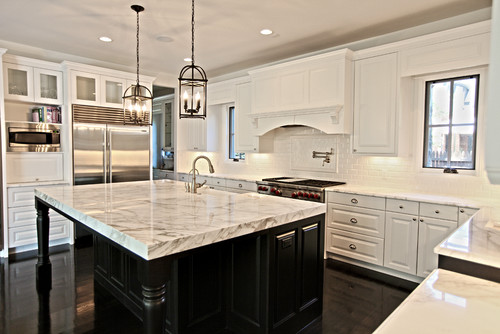 Calacatta is a great place to start. This popular variety features a neutral white and gray palette that works with any kitchen design. Heavy veining, as seen in this contemporary black-and-white kitchen, can be incredibly attention-grabbing.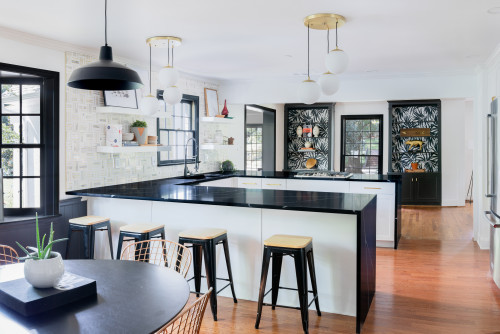 Black Marquina marble, with its ebony background and lightning-like slashes of white, is equally dramatic, and you can find the look in quartz, as well. Consider options like the Eternal Marquina Silestone in this transitional, U-shaped kitchen.
Trend #3: Honed Finished Surfaces
If you're torn between the high gloss of polished stone and the casual, modern appeal of textured, leathered countertop surfaces, you're not alone. Luckily, honed finishes offer a happy medium with a blend of mild texture and diminished shine.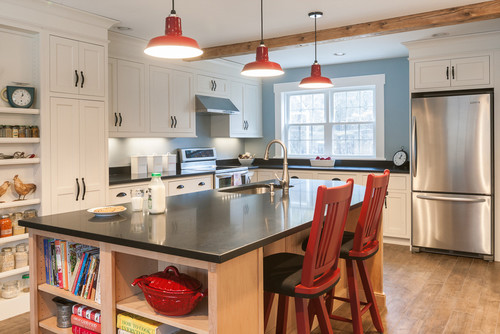 This finish is often used on darker natural stone, as with the honed black granite in this farmhouse kitchen. However, a honed finish on lighter countertops can provide an interesting contrast to glossy materials in the rest of the interior design.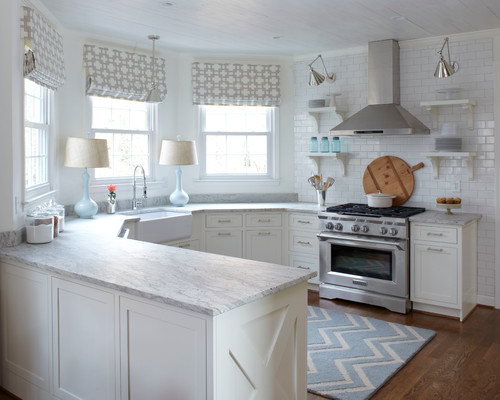 Take, for example, this urban farmhouse kitchen, where honed Thunder White granite stands out next to a shiny expanse of white subway tile.
Trend #4: Matching Countertops and Backsplashes
Forget about trying to match tile to your marble or granite (not to mention the hassle of cleaning food splatter from grout lines). The trend heading into 2022 is extending your natural stone countertop up the wall.
Taking your slab into vertical space allows you to make the patterns you love more visible and impactful within your kitchen, especially if you cut the slab so that the pattern seamlessly moves across the countertop and up onto the wall.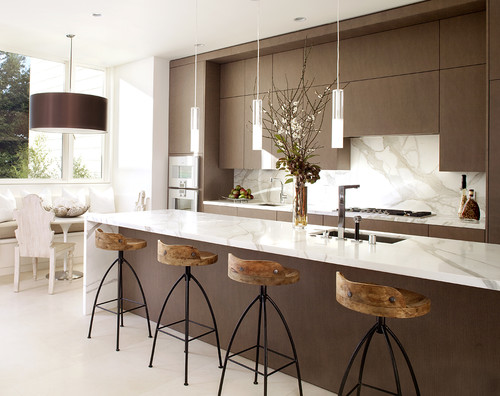 For example, the marble in this contemporary kitchen, which looks to be Calacatta Gold, is a perfect example. Paired with dark wood cabinets above and below, the countertop and backsplash help to make the open space cohesive and inviting. This is also a prime example of the powerful statement a bold marble pattern can have.
Trend #5: Waterfall Countertops
Natural stone countertops are more than a luxury addition to your kitchen — they can also become the focal point of your interior design. Perhaps this is why extending your slab up the wall or down to the floor has become such a popular choice of late.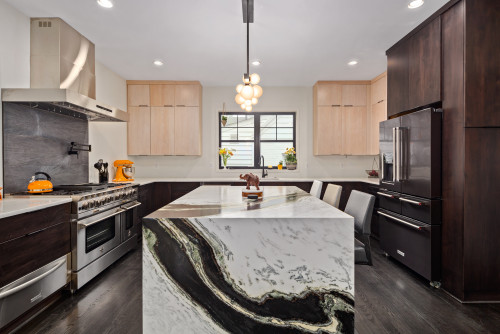 Again, you can embrace multiple trends here, as with this bold, contemporary kitchen. The Bianco Lasa marble on the waterfall island not only matches beautifully with both the blonde and dark wood cabinetry, but the striking pattern is a prime example of the intense marble patterns gaining popularity heading into 2022.
Trend #6: Green Palettes
Many homeowners like to add color to their kitchen in small doses, through accents like small appliances or rugs. Others take it a step further by painting cabinets in trending hues. You might even see some bold color choices for the backsplash. Then there are intrepid designers who dare to make a statement through dramatic countertop surfaces.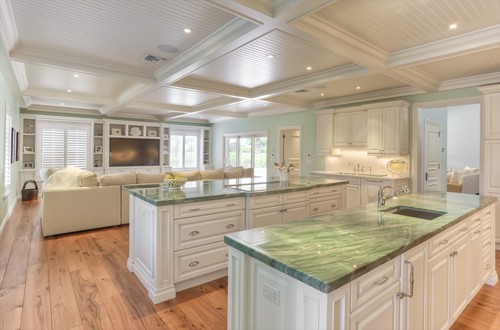 Green hues gained steam in the interior design world throughout 2021, and this color trend looks to dominate in 2022. If you want a subtle, soothing addition to your kitchen, you might like the pale green and white rivulets of Gaya quartzite, which looks like shifting seas atop the white cabinets in this elegant, open-concept kitchen, where it dominates two islands.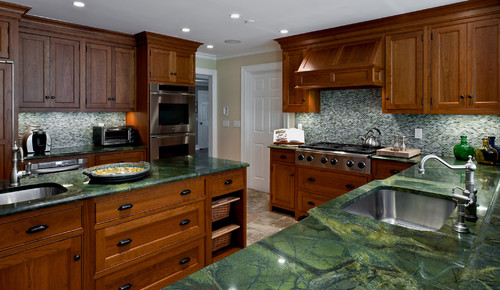 For a bolder, more saturated statement piece, consider Verde Vecchio granite, as seen in this traditional New York kitchen. It is paired to stunning effect with warm, orange, mid-tone wood cabinets, capturing another emerging design trend, as well — contrasting colors.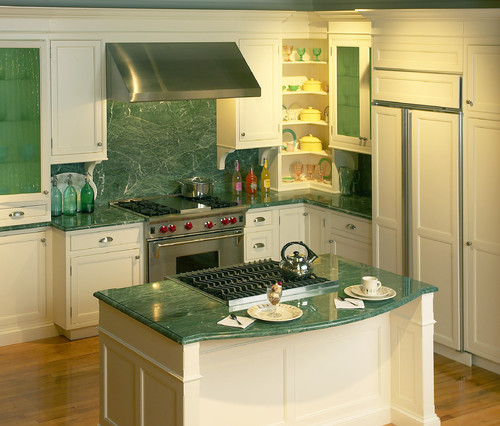 Green marble varieties can offer similar appeal, as with the stunning hue featured in this eclectic New York kitchen, designed to look like a retro soda shop.
Taking advantage of current design trends is easy with help from the experienced team at Academy Marble & Granite. Get started with a peek at our portfolio or visit one of our conveniently located showrooms in Bethel, CT, or Rye, NY.