Popular Granite Countertops that will Complement Any Home
While some homeowners love the delicate veining and soft glow of marble, others are more interested in adding a dollop of drama and dimension to their kitchen or bathroom spaces with the bold, dynamic patterns offered by granite countertops. If you fall into the latter group, your only trouble will be choosing the perfect hue for your home and style preferences.
Fortunately, with granite there is no shortage of options to pursue. As an experienced stone fabricator, we've seen some granite varieties grow in popularity, whether it is a result of their versatility or an on-trend choice. Here are just a few of the most popular granite countertops to complement any home. Still, some are more versatile than others and more likely to work with a wide range of interior designs and architectural styles, ranging from traditional to modern or rustic to Rococo.
#1: White Ice granite
If you like the white background and gray veining of Carrara marble, but you want to turn it up to an 11, White Ice granite delivers with a predominantly cool white background punctuated by bold patterning in black and gray. The neutral tones work well in almost any setting, but these slabs are particularly stunning in white or black-and-white kitchens or bathrooms.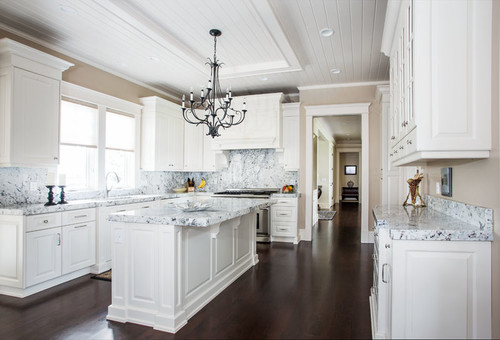 This traditional kitchen is a great example. The contrast of white cabinets and dark wood flooring offers the perfect foundation for the kitchen island, perimeter countertops and backsplash in White Ice granite, which takes center stage in an otherwise unadventurous design.
#2: River White
One reason granite is such a popular option for countertops is that it's so solid and durable. With a MOHs rating of 6-7, it's resistant to scratching, chipping, cracking, heat, and more, which makes it a practical choice for families with kids.
Still, with all the chaos in your home, you might want some calm in your décor. River White granite offers everything you crave, thanks to a delicate pattern that takes the drama down a notch. Soft striations of off-white and gray weave through the surface like a gently flowing river, with pinpoints of red mineral deposits to add a hint of color.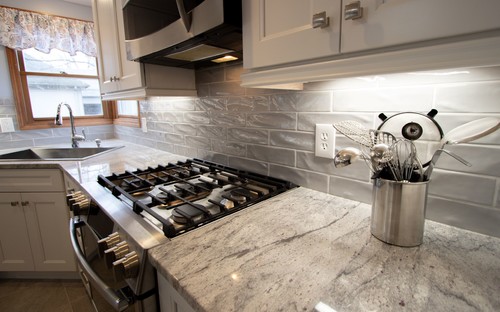 Just look at how serene this
transitional kitchen space
is, with River White granite flanked by bright white cabinetry and a pale gray subway tile backsplash. That is where you come to relax with a cup of coffee before the chaos of your busy household erupts.
#3: Absolute Black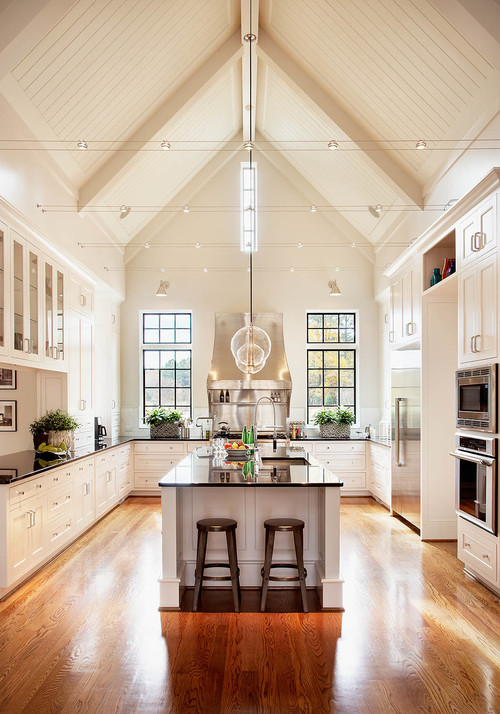 Absolute Black is one of the most popular varieties of granite, and it's not hard to see why. With consistent color and texture, it creates a sedate swath of surface material ideal for breaking up space in an otherwise monochromatic design, like this spacious traditional kitchen.
The cavernous room, with vaulted ceilings and expansive cabinetry, all in white, could feel positively sterile if not for the contrast and grounding appeal of Absolute Black granite on the island and perimeter countertops. Note that it also looks stunning with the rich, golden plank flooring.
#4: Black Galaxy
Got your heart set on black granite, but you want something a little extra? Black Galaxy granite offers the perfect compromise, with a uniformly black surface dotted with sparkly, eye-catching flecks in white and gold.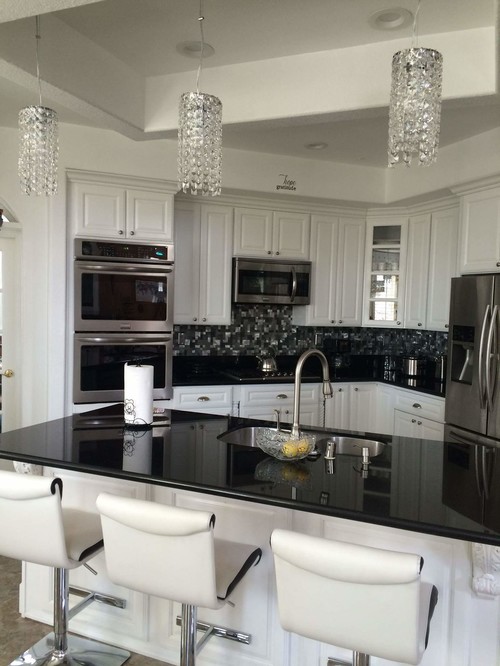 Not only does it provide a stunning counterpoint to white cabinets, as in this
traditional kitchen
, where the classic black-and-white motif has adopted a thoroughly modern twist, but it also pairs well with darker hues.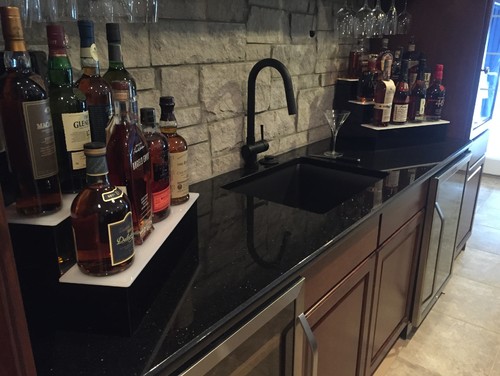 This transitional home bar offers a gorgeous blend of elegance and masculine appeal with dark wood cabinets, a rough stone backsplash, and a shimmery, black counter surface.
#5: Crema Bordeaux
A black and white color theme may add timeless appeal to any space in your home, but sometimes you want a little more warmth. Granite delivers here, too, with a slew of honeyed hues that make any house feel like home.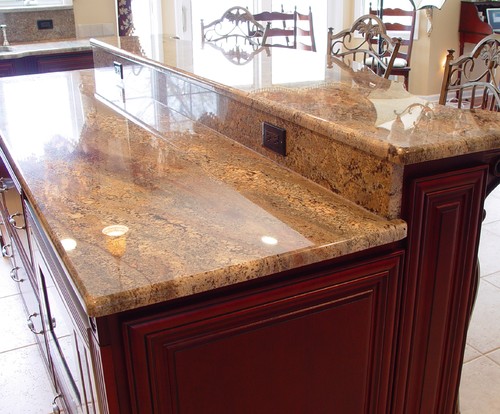 Crema Bordeaux granite, in particular, is characterized by shifting splashes of cream, dark brown, and burgundy, with hints of gray. You can see just how rich and welcoming it is in this traditional kitchen, where the dimensional granite slab has been paired with cherry-stained cabinets to draw out the red tones in the stone.
#6: Brown Antique granite
So dark as to be nearly black, Brown Antique granite is a deep, chocolatey stone that is a mixture of brown, black, and blue hues that create the earthy, organic appearance, stippled with hints of iridescence. Although it looks lovely when polished to a high shine, the current trend is a leathered finish that puts the unique, chunky patterning on full display.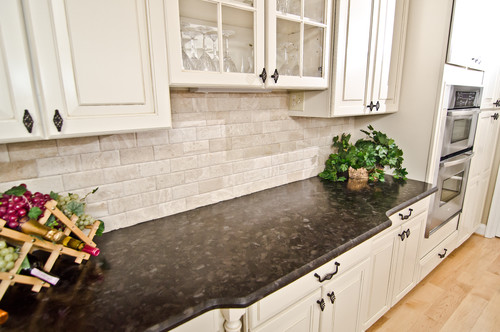 When set against cream cabinetry, a beige backsplash, and light wood flooring, as in this traditional kitchen, the leathered brown antique granite offers a stunning but not stark contrast. However, it also looks outstanding paired with the lighter brown hues and distinctive patterns of Rainforest Green granite in this unique fireplace surround.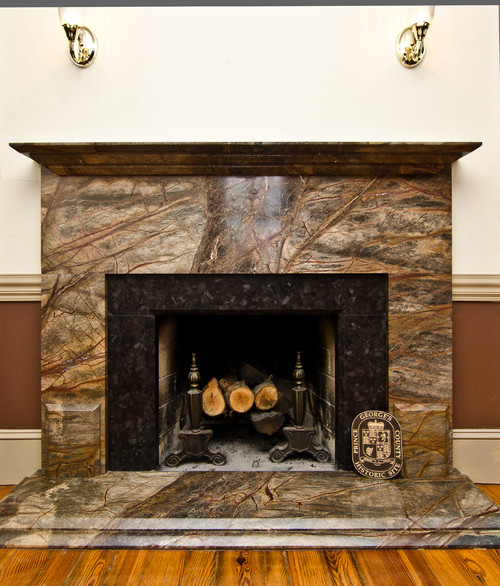 Regardless of your home style or your interior design, any of these gorgeous granite options will elevate your décor and ambiance. When you're ready to pick the perfect slab, Academy Marble & Granite has just what you're looking for. Contact us today to get started with your renovation or visit our showrooms in Bethel, CT, or Rye, NY.