What Is Quartzite Made of? From Academy Marble's Natural Stones Experts
Even if you've set up your mood board and found inspirational photos to help you plan your next home improvement project, you may struggle to compare kitchen countertop materials and find the options that best suit your functional needs and aesthetic preferences.
There are many reasons to choose quartzite countertops, from its incredible strength and durability to the wide range of colors and patterns you can pick from.
The trick to choosing wisely is understanding exactly what you'll get with any natural stone countertop selection, in this case, quartzite counters. What is quartzite made of, and what benefits will it infer? Here's what you need to know before you choose stunning and sophisticated quartzite countertops.
What Is Quartzite?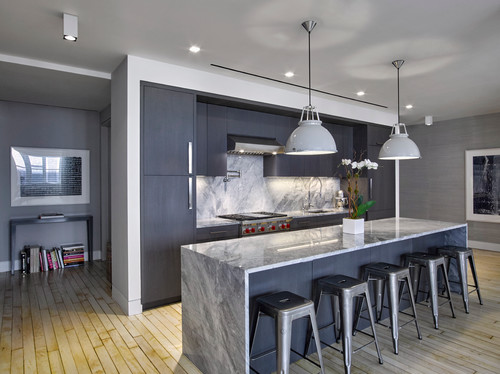 Before it becomes quartzite, this material starts out as pure quartz sandstone, a sedimentary rock primarily composed of silicate quartz. However, with the application of heat and pressure, it transforms into a metamorphic rock.
Quartzite is a non-foliated metamorphic rock, lacking the layered striations, or foliation, found in rocks that feature materials like micas. It has a crystalline texture, resulting from the way in which quartz grains interlock during metamorphosis.
The properties and textures of sandstone are largely eradicated during the process as quartz grains recrystallize and bind into a strong, smooth matrix.
In its purest form, this stone is incredibly hard and is characterized by white and gray hues, as seen in the quartzite used for the waterfall island, perimeter countertops, and backsplash in this modern New York loft kitchen.
However, the appearance can be impacted by the presence of other materials, such as iron oxide, clay, or silica, for example, responsible for diverse linear patterns and color variations.
Where Is It Found?
Like many types of natural stone, quartzite is found across the globe, although the specific composition and appearance vary from one site to the next. Quartzite is commonly mined in certain parts of the U.S., Canada, Europe, and Brazil.
In the U.S., quartzite primarily comes from Minnesota, South Dakota, Texas, Utah, Wisconsin, and parts of the Appalachian Mountains.
This natural stone tends to be found in mountainous areas, from the Scottish Highlands to the Rhenish Uplands of Germany to the La Cloche Mountains in Ontario, Canada. The Bahia region of Brazil produces some especially spectacular quartzite colors.
Strength and Durability
Because of how quartzite is formed, it's among the hardest substances used for counter surfaces, surpassing both marble and granite in strength. For reference, it ranks at about seven on the Mohs hardness scale.
Quartzite is resistant to many common forms of damage, including heat, staining, UV fading, scratching, etching, chipping, and cracking, especially when properly sealed and maintained. This makes it ideal for both indoor and outdoor applications.
Quartzite is a practical addition to busy households flooded with family and friends, as well as gourmet kitchens where tons of food prep and cooking occur.
You might naturally be concerned about threats like food stains and splatter when you choose a largely white surface, like the white countertop and backsplash streaked with graphite veins in this contemporary New York condominium kitchen.
However, the low porosity of quartzite, paired with regular sealing, will help to prevent any damage and ensure a pristine appearance for years to come.
Gorgeous Colors and Patterns
Some of the most popular varieties, from brilliant Mont Blanc quartzite to soft and subtle Taj Mahal quartzite, to warm, creamy Perla Venata, feature neutral hues and gentle patterns that contribute to calming interior spaces.
However, this natural stone can also come in a range of truly shocking shades, like the jewel tones of Azul Macaubas or Emerald Green quartzite.
You can also find a happy medium with quartzite varieties that are predominantly neutral with hints of color like the slab used in this Upper East Side contemporary bathroom to create an eye-catching accent wall behind the floating vanity.
The variety, which could be Ocean Blue, Silver Blue, or even Blue Fantasy quartzite, offers a beautiful blend of grays and blues ideal for creating an ambiance of tranquility.
Quartzite Countertop Care
Once you know what quartzite is made of, you understand that it's very strong and durable. That said, quartzite countertop cleaning and maintenance is required for them to remain as lovely as the day you installed it, just like any other surface in your home.
Cleaning should be performed with warm water, gentle dish soap, and a soft cloth or sponge. You can also use a cleanser specifically designed for stone, and you might want to look for one that preserves the sealant.
You'll need to seal your stone surfaces like the white quartzite in this chic New York powder room regularly, but how often will depend on your household and lifestyle.
Get Started with Your Quartzite Countertop Selection
Are you ready to upgrade to resilient, refined quartzite countertops in your home? Visit an Academy Marble showroom in Bethel, Connecticut or Rye, New York to view the areas' largest inventory of natural stone slabs and samples.  Contact Us to Request a Quote