Perla Venata Quartzite - Where Soft Sand and Ivory Meet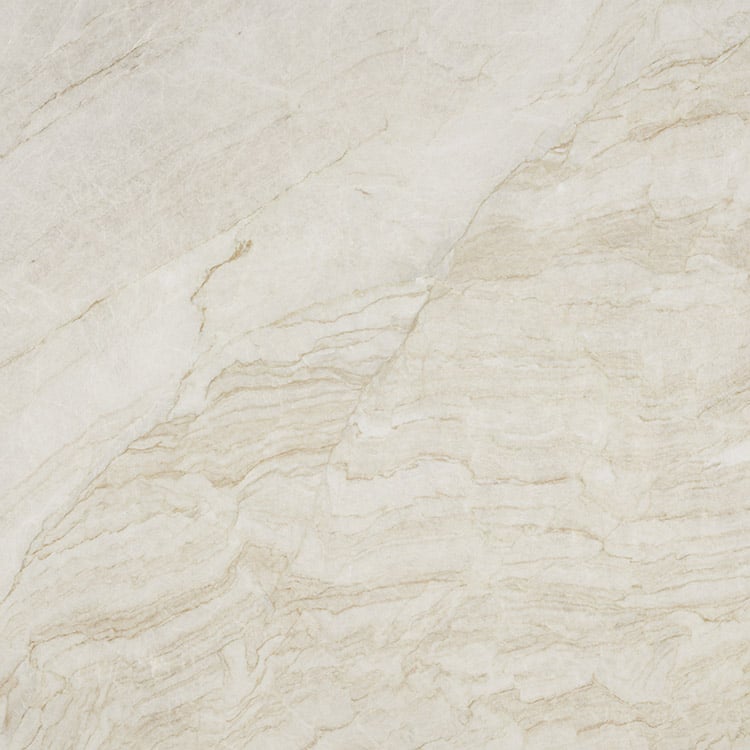 Quartzite is often overlooked in favor of popular countertops such as marble or granite, but for homeowners that want both incredible beauty and unmatched performance, there's just no beating this durable stone. For those that lean toward the soft, luminous look of pale marble slabs, Perla Venata quartzite is an alternative you'll want to consider, especially if you have a busy household where your countertops are put under a lot of wear and tear.
Breathtaking Perla Venata is quarried in Brazil, in the same region where creamy Taj Mahal quartzite is found. While Taj Mahal is mostly white with some subtle, gold veining, Perla Venata delivers a little more personality. It features artful striation and more warmth, thanks to sandy-toned veining running through the cream and white background.
The soft colors lend themselves well to any household setting in which you want to pick up the warmth of wood or create an attractive and hospitable ambiance. For example, adding Perla Venata quartzite to an all-white kitchen is a great way to warm up the space and add movement and personality to what might otherwise present as overly monochromatic.
It also pairs beautifully with wooden cabinetry, whether it's done in sunny, honey hues or dark chocolate and espresso tones. The sandy shades perfectly complement wood surfaces, while the bright, creamy background stands out, even against lighter woods, helping you to create a focal point for your kitchen, bathroom, or other countertop surfaces.
While you could pair it with black cabinetry for a bold, high-contrast aesthetic, the pairing of white, cream, and sand tones really shines at warming up white cabinets or natural wooden elements.
Of course, it's not all about looks. The functional features you'll enjoy when you choose Perla Venata quartzite are equally impressive. Many homeowners are surprised to learn that quartzite is the hardest of natural stones used for countertops. While marble typically ranks at about 3-5 on MOHs hardness scale and granite comes in around 6-7, quartzite delivers a solid 7, making it both strong and durable.
Like any natural stone, quartzite is porous, which means that it needs to be sealed to protect against moisture and staining. However, it does offer relatively low porosity, so it's fairly stain resistant to begin with. It's also resistant to heat and fire, UV fading, etching, scratches, cracks, and chips, as it's incredibly durable.
It's also relatively easy to clean. While you can certainly purchase natural stone cleaners to preserve the sealant and maintain glossiness, you could also wipe your countertops with a damp rag or wash with gentle dish soap and water, making sure to rinse thoroughly to avoid soapy film left behind. Finish with a microfiber cloth to prevent water spots and leave a dust-free shine.
Be careful not to use harsh or abrasive cleansers that could erode the sealant or expose countertops to potential harm from moisture or staining. You'll want to seal the surface regularly to protect this beautiful investment in your home.
When you're ready to explore  Perla Venata quartzite for your home project, contact Academy Marble to request a consultation or simply visit our showroom in Bethel, CT or Rye, NY to see what we have to offer.