5 Powder Room Countertop Ideas for a Small Space
"Powder room" is the term used for a small bathroom, often located on the main floor, which consists of only a toilet and vanity area. It's frequently designed to serve short-term visitors, who won't need a shower or tub.
While a space-saving pedestal sink is a common staple in powder rooms, the truth is that you're better off installing even a small cabinet and countertop for functionality purposes.
Most homeowners want at least a small amount of storage for extra linens, toilet paper, and cleaning supplies, which a pedestal sink simply won't provide.
Whether you choose a furniture-style cabinet or a modern, floating vanity, you'll want to select a countertop that works with your aesthetic, not to mention the limited space.
Here are a few ideas to help you select the right option for your powder room countertop.
#1: Tranquil Marble
Marble is a popular countertop choice for kitchens and bathrooms because of the air of luxury it adds to any space. The luminous appearance and often creamy tones of marble are also ideal when you want to create a tranquil space.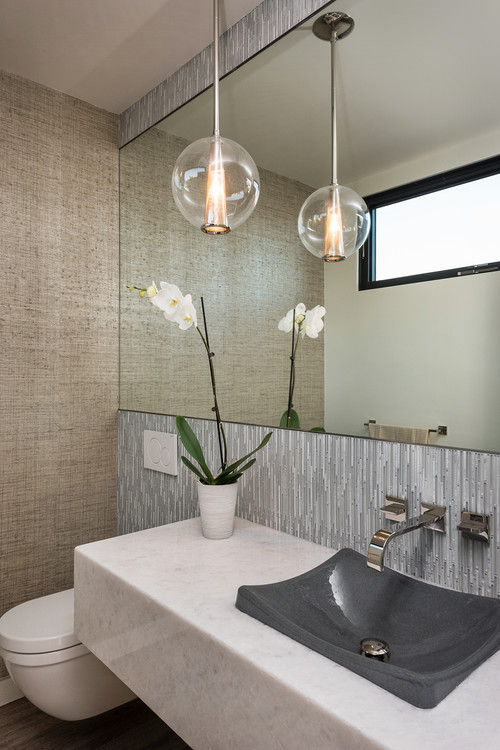 This
contemporary, coastal-style powder room
is a great example, featuring a neutral color palette in white, gray, and beige tones. The bright,
white countertop
in what looks to be
Carrara marble
is offset by a dark, vessel sink, white and gray matchstick tile, along with a grass texture wallpaper that's lighter than the dark wood flooring. The floating vanity and wall-mounted toilet offer a modern appeal.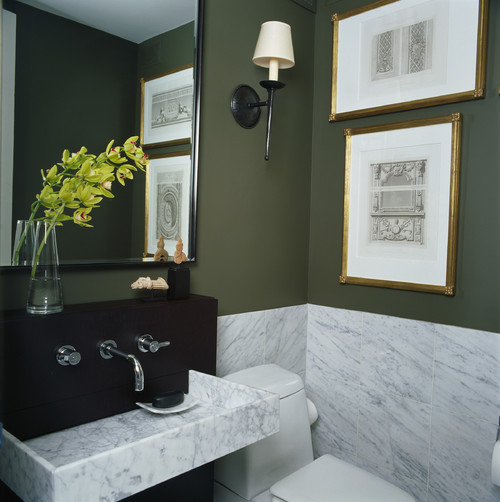 For a more cohesive look, consider adding marble wainscoting to match the countertop, as in this contemporary penthouse powder room. The gray tones in the marble draw on the dark gray of the wall, while the white helps to make the small space brighter.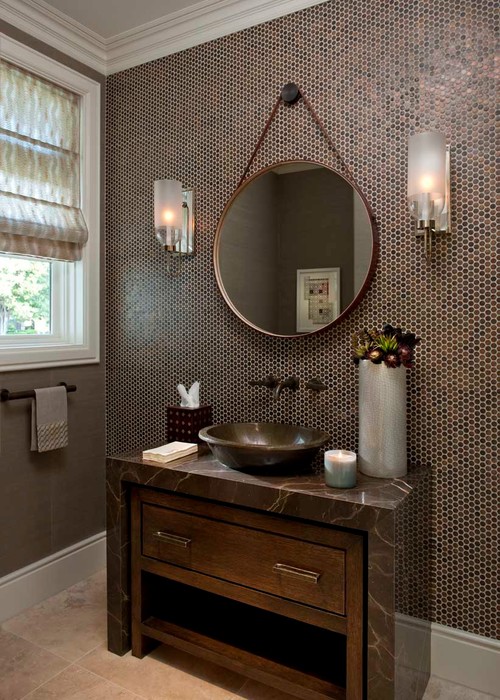 If you're looking for something masculine, but still soothing, you could always choose a warm, dark marble to build a design around. This
monochromatic, contemporary powder room
features a
waterfall-style vanity countertop
in chocolatey brown marble that looks to be Marrón Emperador, paired with a custom wood cabinet below, travertine tile flooring, a penny tile wall, and an antique bronze vessel sink and hardware.
The feeling is warm and relaxing. However, it's darker than the average powder room, so you'll need a larger footprint if you don't want it to feel claustrophobic.
#2: Showpiece Granite
It's easy for neutral powder rooms to be underwhelming, but in such a small space, adding too much visual interest can quickly go overboard. This is why it's usually best to choose one element as a centerpiece. If you want a busy granite pattern, everything else should be complementary, but toned down.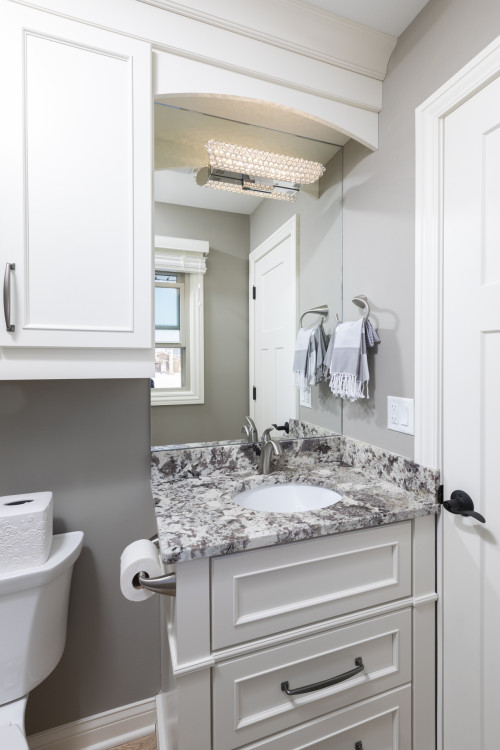 Take, for example, this gray and white transitional powder room. White cabinets and mid-tone gray walls could be supremely dull if not for the phenomenally dramatic granite countertop and backsplash, which look to be Alaska White granite.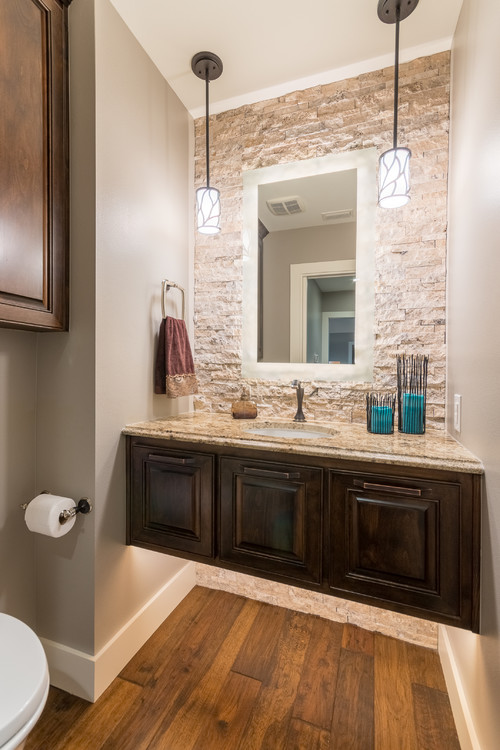 For a warmer look, consider the blend of traditional and contemporary elements in this
stone-heavy transitional powder room
.
The beige, stacked stone look of the tile behind the vanity garners a lot of attention due to heavy texture, but it blends beautifully with the slightly richer granite, which could be Colonial Gold or Madura Gold.
With taupe walls, a dark wood floating vanity and mid-tone wood flooring, the overall aesthetic is warm, cohesive, and inviting.
#3: Easy-Care Quartz
There are two great reasons to consider quartz countertops for your powder room. For starters, there are an abundance of options to suit varying styles. In this traditional powder room, the Silestone quartz counter surface in Blanco Orion looks a lot like Carrara marble.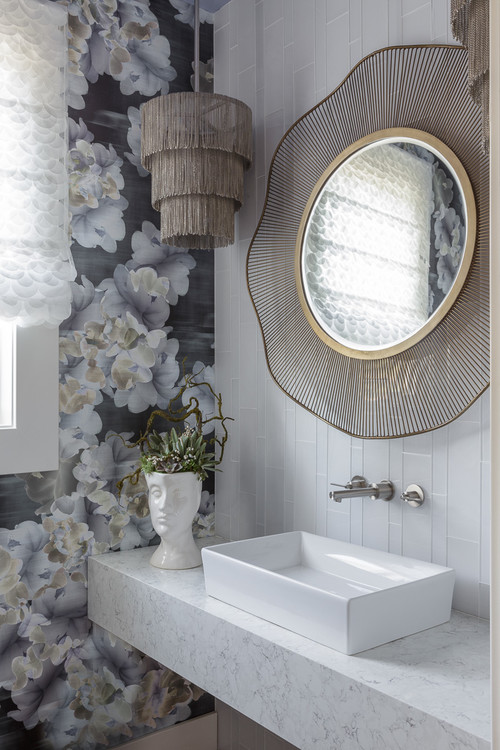 The speckled, gray quartz in this Mediterranean powder room looks more like granite.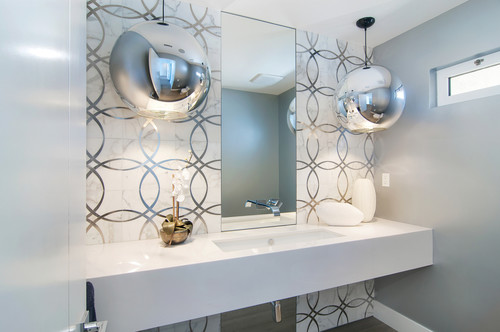 Alternatively, you could opt for a gleaming white so bright you'd likely never see it in nature, as with the expansive counter in this
ultra-contemporary powder room
.
The real draw, of course, is the ease of caring for non-porous, engineered quartz, which requires no sealing, unlike other natural stone options.
#4: Over-Toilet Shelf Space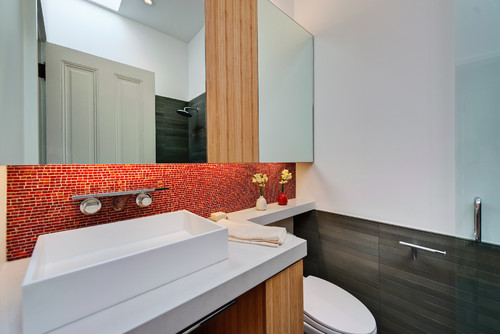 Want to expand the storage or display space in your powder room? One great option is to extend your countertops over the top of the toilet tank, creating a streamlined look that adds polish and appeal to your bathroom, as with the quartz countertop in this
modern bathroom
. It's not exactly a powder room, but you get the idea!
#5: Underlighting or Backlighting
Lighting is often a final consideration in design, but it's incredibly important, as it impacts the look of your finishes and contributes immensely to the ambiance of your space. Modern homeowners are starting to experiment with hidden sources of ambient light that create a subtle glow, giving counter surfaces a vastly different look.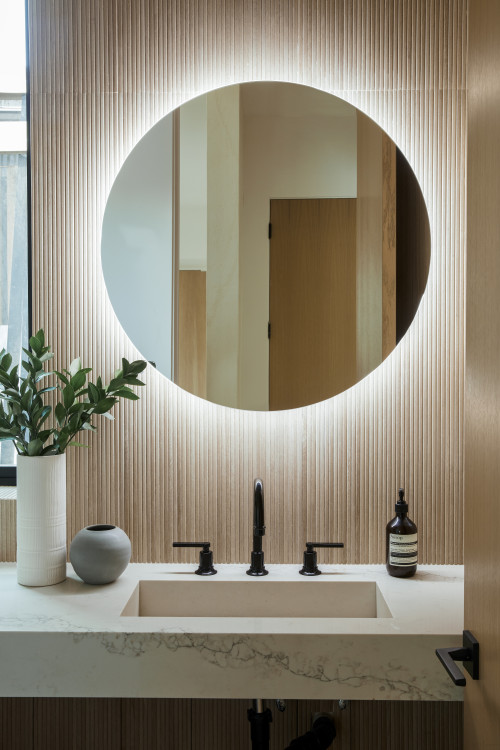 The backlit vanity mirror in this
modern, boutique-style powder room
softens the edges of the textured backsplash and dims the brightness of what looks to be a Calacatta marble countertop.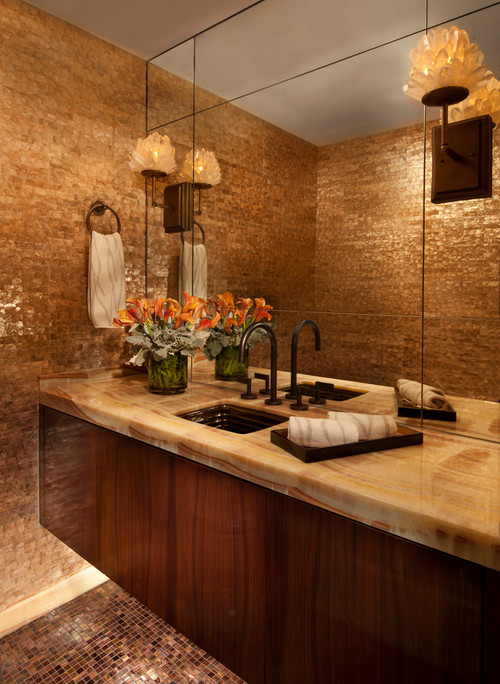 Alternately, the sconces and underlit floating vanity cabinet in this
contemporary beige powder room
serve to suffuse the Onyx marble counter surface with warm luminescence.
Whether you like the tranquility of marble, the drama of granite, or the convenience of quartz, there are countless ways to get a look you'll love when you add stone countertops to your powder room.
If you're seeking inspiration for your next home improvement project, check out our portfolio or visit a convenient Academy Marble & Granite showroom in Bethel, CT or Rye, NY for advice and assistance from our team of professionals.