White Granite Countertops that Look Like Marble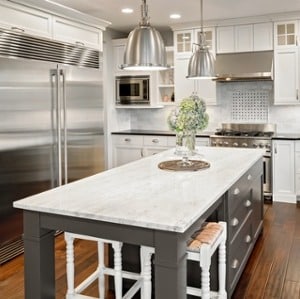 There's nothing quite like stunning, white countertops to create a statement style in your kitchen or bathroom. Not only does white inherently make a space feel bright, airy, and clean, but it can also be used to create an atmosphere of tranquility or add a show stopping focal point, depending on what you pair it with.
When you think of white countertop materials, you might naturally lean toward marble. With options like Calacatta or Carrara, you'll get the cool white background and gray striations that make these popular varieties instantly recognizable.
You'll also enjoy a natural stone that pairs well with just about anything, whether you're planning a tone-on-tone palette, prefer the contrast of classic black and white, or want a soothing neutral to pair with colored cabinetry or a bold, patterned backsplash.
However, it is important to consider where your marble slabs will be used and your lifestyle, as marble isn't the toughest natural stone option. So, it might not be ideal for busy households from a practical standpoint. For functional reasons, you may prefer the strength and durability of granite. Is there a way to get the look you love with the utility you need?
The answer is yes! With a range of white granite varieties that are visually similar to marble, you can have your cake and eat it, too. Here are a few slabs worth checking out if you want to strike a balance between resilience and stunning aesthetics.
#1: Bianco Romano Granite
Icy white and gray blend beautifully in Bianco Romano slabs, which offer hints of brown and black to create a countertop surface that blurs the lines between marble and granite traits, ultimately delivering the best of both worlds.
Even better, the mixture of cool and warm tones (which naturally vary by slab) lends an element of versatility that's not easy to find with plain white hues.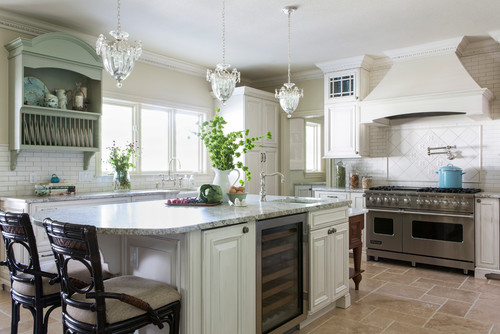 In this country manor kitchen, honed Bianco Romano granite adds visual interest to white cabinetry and a subway tile backsplash. Because there's so much icy white, the grays striations in the granite stand out.
When paired with rich, warm hues — like the brick backsplash and wood flooring and cabinetry in this traditional kitchen — the granite takes on a decidedly warmer tone. In other words, this gorgeous granite can figure prominently in just about any design plan.
#2: Glacier White Granite
If you don't want to lose out on the personality of granite, even as you search for a similar marble alternative, Glacier White offers the breathtaking patterning you crave with bold, wavy striations similar to what you might expect from a Fantasy Brown or Imperial Gold marble, albeit in cooler, creamier tones.
Some slabs may feature flecks in a variety of shades, from beige to pink, to red, so you'll have to consider the color of cabinetry and other elements if you want to highlight or downplay certain variations in the stone.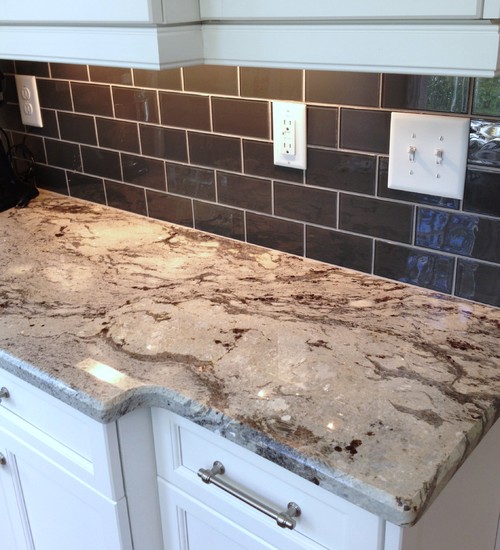 As you can see in this transitional kitchen, a stunning, marbled slab of Glacier White granite pairs beautifully with white cabinets and a dark gray subway tile backsplash, which draw on the dominant hues in the counter surface. If you paired it with wood tone cabinetry, you'd likely highlight other elements.
#3: River White Granite
One of the best marble substitutes, River White granite offers a largely uniform appearance that's not typical of this type of stone. It often features dramatic veining, coloration, and flecks of eye-catching crystal that add incredible dimension and visual dynamism.
While River White granite still displays a lot of movement, thanks to soft, gray veining on a white background — not to mention a smattering of small, red mineral deposits — it's significantly more subdued than your average granite.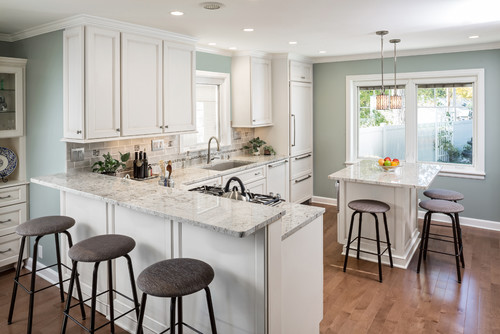 In this open kitchen and dining room, River White granite offers a seamless transition between white cabinetry, a subway tile backsplash in beige (bordering on warm gray), and silvery-gray walls. Close inspection will likely reveal that the counters aren't marble, but at a glance, the surface is similar enough to some of the most popular white marble varieties that it's easy to mistake it for marble!
#4: White Fantasy Granite
If the subtle, soothing qualities of marble appeal to you, you're going to appreciate the soft striations found in White Fantasy granite, which is incredibly close in appearance to Carrara marble.
The background swirls together creamy white and pale, pearly gray, broken up by slightly stronger gray striations throughout, creating the dreamy appeal of drifting clouds.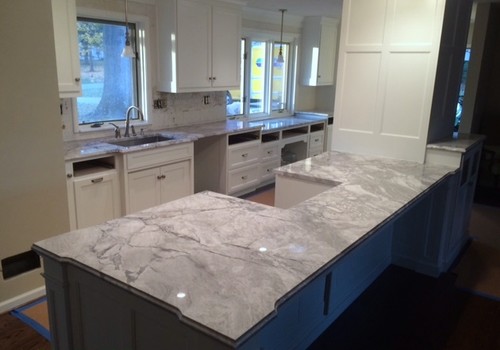 This modern kitchen provides a prime example with expansive countertop surfaces that stand out against stark, white cabinetry, but nonetheless contribute to a generally serene kitchen setting.
The eddies of movement across the surface add visual interest to what could be an otherwise flat space, but without making the bold proclamation of intense pattering that's typically found in granite.
When it comes to finding granite that resembles marble, you're going to walk a fine line, and you'll have to pay particular attention to the singular slab you select. Even so, there are options that will give you the marble-like appearance you crave, without foregoing the practical appeal of tough and durable granite countertops.
We're here to help
Choosing the right countertops for your kitchen or bath can be overwhelming without the right assistance. Academy Marble & Granite's team is ready to help. Visit one of our locations, or contact us today to set up a consultation.