How to Expertly Pair White Quartz Countertops with Oak Cabinets
Pairing countertop surfaces and cabinets in your kitchen design can oftentimes be a tricky balance, especially if you're drawn to competing colors or heavy textures. Your design choices will depend on which element you want to stand out.
Oak cabinets are often another tricky element to properly pair to countertops. The often yellow tone and muted appearance can prove to be difficult to balance. How can you make sure that your white quartz countertops serve as a statement piece when you pair them with oak cabinets? Here are a few of our favorite tips and tricks.
#1: Start with the Countertop
You might think you need to pick the cabinets the countertops will rest on before you choose the countertops. From a practical standpoint, this makes some sense, but when it comes to design, you really should start by choosing the statement piece and planning around it. In most cases, that's going to be your highly visible countertop surfaces.
In addition, your quartz countertops aren't going to change. While you can't exactly swap in new cabinetry once everything is in place, you could choose to paint, stain, or reface cabinets to create a totally new look later on.
Since the countertop is going to stay the way it is, it's best to choose the one you want from the get-go, instead of settling for something that just happens to go with the cabinets you already picked or inherited from a home purchase.
#2: Choose the Right White Quartz
Even though you know you want to pair white quartz with oak, you still need to pick the right style and slab. There are tons of options, ranging from bright washes of pure white to patterning made to look like marble or granite to completely unique designs. How can you choose the white that's right for your project?
Consider the Coloration
The first thing to consider is coloration. A bright white is going to pair very differently with wood than a white that leans toward the cool blues of the spectrum, or alternately, warmer yellows.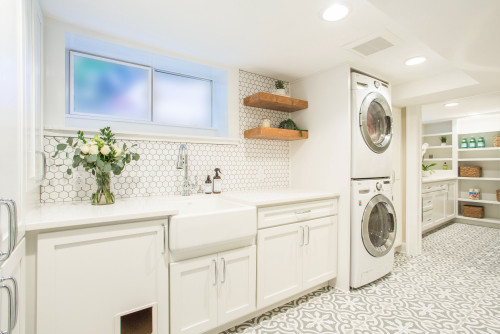 Take, for example, the bright, neutral white used in this tonal, farmhouse laundry room. Because the quartz is a pure white, it pairs equally well with the cool grays in the flooring tile and the warm, golden wood used for accent shelves.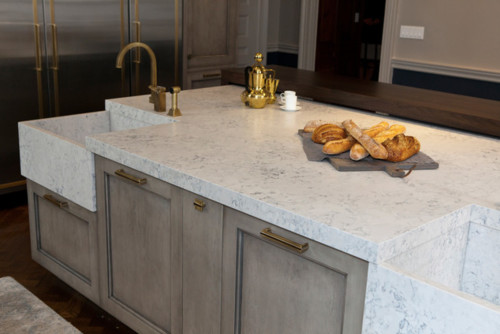 The cooler tones of the Silestone countertop in this traditional New York kitchen – which mimic the white and gray of Carrara marble – are going to pair best with ashier woods. Just look at how well the quartz complements the weathered, grayish wash of the cabinets. The warmer wood of the flooring wouldn't be quite as well-matched.
While you can certainly choose any color you like, keep in mind that oak is often selected for its warm character.
Examine the Pattern
Oak is traditionally considered to be a warmer wood, but it also tends to feature heavy grain that could compete with the patterning on countertops.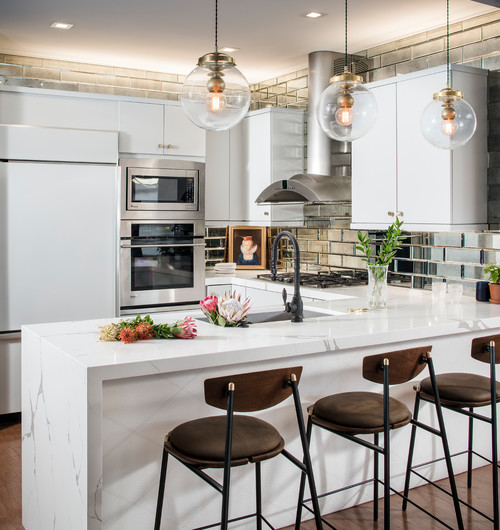 This is important because a subtle quartz pattern – such as the MSI Arabescato Carrara seen in this eclectic, modern kitchen – could be overwhelmed by a heavy grain in the cabinetry.
One good way around that is to follow the example here by extending the countertop in a waterfall.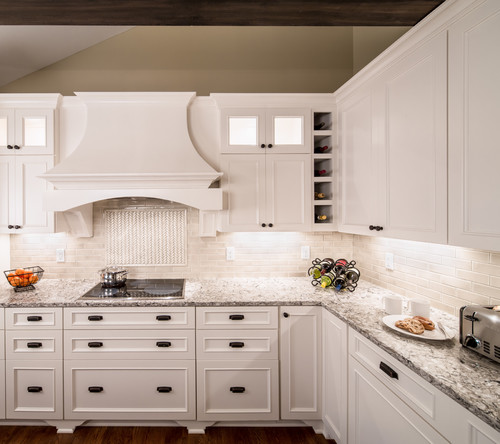 Although it's pictured atop bright, white cabinets, this quartz, which features heavy swirls of dark gray and black on a background of cream and light gray, would certainly stand out even against heavy-grained oak.
#2: Consider Oak Features
While roughly 90 different types of oak trees are found in the U.S. alone, around 500 species have been identified worldwide. They grow in different regions and may feature vastly different characteristics.
That said, not all species are preferred for cabinetry, flooring, and other interior applications. Some of the most popular options include red oak, white oak, black oak, and English oak, just to name a few. How can you choose the right oak to pair with your quartz countertops?
Think About the Color
If you choose a relatively neutral counter in pure, bright white, you can really go with any type of oak, from the pinkish-red cast of red oak to bone-colored white oak to the light reddish-brown or black oak to the slightly olive-toned medium brown of English oak.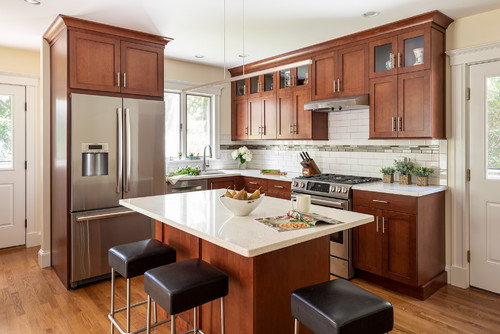 Keep in mind, of course, that you can always have oak stained to take on the coloration you prefer. A good example is the rich, auburn color of the oak cabinets in this transitional kitchen, which looks stunning next to bright, white MSI quartz counters.
Wood Grain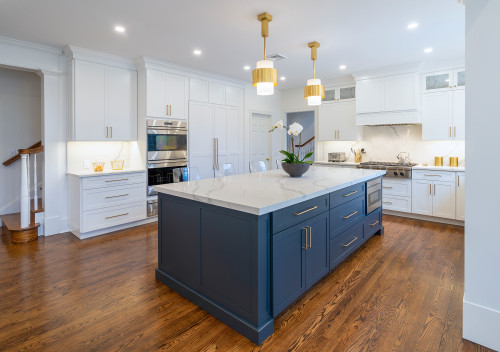 When you're choosing cabinets to go with your quartz countertops, you'll want to carefully consider how the grain will compete with your countertop patterns. For example, the heavy grain present in the oak flooring in this spacious, transitional kitchen overwhelms the eye so that the subtle pattern of the quartz (made to look like Calacatta) is nearly lost.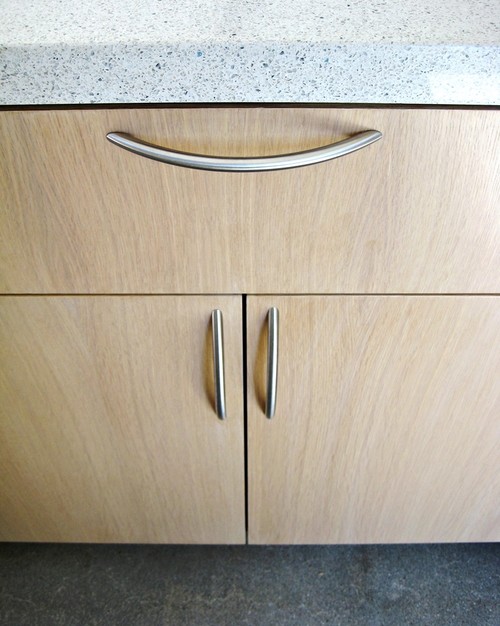 Alternately, consider the toned-down, rift-sawn white oak used for the cabinets in this mid-century modern kitchen. When it's paired with a coarse-grained Caesarstone surface, the counter remains the standout element in the design. In short, both color and pattern are essential considerations for pairing white quartz countertop with oak cabinets.
The expert team at Academy Marble & Granite is always happy to help you choose the perfect countertops for your design project. View our portfolio for design inspiration or visit one of our showrooms in Bethel, CT, or Rye, NY, to speak with one of our professionals.