The Low Maintenance Countertop Design Guide
Between maintenance, upgrades, and daily cleaning, owning a home can sometimes feel like having a second job. That's why it's so important to select finishes and décor that make your life easier and more manageable.
When it comes to countertop surfaces throughout your home, this starts with choosing not only easy-to-maintain materials, but also finding options designed to reduce the hassle when you clean.
Here are a few tips for low-maintenance countertop design that will save you time on cleaning and maintaining the surfaces in your kitchen, bathrooms, and other rooms in the home.
Option #1: Natural Stone
You might not think that natural stone surfaces would be the easiest to maintain, but when you consider the time and elbow grease that go into scrubbing the grout of a tile countertop, you're sure to find seamless natural stone, like marble, granite, and quartzite a lot more appealing.
While you can clean natural stone countertops with soap and water, followed by a rinse and dry, the daily cleaning process is made even easier with one-step stone cleaner – just spray and wipe. Some products even help to preserve the seal on your natural stone.
In terms of maintenance, you'll still have to seal your counter surface regularly, but how often you do it will really be a matter of usage and daily care.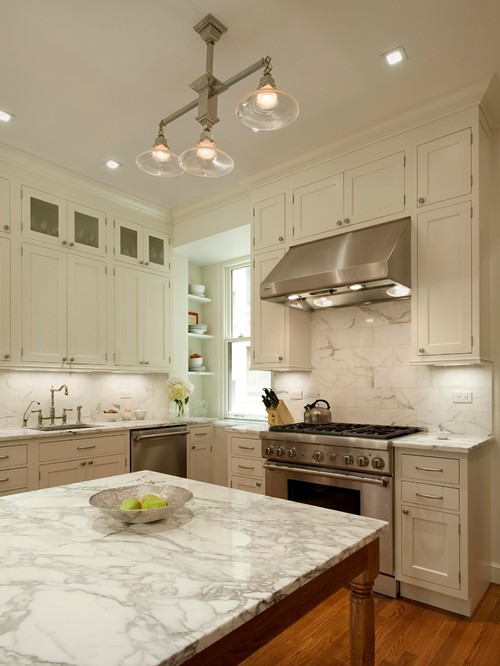 With proper care, natural stone countertops like the stunning marble in this traditional New York kitchen can literally last a lifetime. Don't forget — natural stone is strong, durable, and resistant to damage like chipping, cracking, scratching, and etching that can affect other products, like ceramic tile.
Option #2: Engineered Quartz
When it comes to low-maintenance countertop surfaces, you'd be hard pressed to find a better all-around option than engineered quartz.
This countertop material is over 90% natural crushed quartz, mixed with resins and polymers to create a strong, durable, non-porous surface that's food-safe and easy to clean and maintain.
Plus, this versatile material can be made to look like natural stone or crafted in a range of colors with dimensional features like sparkle or nougat.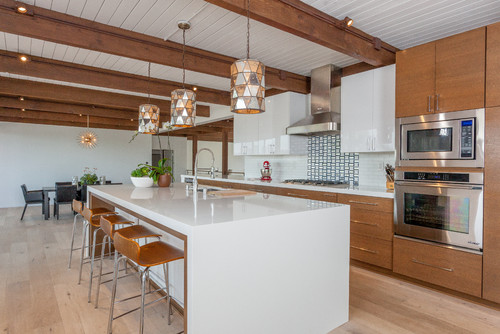 Preserving the beauty of a quartz countertop — like the bright white waterfall island and perimeter counters in this mid-century modern kitchen — is as easy as wiping it with a wet cloth or using virtually any non-abrasive cleanser.
While quartz is fairly strong and resilient, it doesn't handle extreme heat the way natural stone can, so you'll definitely want to use trivets for hot pots and pans to avoid leaving yellow or brown scorch marks that might require professional intervention to repair.
Option #3: Porcelain
Porcelain countertops are not natural stone — they're made from kaolinite clay that has been baked at 2,500 degrees to create strong, compact surface material that is 30% harder than granite.
Because porcelain counters are non-porous, resistant to heat and staining, and available in a wide range of colors and patterns (even mimicking natural stone), they've become an incredibly popular option in modern homes.
Daily cleaning requires nothing more than a damp cloth, although a wide range of solvents can be used for more intensive cleaning tasks. The only thing you'll really want to avoid is highly abrasive or acidic cleansers that may damage the glaze or sealant.
Design Options
Once you've chosen the countertop surface that's going to provide the level of maintenance you're comfortable with, it's time to consider how certain design choices might contribute to your low-maintenance lifestyle. There are a couple of key features that are going to make your life a lot easier.
Undermount Sink
Aesthetically speaking, you may like the look of vessel or overmount sinks, but if convenience is your top priority, you can't go wrong with an undermount model that nests beneath the counter surface. This option delivers a slightly deeper sink basin to work with.
More importantly, however, it makes for easy cleaning, as you can simply wipe water, food bits, and other waste directly into the sink, instead of having to navigate around an overmount sink edge or wipe messes off the countertop and into your waiting hand.
In truth, an undermount sink — as seen in the White Macauba quartzite island in this classic kitchen — offers a clean, sleek appearance that flows with the counter surface.
Backsplash
Kitchens and bathrooms can be messy spots in the home. Stuff can easily splatter on walls, whether you're cooking or washing your face.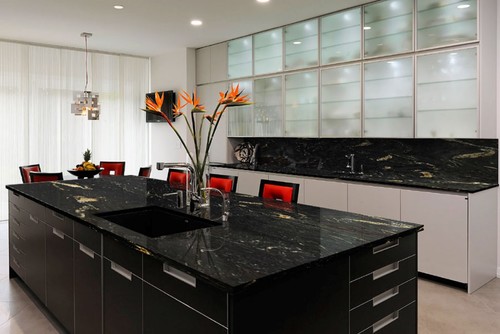 If you're going to spring for new countertops in a bid to reduce maintenance, you might want to skip the tile backsplash (and grout) in favor of extending your counter material in a solid piece up the wall, as you'll see in this modern galley kitchen, which features Cosmic Black granite for the island, perimeter countertops, and backsplash.
Do you need help choosing the counter surface that will best match your interior design style and your preferred level of maintenance? The experts at Academy Marble & Granite are happy to help! Stop by one of our convenient showrooms in Bethel, CT, or Rye, NY, to get started or simply peruse our portfolio for design inspiration.