How to Clean Granite Countertops: 5 Simple Steps to Follow
Granite countertops make for an eye-catching addition to kitchens, bathrooms, laundry rooms, and other areas of the home. With a diverse range of colors to choose from, dynamic patterning, and depth and dimension unique to this natural stone, granite definitely makes for a statement style in any setting.
Of course, if your granite is dulled by dust or spattered grease, or worse, stained by foods and beverages, it won't offer the same visual impact and appeal. If you want your countertops to remain polished and pristine, you're going to have to follow a regular cleaning regimen. 
So, how can you keep your granite as sparkly and beautiful as the day it was installed? Here are a few simple steps for how to clean granite countertops.

Step #1: Outfit Your Arsenal
Having the right tools for the job will not only make cleaning faster and more effective, but it will help ensure that you don't cause any undue damage in the process. The main thing you'll need is soft, microfiber cleaning cloths to clean and dry the granite surface. As for cleaning solvents, you could use a stone cleaner like Granite Gold that is specifically formulated to clean and preserve the shine of your natural stone.
However, you might be surprised to learn that the most recommended cleanser is a simple mixture of water and gentle soap, like dish soap. You can apply a squirt of soap directly to a sponge to get started or create a soapy solution in the sink or a bucket.
Many dish soap products offer some disinfecting properties, but if you're concerned about disinfecting as well as cleaning, a 50/50 solution of water and isopropyl (rubbing) alcohol in a spray bottle can be used to safely disinfect surfaces and preserve shine. If you're dealing with stains that have penetrated the stone, you may also need baking soda, hydrogen peroxide, and plastic food wrap to address the problem.
In addition to knowing which products you should use, it's important to know which cleaning steps to avoid. Granite is ideal for busy kitchens because it is so resilient, but it's not indestructible. Granite can still be scratched, stained, and otherwise damaged, so avoid using harsh, acidic, or abrasive cleansers, including bleach, ammonia, vinegar, lemon, powdered cleansers like Comet, and so on. Steer clear of abrasive sponges, pads, and brushes, as well.
Step #2: Clean and Disinfect
Now that you have all your tools assembled, you'll find that the cleaning process is surprisingly simple. All you have to do is get some suds going with your soapy water and start wiping down the countertops, making sure to wring out excess water so you don't leave pools of standing water on the surface.
Because abrasive cleansers are a no-no, you might have to put in a little work to dislodge stuck-on food grime. If disinfecting is a top priority, use your water/isopropyl alcohol cleaning solution instead of soapy water.
Step #3: Treat Stains
Most granite countertops are sealed to help prevent staining, but over time, sealant can wear, leaving your countertops vulnerable to stains.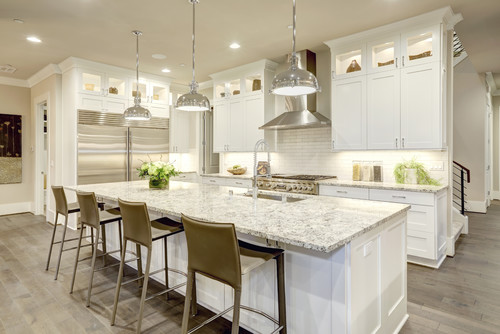 This might not be a problem with dark granite, but if you have a lighter granite, such as White Ice granite, similar to the slabs in this transitional New York kitchen, spilled red wine or pasta sauce splatter could be a real concern.
The good news is, you can easily treat a variety of stains with common household items, starting with baking soda. If you notice a stubborn stain even after cleaning, start with a mixture of baking soda and water to treat oil-based stains, or work on water-based stains with a combination of baking soda and hydrogen peroxide.
Just add small amounts of liquid to baking soda in a bowl until you create a thick paste, then gently scrub it into the stain using a soft cloth. If the stain won't budge, apply your paste to the stained area and cover with plastic wrap. Tape the edges and leave it overnight, wiping it away in the morning and repeating if necessary.
Step #4: Rinse and Dry Thoroughly
If you leave soap or water sitting on your granite, you're going to see staining and deposits as it dries. This can impact the shine of the surface.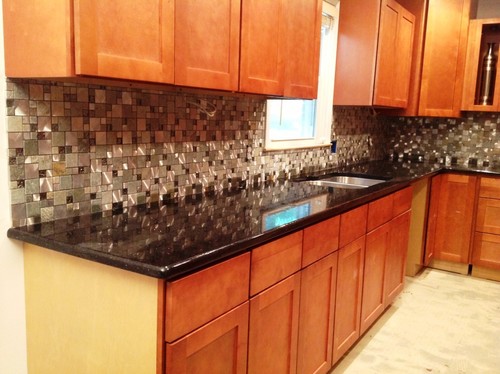 This is more noticeable on dark granite, as the Black Galaxy granite in this traditional kitchen.  As you can see, any water deposits would be highly visible on these high-shine surfaces.
The good news is, it's not hard to preserve countertop shine.  All you have to do is make sure to rinse away any soapy residue with clean water and then dry countertops thoroughly with a soft cloth. This will help eliminate any streaking and leave you with a shiny, spotless surface that displays all the beauty of your granite.
Step #5: Reseal Regularly
Technically, this isn't part of your cleaning regimen. However, if you want to avoid staining and other potential damage, it's imperative that you maintain the seal on your natural stone. At a minimum, you should plan to reseal every 2-4 years, although it may depend on how hard you are on the granite countertops in your home.
Can We Help?
We specialize in creating custom countertops in Fairfield County, CT and Westchester County, NY and would love to help you select the right surface for your home or project. Please visit us today or contact us here to learn more.