Kitchen Countertop and Cabinet Combinations for Veined Stone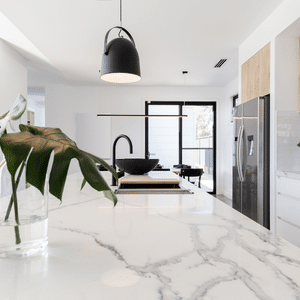 The attractive look of veined stone is found in a variety of materials, such as granite, marble, quartz, and other natural stone options. The veining in these popular choices for kitchen countertops adds an element of depth and visual interest without being overdone or overbearing.
Veining brings a classy subtlety that can range from almost unseen to bold and eye-catching, depending on the homeowner's tastes and preferences.
Thanks to this versatile feature of veining, pairing glamorous cabinetry with veined stone kitchen countertops can go in any number of ways. Most people choose the countertop first, then the cabinetry colors to complement the stone. Others reverse this order by choosing cabinets first and then a stone counter option that pairs well.
Ideas for Veined Stone Kitchen Countertop and Cabinet Pairings
You always want to consider which countertops will look best with the various cabinet options you are considering. Whichever way you choose to go about selecting your kitchen countertop and cabinet combinations, it's never a bad idea to draw some inspiration from really beautiful kitchens that have already been done.
Gray Marble Veined Countertops with Black Cabinets
White Vermont marble (or white Vermont quartzite, for that matter) looks gray overall, especially when viewed from a bit of a distance. Upon closer inspection, though, it has a white base with delicate silver veining.
You can see in this  sleek kitchen in New York that the white background and jagged gray veining stand out against the heavy dark contrasting black cabinets while pulling the entire kitchen together in one clean, aesthetic presentation.
If you're looking for a kitchen countertop and cabinet combination that is a bit unexpected with a bold look for your kitchen, pair white Vermont marble with black cabinets in a matte finish.
White Quartz Countertops with Green Cabinets
Many veined stone kitchen countertop and cabinet combinations have long been the favorites of designers, including white and green pairings. For a kitchen that will have white quartz countertops with green cabinets,  you can choose anything from sages and teals to shades of forest green or mint.
This pairing is extremely versatile and can be as cool or as warm as you wish. While certain shades of green have warm undertones, in general, the green color family is part of the cool color palette.
When you pair green cabinets with veined white countertops made of something like Michelangelo Alleanza quartz, you'll enjoy stunning stone counters that are neutral by themselves and feature delicate gray veining.
The pairing of white and green is a traditionally inviting one that blends seamlessly into every design from contemporary to traditional to classic.
Black Veined Quartz or Granite with White Cabinets
Few pairings are as timeless or as classic as black and white, which is also beautifully true when it comes to black quartz countertops and white cabinetry.  Veined stone colors and patterns range from dark to light, but few offer the moody drama that black veined quartz or marble do. When paired with white cabinets in a kitchen, the result is stunning.
Pairing dark veined stone countertops with black cabinets feels too cave-like for many people, especially if the room is small or lacks natural light. On the other hand, pairing white counters with white cabinets can be far too bright and glaring, especially in a room that is very large with more than enough bright natural light.
Pairing black and white is the classic solution that is neither too offensive nor too deep. Why not take things a step further and introduce a gorgeous gray backsplash into the design?
Black granite or quartz countertops and white cabinets create the perfect look for kitchens of any style,  like this New York kitchen, from retro to contemporary to minimalist.
Wood Kitchen Cabinets with White Quartzite Countertops
When designers rave about the versatility of quartzite, they do so for good reason! Quartzite pairs well with virtually any design element, including wood. When you pair white veined quartzite countertops with contrasting darker wood cabinetry it creates an inviting kitchen  that is neither stark and cold nor deep and stuffy.
The pairing of this kitchen countertop and cabinet group works extremely well in large, open kitchens that need an inviting tone to add an element of warmth to the room. The white countertops prevent the room from being too warm, though, and they work to balance the wood by offering a bright contrast.
The unique veining in white quartzite is the perfect, subtle detail that pulls it all together for an appealing, pleasant space.
No matter which kitchen countertop and cabinet combinations you are considering for your home, or even if you have no idea which idea you'd like, contact our experts at Academy Marble & Granite for help. You can also visit our showroom in Rye, NY, or Bethel, CT.