How to Decide Between Honed vs Polished Granite
Upgrading your home can be a fun and exciting process, especially when it comes time to selecting the granite countertops for your kitchen or bath. When you get it right, you can enjoy the lasting thrill of living spaces that are designed to perfectly suit your personal taste. However, choosing the right granite finish for your countertops can be a tough decision; granite countertops can last a lifetime if properly maintained so this is a decision you will have to live with for a long time. 
Once you've picked the perfect slab, you'll still have to select the finish that is best suited for your home. But, how can you decide whether polished or honed is right for your space and your style sensibilities? Which type of countertop finish to select may be seem like an afterthought, this is one preference that can change the entire aesthetic of your countertops. Here are a few things to keep in mind when deciding between honed vs. polished granite.
What Are Honed and Polished Finishes?
Granite is a hard rock with a surface that is naturally rough and pitted. For slabs to be usable as a practical countertop, they must first undergo the finishing processes designed to level and smooth the surface. Grinding and buffing can help to create an aesthetically pleasing surface that's well-suited to food preparation.
There are various options for granite finishes, with polished and honed finishes being two of the most popular.
Polished granite has long been the most common option. It offers a sleek, glossy surface that bounces light and resists staining, etching, and other forms of damage.
Honed countertop surfaces, however, have become incredibly popular as of late, with a matte appearance that adds texture, rather than shine, to kitchens, bathrooms, and other countertops in the home. Honed finishes can highlight the character of the natural stone.
Differences in Appearance
The main difference between honed and polished surfaces is that a honed finish will recede somewhat, while a polished finish will catch the eye through the sheer virtue of bouncing light.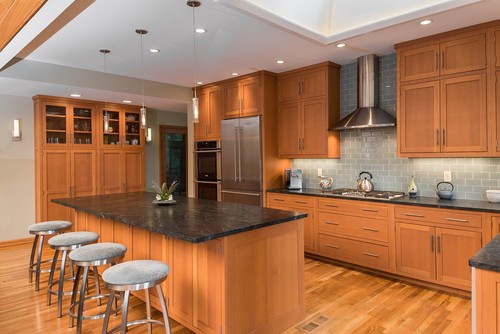 As you can see in this
contemporary New York kitchen
, the honed
Jet Mist granite
is not entirely devoid of reflective properties, but because of the matte finish, it doesn't compete with the glossy surface of the glazed, subway tile backsplash or the luster of natural finish on the douglas fir cabinets.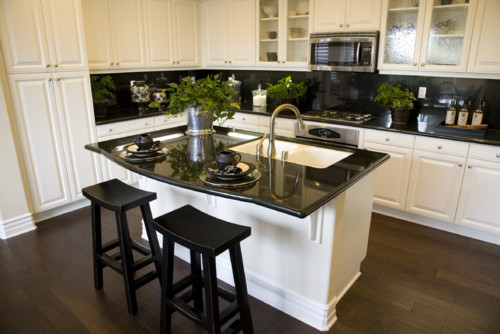 Compare that to the high shine of the Absolute Black granite featured in this
traditional kitchen
. A more sedate, honed finish would not have the same visual impact against bright, white cabinetry as the glossy stone used for the island and perimeter counters and backsplash.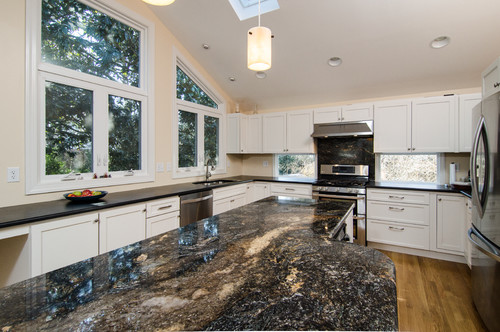 This contemporary kitchen offers a rare glimpse of honed and polished surfaces side-by-side, with perimeter countertops in honed Absolute Black granite and an island in polished Brazilian Saturnia granite, each set against pure white cabinets.
The perimeter countertops enjoy high visibility because of the color contrast, but the honed surface takes a backseat to the dynamic pattern and high-gloss finish of the kitchen island countertop, which serves as a stunning focal point.
While the color and pattern of your slab and the contrast in your overall design can go a long way toward determining whether your granite countertops stand out or recede, a honed or polished finish is like the icing on the cake. It can enhance your preferred style and emphasize the statement you're trying to make.
Appeal to Homebuyers
While polished stone has long been the gold standard in luxury home design, modern homeowners and buyers are leaning toward the organic appearance and relaxed, yet elegant vibe of honed granite.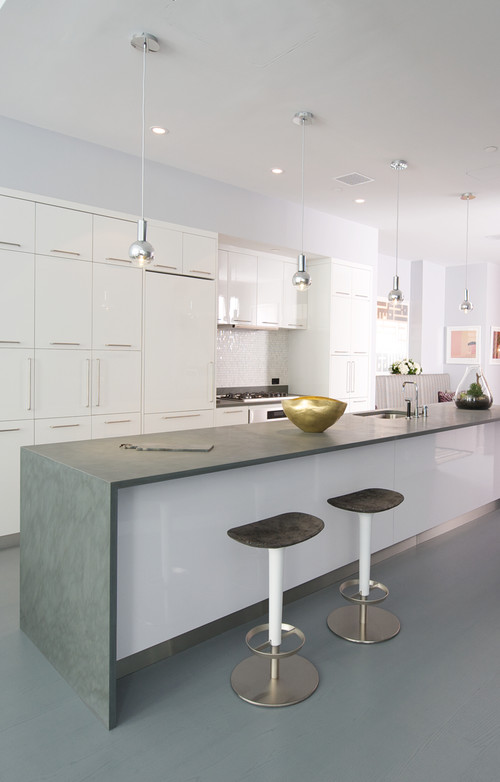 A great example is the waterfall countertop pictured in this
contemporary New York loft
. Set against white cabinets, a polished quartzite island wall, and a glazed backsplash, the granite — which looks to be Green River — stands out, not only for the offset color but also because of its matte appearance.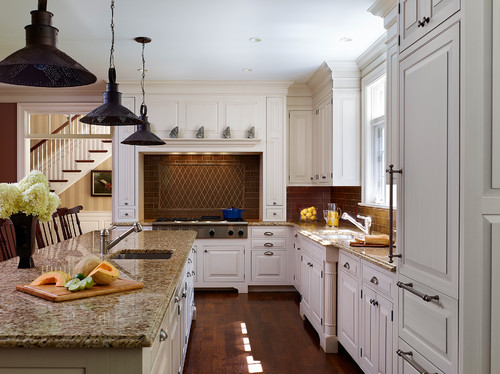 This trendy, upscale design choice holds a lot of appeal for homebuyers who have a modern style. If, however, you're interested in a more timeless, traditional aesthetic to match your aesthetic, a polished surface like the Venetian Gold granite island and perimeter counters in this traditional, colonial-style kitchen may better suit your purposes.
Honed Granite Cost
Because polished granite requires more processing to achieve its high shine, you might think it would cost more. However, honed granite is the new kid on the block. This means it's less likely to be in stock, so you might need to place a custom order.
This could depend somewhat on the slab you choose, as certain granite varieties have become more popular in the honed finish of late (darker varieties like Jet Mist and Absolute Black in particular). Your best bet is to check pricing and availability with your local supplier.
Countertop Upkeep
While any natural stone surface will require some upkeep (cleaning, resealing, etc.), honed surfaces tend to need a bit more maintenance than polished ones. They are more likely to pick up surface stains, which is probably why honed finishes seem to be most popular on darker granite varieties. If you decide on honed granite, you may experience more superficial surface stains that are easily removed by cleaning the granite with a simple cleaner.
Whether you want to learn more about honed vs. polished granite or you're ready to peruse options for your home upgrades, the experts at Academy Marble & Granite are available to help. Contact us today to get started!