6 Cambria Quartz Countertop Options to Consider for Your Home
There are plenty of reasons to love engineered quartz countertops. There's the fact that they're comprised of over 90% natural stone, which gives them the depth and dimension you expect with any natural stone product. The remaining materials include resins and polymers that create a hard, non-porous surface, making for exceptional resilience and durability, as well as pigments that can make quartz look like other types of stone (marble, granite, etc.), or a completely unique surface.
Cambria quartz, in particular, is also made in the USA and is backed by a lifetime limited warranty, which makes it an ideal investment and countertop choice for any room in your home.
Of course, you still need to choose a preferred type of quartz for your kitchen, bathroom, laundry room or other countertop surfaces, and you'll find there are dozens of options to choose from. In fact, the company boasts more than 120 designs, including different colors and natural stone appearances. Here are just a few options that are sure to make a splash in your home.
Cambria Quartz Countertop Option #1: Helmsley
If you want a rich, dynamic countertop surface that's sure to catch the eye, you can't go wrong with Helmsley. This granite-like surface is composed of brown, beige and copper nougats interspersed with thick, gray and pewter veining, with the entire slab peppered in ebony grains. 
While you might be on the fence about a surface that pairs both warm and cool areas in equal measure, you won't be disappointed by the versatility this style delivers. This surface will pair wonderfully with rich, dark cabinets in walnut or mahogany, but you could also easily place it atop white or black cabinetry to make your quartz countertops the star of the show.
Cambria Quartz Countertop Option #2: Williston
Whether you're looking for something dark to contrast with white cabinetry for high drama, want a masculine finish to your dark wood or trendy gray cabinets, or you need a dark neutral to pair with cabinets in beautiful jewel tones of sapphire or teal, the Williston style will accommodate your design aesthetic admirably. A stippling of black and dark gray form the foundations of this dynamic stone, and flecks of blue add sparkle, shine and add dimensionality for a subtle pop. 
Stainless steel and brushed nickel hardware and appliances will complement this dark and luxurious quartz beautifully.
Cambria Quartz Countertop Option #3: Trafalgar
Looking for lighter fare? You're sure to appreciate the bright sophistication of Trafalgar, which features a swirling wash of white, cream and taupe broken up with pale, wispy, gray-green veining. This breezy look works equally well with a classic, white kitchen or the gray cabinetry that's become extremely popular over the last few years. It would also pair well with lighter woods, and golden tones like oak, could bring out the warmer creams in this engineered quartz surface. 
This stone works equally well with brass, brushed nickel or antique bronze hardware.
Cambria Quartz Countertop Option #4: Bentley
Some people want an understated look that blends seamlessly with their kitchen or bathroom design. Others prefer high drama. For the more adventurous, there's no better option than the Bentley style, featuring a bright, white background slashed through with beefy ribbons of charcoal and ebony, and accented by pale gray veining and splatter. 
This marbled look is an attention grabber, whether you pair it with white, black, or gray cabinetry or you juxtapose it against natural wood to add warmth to your interior design.
Cambria Quartz Countertop Option #5: Ironsbridge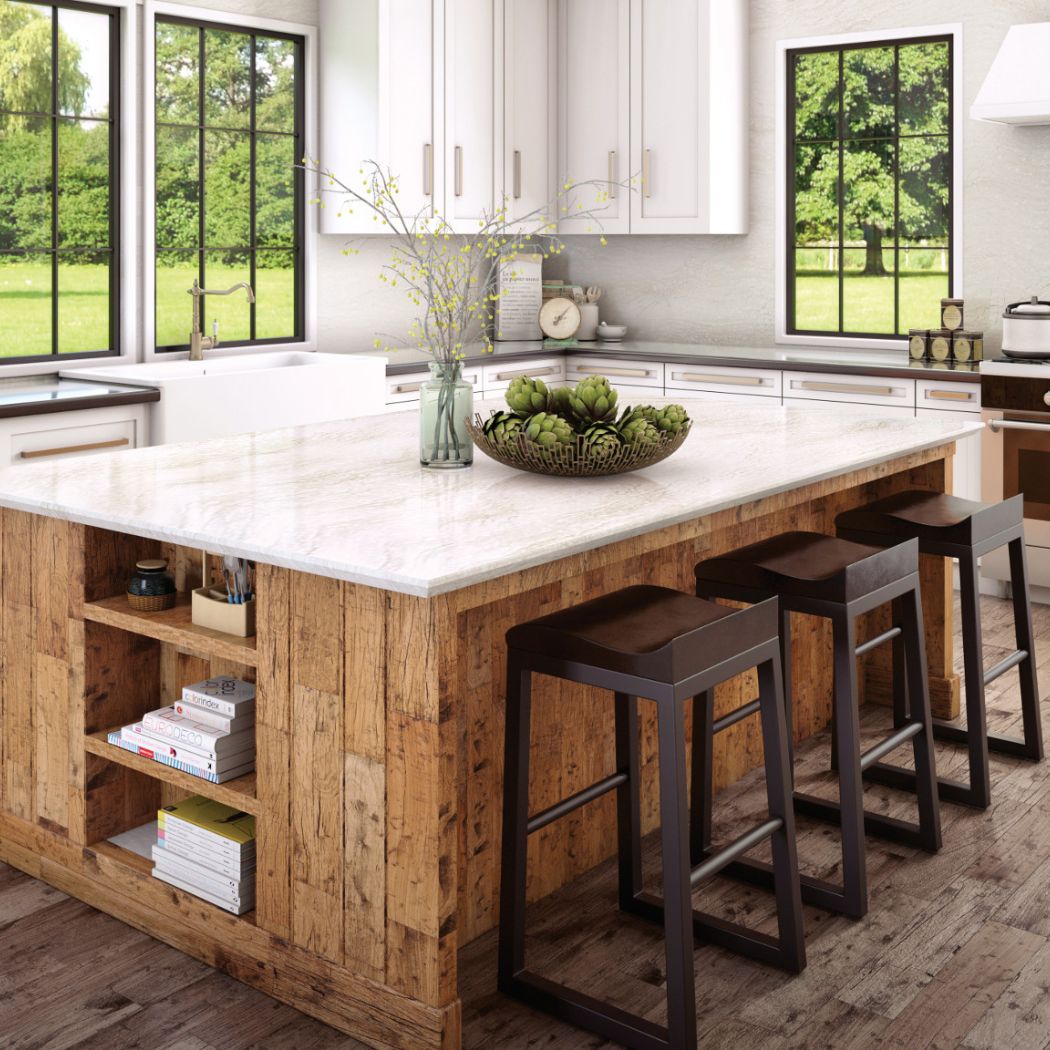 Are you in love with the look of Calacatta Gold marble, but seeking a stone surface that offers the strength and durability of quartz?  Look no further than the Ironsbridge design from Cambria. A background in white and cream provides an ethereal and sophisticated base, painted with subtle striations in pale gray with hints of gold. You might reasonably deem it non-offensive, but the truth is, it goes beyond simple mainstream appeal, imbuing your space with a sense of tranquility. 
Pair it with white cabinetry for an overall pristine appearance, or offset it against natural wood cabinetry to give your countertops extra oomph. This stone will be sure to create a warm and inviting interior space.
Cambria Quartz Countertop Option #6: Cardigan Red
A bold, statement countertop is not for everyone, and a surface in Cardigan Red certainly isn't for the faint of heart. This crimson hue is going to stand out no matter what you pair it with. 
White or black cabinetry would make for a shocking contrast, but if you want something a little more palatable, consider pairing this spicy surface with rich, wood cabinets in hickory, cherry, or mahogany.
Whether you're looking to emulate other types of natural stone while enjoying the many advantages inherent to engineered quartz surfaces, or you want to choose from the practically endless colors and patterns only quartz can offer, Cambria delivers with attractive and resilient options sure to suit any interior design style and aesthetic preference.
Need help with your next project?

We would love to help you pick the perfect countertop material for your next kitchen upgrade or addition. To request a complimentary consultation with one of our design experts, click here.