5 Black Fireplace Surrounds Made of Natural Stone
You've probably heard the phrase "home is where the heart is," but historically, it's also where the hearth is. While modern, central heating has made the fireplace more of a luxury feature than a necessity in many northeastern homes, the hearth used to be where people gathered to stay warm, share a meal, and enjoy each other's company. Of course, it all starts with a beautiful and inviting fireplace surround. While brick and stone are standard fare, you might be looking for a way to bring this central gathering spot into the modern era.
One great way to create a look that's both trendy and timeless is to choose a durable black natural or engineered stone for the fireplace surround. Marble offers classic luxury, but options like granite and quartzite can also meet functional needs and aesthetic preferences.
These natural stone options are not only resistant to heat, but also resist damage like scratching, staining, chipping, cracking, and more. Plus, they serve as a jaw-dropping complement to mantels and corbels in wood, brick, stone, or other materials.
If you're looking for a way to turn your fireplace into a modern, upscale, eye-catching focal point, black stone is incredibly attractive and versatile. How can you choose the right black stone for your home?
Stone Option #1: Black
Marble
It's not unusual to see fireplaces from the Art Deco era decked out in stunning shades of deep green marble, while more modern iterations are often found in dreamy shades of white, cream, and beige.
However, the rising trend in marble fireplace surrounds is black marble, and few varieties offer greater appeal than dynamic Nero Marquina marble.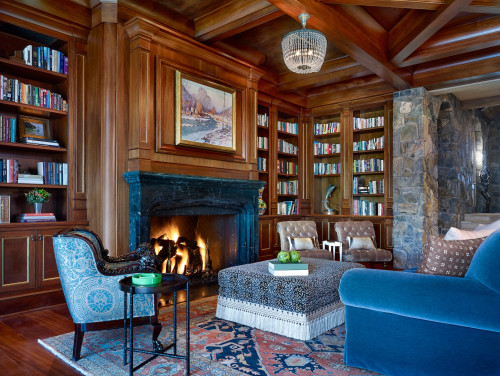 The fireplace surround, mantel, and corbels in this
farmhouse living room
is a prime example. The inky background is slashed with lightning-like striations in white that bring incredible movement and personality to every slab. It stands out beautifully against the rich wood paneling, floors, and coffered ceilings that dominate the space.
Although the dark color brings an air of modernity, the classic styling ensures that the fireplace acts as a focal point, rather than sticking out like a sore thumb.
Stone Option #2: Black
Granite
Over the last few decades, strong, durable, and dynamic granite has become a popular surface option for kitchen countertops, especially for homeowners looking to add some personality and visual interest to otherwise neutral interiors. Granite can also make a lovely addition to your fireplace.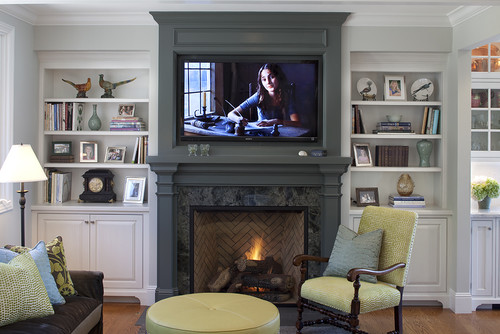 Just look at the Labradorite granite displayed on the fireplace surround in this traditional family room. Sometimes confused for quartzite, this incredibly dimensional stone has a black to dark gray background beset by dazzling patches of iridescent blue, making it a low-key exotic addition to your average fireplace.
Here, it picks up the black perimeter of the firebox itself, as well as the deep gray of the mantel and corbels. When set against white walls toned down by a pewter glaze, the entire fireplace wall pops, drawing the eye and creating a clear focal point in the room.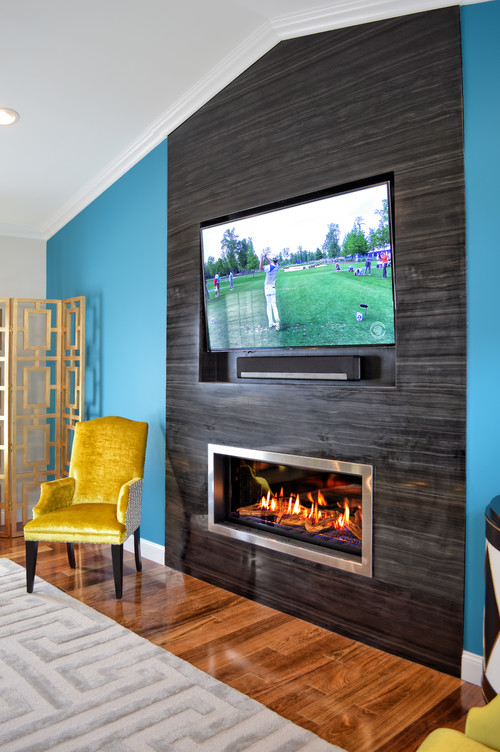 Equally attention-grabbing is the black and gray Wood Grain granite seen in this contemporary New York living room. The floor-to-ceiling granite wall takes full advantage of the vaulted ceiling, dominating the accent wall and compensating for the large, built-in TV nook and ribbon fireplace below.
Although you might expect a wood grain texture in black and gray hues to pair poorly with natural wood flooring, the heavy grain of the wood floor — in medium golden tones with darker stripes — has enough personality to perfectly complement the bold striping of the granite (especially with the grain patterns in the wall and floor arranged perpendicular to one another).
While white walls alone could make for a rather stark backdrop for the blacks and grays of the fireplace surround, the use of a bright, cerulean blue paint on the accent wall deftly ties together the warm and cool tones in the room, even while helping to highlight the show stopping granite.
You can also achieve a more traditional and toned-down look when you select the right color and finish, such as honed granite. Honed Absolute Black granite has recently gained momentum as a popular kitchen countertop material, and it can be used to striking effect for a fireplace surround.
Stone Option #3: Black
Quartzite
Quartzite is the hardest natural stone used for countertops and other surfaces in the home, with a Mohs hardness rating of 7. Surprisingly, it is not a common addition to fireplace surrounds, which means choosing it will set you apart from the pack.
While creamy quartzite is gaining popularity, you can find darker options like elegant Platinum Black, featuring hazy rivulets of black and dark gray that imbue it with subtle movement and mystique.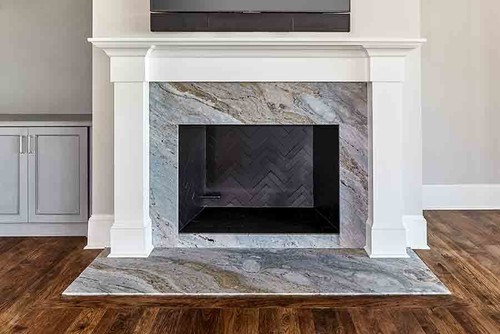 If you're looking for something that falls between marble and granite in appearance, check out the Fantasy Blue quartzite in this contemporary family room. Flanked by classic white pillars and mantle, and grounded by rustic hardwood flooring, the patterning of the quartzite, featuring marble-like veining and granite-like patches, lends an air of whimsy to an otherwise traditional space. In other words, it's definitely not your typical fireplace surround.
Are you ready to upgrade your fireplace surround to reflect your home's style? Visit one of our Academy Marble & Granite showrooms in Bethel, CT, or Rye, NY, to speak to our talented design team and start looking for the perfect slab.