From Traditional to Contemporary: 8 Marble Fireplace Surrounds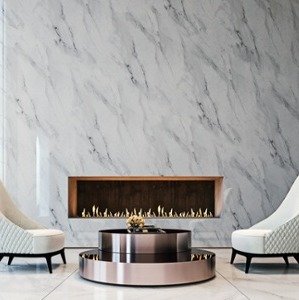 Marble is a classic countertop surface that's known for its luxury, timeless beauty and pristine aesthetic. While you can choose beautiful options in marble to grace your kitchen and bathroom countertops, and even flooring throughout your home, this natural stone is also a popular choice for fireplace surrounds. You might be surprised to find that it works equally well for both traditional and contemporary looks, which means you can pair it with nearly any architectural style.
If you're wondering how best to incorporate the right marble fireplace surround into your home, here are several examples, ranging from traditional to contemporary, to help you get started and find the perfect style.
Traditional Marble Fireplace Surround Designs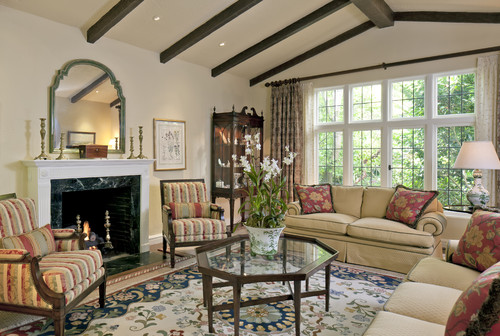 There are a couple of design options to choose from when it comes to adding a traditional marble fireplace surround to your home. It doesn't get much more traditional than this Tudor style residence featuring what appears to be a classic, dark green marble for the fireplace surround and hearth. The legs feature fluting common to classical columns, an element that's mirrored in the apron (surface underneath the fireplace) above.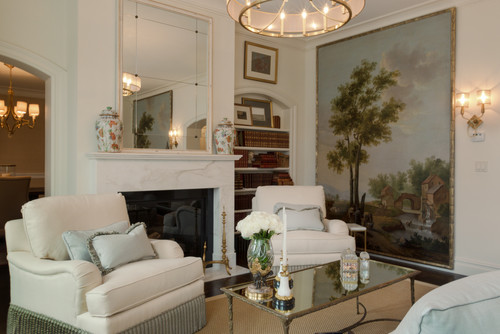 Another classic design choice involves using solid marble for the entire surround, as with this traditional New York living room. The marble, which looks to be Carrara or possibly Mont Blanc, makes up the entire kit-and-caboodle, from the hearth and surround, to the plinths (lower square slabs at the base), legs, apron, and mantel, creating a simple, cohesive look that nonetheless serves up traditional style.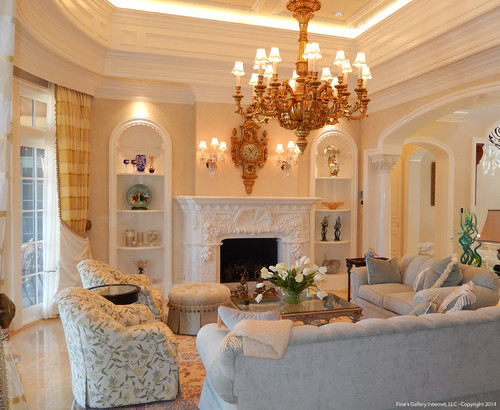 Then there's the ornate design used in this classically-styled home. The entire piece is pure white marble, hand-carved with elaborate floral designs in the intricate Rococo style. If you want a show-stopping fireplace and your traditional home-style supports it, you'll certainly turn heads with this impressive design.
Contemporary Options
While mix-and-match styles are a popular choice in design these days, a traditional fireplace can stand out like a sore thumb in a contemporary home. The good news is, there are modern ways to make marble work in a contemporary setting, often by choosing a simple design and cutting out the embellishments.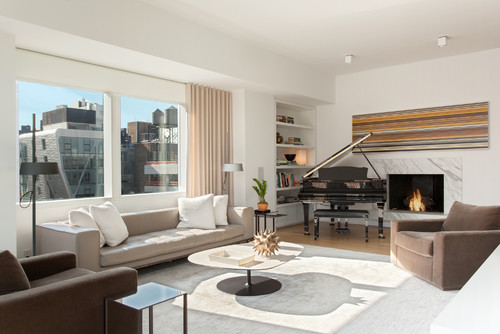 A prime example is the exceptional simplicity in this NYC penthouse design. An electric fireplace is bordered by an all-around framing of white marble with gray veining (likely Carrara or Calacatta), and the entire structure is flush with the wall (no hearth necessary with gas or electric fireplaces). This takes the traditional style and simplifies it to make something more in keeping with the clean lines of contemporary design.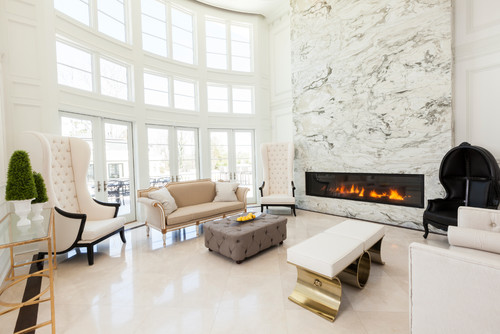 However, you could also go bolder when you modernize your fireplace surround, as in this spacious Long Island home. The massive marble slab, which looks a lot like Calacatta Gold, stretches from the floor all the way to the tall, coffered ceilings. It's grounded by an inset, electric ribbon fireplace that stretches across the lower quadrant of the monolithic stone wall. It's a dramatic look that wouldn't work in just any home.
If you like the idea of a wall of marble, but your home isn't quite as expansive, consider the minimalist appeal of this calm, contemporary NYC living room. Although this room also features a floor-to-ceiling white marble wall, it is broken up by a low marble bench, situated under the electric fireplace opening, and it's flanked by built-in cabinets that help to balance the whole look. This makes for a more laid-back and livable space that will appeal to many modern homeowners.
Marble Fireplaces that Are a Bit of Both
If you don't want to go too traditional, but you find modern styles intimidating, you'll be glad to hear that you  can blend the two styles to get the perfect medium for your home. Consider the simple, yet timeless fireplace featured in this traditional family room.
Although the design is markedly traditional, with a surround in what looks to be Carrara marble, flanked by fluted legs, apron, and mantel in painted wood, you'll find the addition of modern touches. An electric fireplace and a surround done not in solid marble, but in a subway tile pattern,  adds a massive, modern appeal.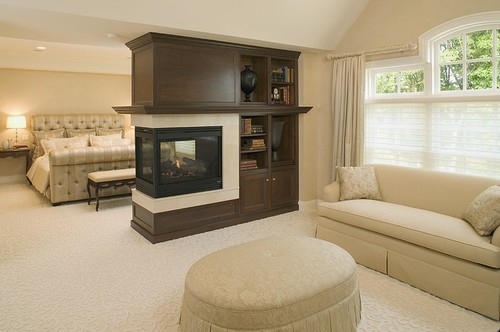 Another great example of blending traditional and modern styles can be seen in this New York master bedroom, where a three-sided, electric fireplace features a marble surround in Crema Marfil on the top, bottom, and inside, with a pedestal, mantel, overmantel and side cabinetry in dark, contrasting wood. When the clean lines of modern design are paired with traditional materials, the overall effect is timeless.
Although you'll have to decide on the style of marble fireplace that's right for your home and that matches your particular style sensibilities, there are endless ways to interpret both traditional and modern styles, as well as blend them to enjoy the best of both worlds.
Ready to Update Your Fireplace Surround?
With so many options to explore, you can design a gorgeous fireplace surround that seamlessly matches your home. We would love to help you pick the material for your next project. To request a complimentary consultation with one of our design experts, click here.