The Outdoor Bar Countertop Design Guide
Adding an outdoor kitchen and bar area to your backyard is not only a great way to kick your summer and fall entertainment up a notch, but it will also increase your property value and appeal. If you're not sure how to start your outdoor bar countertop design, here are a few things you'll want to consider before you break ground.
#1:
Bar Shapes
The first thing you should figure out when it comes to adding an outdoor bar to your backyard space is what shape you prefer or what shape will best suit your space and entertaining requirements. There are several popular configurations to consider.
I-Shaped
The I-shaped kitchen design, which is basically a straight-line counter, is not ideal for preserving a kitchen triangle. That said, if you don't have a lot of space to work with or you want to maintain the open aesthetic of your patio, it can work just fine.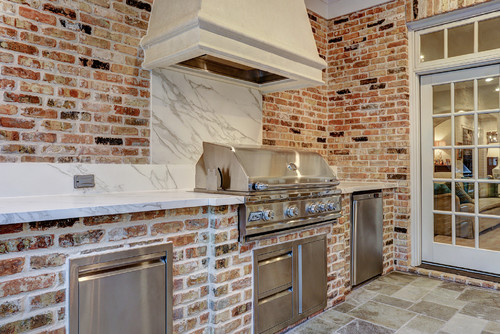 This traditional patio, featuring a large 12-foot countertop and backsplash in Calacatta marble, paired with brick fascia and stainless steel appliances, is a great example.
Galley
Set two I-shaped bars parallel to each other, and you've got a galley-style outdoor kitchen where you can place different elements (like your sink and grill, for example) across from each other for added function.
L-Shaped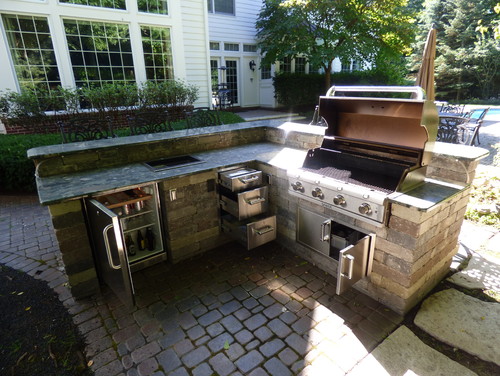 The L-shaped kitchen configuration is among the most popular outdoor kitchen spaces, such as this traditional paver patio featuring a stacked paver bar with a Brown Antique Granite look. With the sink and fridge on one arm and the grill on the other, it's easy to go back and forth between the cooktop and food storage, prep, and cleaning spaces. It's a sound setup that retains the open aesthetic many homeowners prefer for outdoor entertaining.
U-Shaped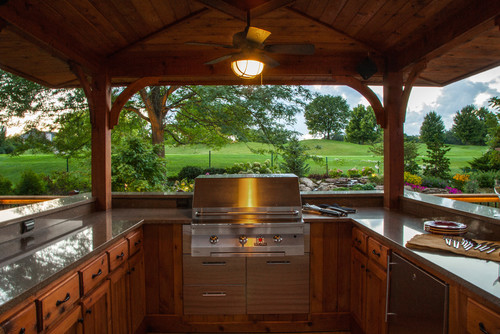 From a functional perspective, the U-shaped or three-sided kitchen design is ideal. It allows you to place your fridge, sink, grill, or other cooking space in a triangular layout for easy use and economic movement any time you cook outdoors. You can get an idea of potential utility from this traditional kitchen deck.
G-Shaped
This is essentially just a U-shaped design, but with a small hook (a partial fourth wall) on one end, ostensibly for more counter and storage space.
Outdoor Countertop Materials
When it comes to ideal countertop surfaces for outdoor settings, hard natural stone is going to be your best bet. Engineered quartz, while stunning, contains polymers and resins that bond the quartz material together. While this makes for a durable, non-porous surface for inside use, it's not designed to hold up to exposure to the elements, including UV rays and extreme heat and cold.
Marble could work, but because this stone is on the softer side (3.5-5 Mohs rating), you'll really need to remain vigilant about regular sealing to protect it. If you're looking for the most resilient and user-friendly options, granite and quartzite are where it's at.
Granite comes in at a 6 or 7 on the Mohs hardness scale, while quartzite is a solid 7. That means these beautiful stone surfaces can stand up to just about anything nature throws at them. They're resistant to heat, cold, and UV fading, as well as cracking, chipping, and more. This isn't to say extreme weather conditions can't damage them, but with regular sealing (annually), they're likely to stand the test of time.
Read "What is the Best Countertop for an Outdoor Kitchen"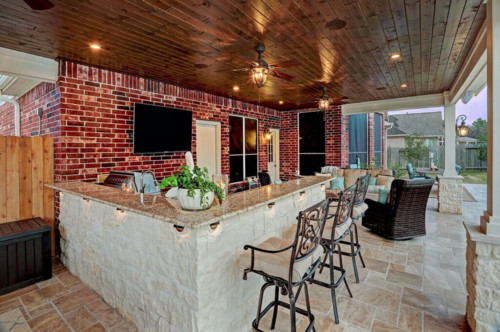 Plus, they make for a stunning addition to any outdoor kitchen. Just look how well the warm and dynamic
Giallo Ornamental granite
used for the L-shaped bar on this
traditional patio
goes with travertine pavers and white limestone bar facing, set against the rich, red brick of the home exterior. In this unique,
transitional patio space
, the expansive
quartzite countertops
, which look to be fantasy brown, create a lot of movement and visual interest atop a plain, white foundation.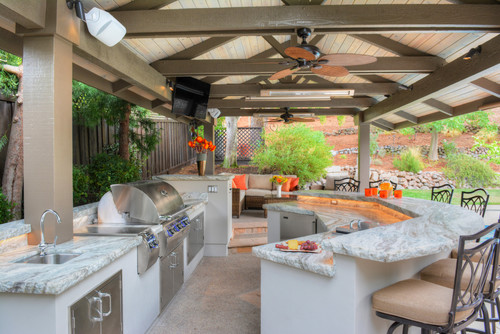 Placement Considerations