Stunning Natural Stone Countertops with Gold Veining
All that glitters is not always gold, but adding touches of golden warmth to your kitchen or bathroom spaces can help to imbue them with the inviting appeal of the home. You might say that's worth its weight in gold!
One great way to avoid going over the top on the gold theme is to choose natural stone countertops that feature subtle or bold gold veining. Here are a few options for marble countertops with gold veining that will elevate any interior design.
Calacatta Gold Marble
Quarried in Northern Italy, Calacatta Gold marble is arguably one of the most stunning and popular natural stone countertops available today. A brilliant white backdrop is streaked with subtle striations in pale gray and complemented by golden strands sprinkled throughout. The effect is soft yet striking. This gorgeous slab can possibly be incorporated into any kitchen design seamlessly.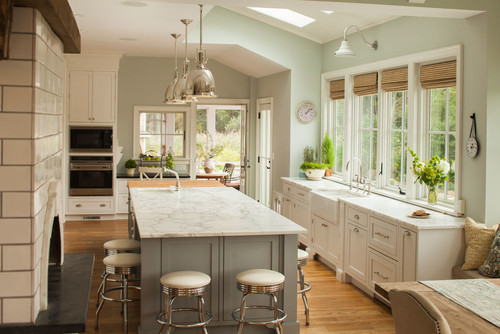 The honed marble in this
New York beach-style kitchen
pairs perfectly with a gray island and white perimeter counters, along with stainless steel appliances and chrome lighting fixtures.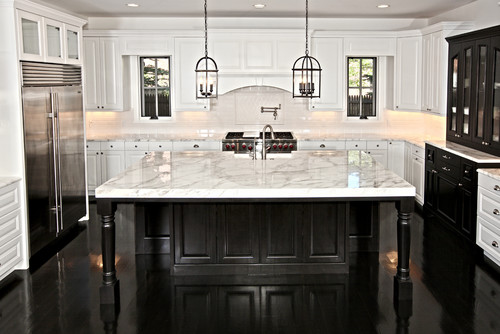 Calacatta gold countertops are equally stunning in this contemporary black-and-white kitchen, which features white and black cabinetry with dark wood flooring.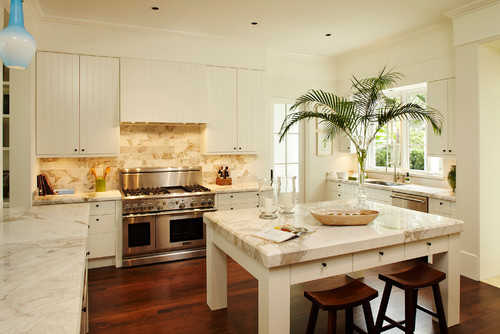 Of course, the warmth of wood brings out the golden hues in Calacatta Gold, as in this traditional kitchen, where rich wood flooring and golden lighting on the backsplash highlight the beige and gold veining in the marble.
Imperial Gold Marble
Unlike Calacatta Gold, which has subtle veining, Imperial Gold marble is awash in warm, inviting tones. Quarried in Egypt, this natural stone mimics the beige and gold of undulating sand dunes, dappled with streaks of white, gray, yellow, and occasionally, pink.
If you're looking for ways to create a warm and inviting kitchen space, you can't go wrong with Imperial Gold. While you can pair it with natural wood tones, you'll want to be careful to choose hues that aren't too similar or you'll lose the knockout effect of this marble, which is rife with movement. Avoid blond or light-toned wood for cabinetry.
For a complimentary design, pair Imperial Gold marble countertops with white or off-white cabinets that keep the atmosphere bright and highlight the beauty of the stone. Alternately, choose darker wood for cabinets and flooring to ensure ample contrast, so your counters are truly the star of the show.
Colonial Gold Granite
Granite is often prized for its dynamic movement, but if you're not sold on bold patterning, Colonial Gold might be just your speed. Quarried in India, this variety tends to feature a largely yellow-beige background, punctuated by gray, brown, and golden veining and stippled with specks of garnet.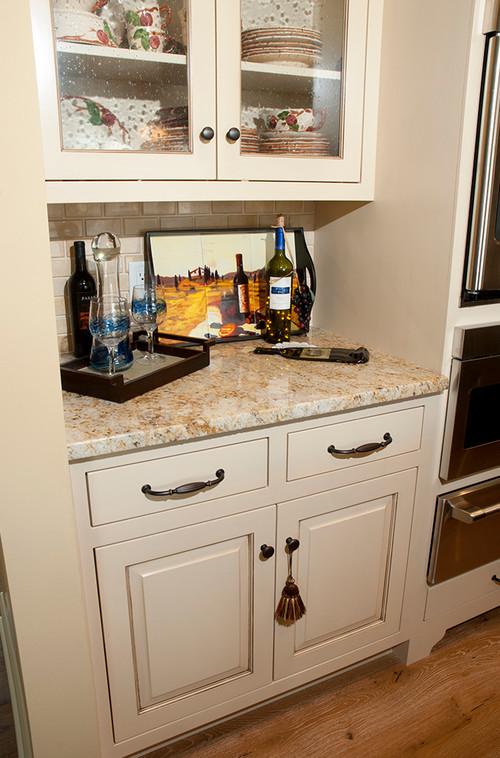 Like other granite varieties, Colonial Gold offers incredible depth and dimension, which you'll want to show off. It can be paired with white or black cabinets, but you're better off leaning into the richness of the stone by setting it against dark wood cabinetry, as in this welcoming farm house kitchen.
As you can see from the white cabinets around the perimeter, the light wood island is much more complementary to the color and visual texture of the stone.
Cosmic Black Granite
Quarried primarily in Brazil, this earthy granite features a black background streaked with glittering swirls of white, gold, and copper, with patterning you might mistakenly attribute to marble at first glance. However, where marble has a certain luminescence, granite offers intense dimensionality that can be seen on closer inspection.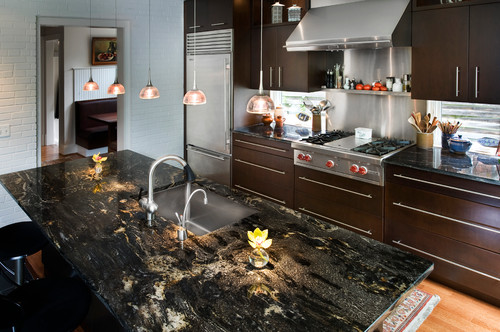 If you want a dramatic aesthetic with ample splashes of gold, Cosmic Black granite won't disappoint. Just look at the mesmerizing movement on the island and perimeter slabs in this transitional kitchen. The golden tones allow this inky stone to pair beautifully with both the light wood flooring and rich, dark wood cabinets.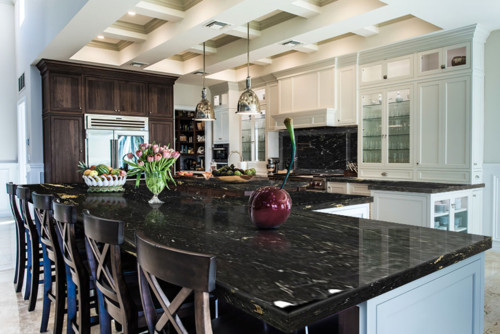 However, as this contemporary kitchen displays, it can also serve as a bold, yet elegant contrast to white cabinetry.
Taj Mahal Quartzite
Quartzite may not be your first thought for bold veining or pattern, but this natural stone can make for a lovely and elegant addition to your kitchen space (not to mention, it's the hardest natural stone used for counter surfaces). While you won't find flecks of gold in Taj Mahal quartzite, you will enjoy a soothing mixture of cream and beige tones, marked by gentle golden veining.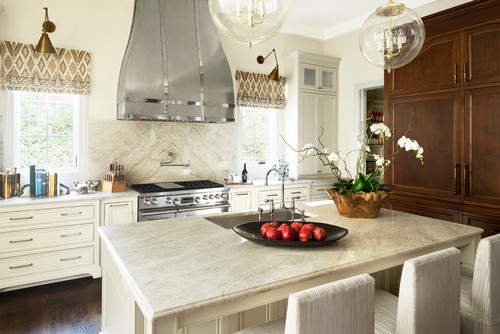 Soft and warm, this sandy quartzite subtly elevates the appeal of cream cabinetry and acts as the perfect counterpoint to darker wood cabinets, as evidenced by this contemporary kitchen. Gold and bronze lighting fixtures add the perfect finishing touch.
Calacatta Gold Quartz
Several notable quartz manufacturers offer reproductions of popular marble options, including Calacatta varieties. If you love the look of marble but prefer the incredible function of quartz, Silestone's Eternal Collection offers a gorgeous Calacatta Gold, complete with an icy, white background and veins of pale gray, beige, and gold.
This versatile choice pairs well with nearly any metallic fixture, from gold to antique bronze to brushed nickel. Because there are both cool and warm hues in this largely neutral slab, you'll have no trouble adding it to cabinets ranging from black, white, and gray to warm woods to trendy navy or teal shades.
Regardless of your overall aesthetic, you'll find plenty of options in natural and engineered stone. You can suit your tastes and create the living space of your dreams when you include a touch of gold in your design.
We're here to help
Choosing the right countertop choice for your kitchen can be overwhelming without the right assistance. Academy Marble & Granite's team is ready to help. Visit one of our locations, or contact us today to set up a consultation.