Stunning Contemporary Fireplace Surrounds to Keep You Warm this Fall
Fireplaces may be a traditional way to add warmth to your living spaces, but in your home, you have fireplace design options that are anything but traditional. While wooden mantles, intricate scrollwork, and stone or brick hearths and surrounds have played major roles in fireplace design for centuries, there are plenty of ways to update this timeless addition in your home.
Contemporary architecture calls for modern touches that make your interior design feel cohesive and harmonious, and many homeowners want features that suit their modern sensibilities. The good news is, you can transform the fireplaces in your home into timeless additions, or skirt the edges of contemporary innovation if you choose. 
Your fireplace focal point can toe the line between contemporary and classic when you choose a traditional material like natural stone but use it in a new and exciting way. Here are just a few options for contemporary fireplace surrounds in marble, granite, quartzite and even quartz to create a gorgeous focal point and central gathering spot in your home just in time for cooler fall weather. 
Marble Fireplace Surrounds
The striking beauty of marble can elevate the look of any room in your home as flooring and countertop material, but it can also make a stunning statement when you use it for a hearth and fireplace surround.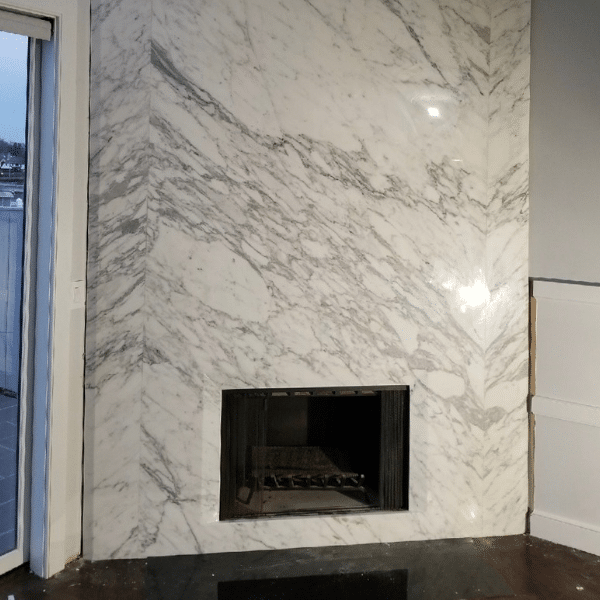 Just consider this expansive, floor-to-ceiling Larchmont, NY fireplace surround in breathtaking Calcutta marble. The icy white background with heavy gray veining starkly stands out against the dark wood flooring, creating a dramatic focal point and a truly modern statement.

Of course, you don't have to subscribe to modern minimalism to get a contemporary look. If you want something that tends toward the classical, you could also opt for an update of a traditional look, as with the engraved, Afyon white marble hearth and surround in this Bedford, NY home.  The elegant scrollwork perfectly suits the classic brick interior and warm, wood flooring, but the fact that the surround is rendered in marble makes for a modern interpretation of an otherwise traditional style.
Granite Fireplace Surrounds
Because of its strength and durability, granite makes for a spectacular addition to vertical spaces, and you'll find no shortage of variegated slabs to create eye-catching effects around the fireplaces in your home. While you can certainly use the same granite throughout your home on countertops and fireplace surrounds alike to create a cohesive look (and get the most out of every slab), you could also go for a truly unique, statement fireplace like this beauty featuring two types of granite.
Depth and dimension are created thanks to outstanding variegation and dynamic patterns that bring the vertical space to life. The magnificent outer portion of the surround and hearth in Rainforest Green granite adds rustic appeal by giving the impression of housing a tangle of branches, while the smaller, inner surround in Leathered, Antique brown granite lends additional depth and complexity that anchors the entire look. This fireplace gives you an idea of just what is possible with granite.
Quartzite Fireplace Surrounds
Quartzite doesn't tend to deliver the same kind of drama as some marble and granite, but if you're looking for something a little more understated with modern, minimalist appeal, the right quartzite fireplace surround can lend an air of tranquility to contemporary living spaces.
This sample of creamy, Taj Mahal quartzite featuring golden-brown rivulets of graining is an example of how to create a warm, inviting, contemporary space with natural stone.
The addition of complementary, rough-cut tile in a slightly darker hue imbues the vertical plane with depth, texture, and personality that ensures this fireplace is anything but boring. While you might naturally lean toward more dramatic stones like marble or granite, don't discount the subtle beauty of quartzite, and all it can add to your home.
Quartz Fireplace Surrounds
This doesn't tend to be the first choice in stone for fireplaces, but as it gains popularity as a countertop material, it's only natural it would pop up in other areas of interior design. This truly contemporary fireplace in Sea Pearl quartz is a prime example of why this stone is a major contender in modern décor.
The use of a monolithic, seemingly free-standing slab surrounding an oblong, ribbon fireplace is both innovative and completely arresting. It's hard to look anywhere else with the white, gray, and black striations drawing the eye and creating the perfect, neutral backdrop to this focal fireplace.
While you'll have to choose the marble, granite, quartzite, or quartz that suits your aesthetic sensibilities, it's easy to see that the possibilities for contemporary fireplace surrounds in both engineered and natural stone are endless. Whether you want high drama, understated appeal, or statement style, you'll find what you're looking for with a natural stone fireplace surround.
Need Help On Your Next Project?
If you're considering updating a fireplace surround in your home, we're here to help! Please feel free to visit one of our showrooms in Rye, NY and Bethel, CT where you can view our large selection of granite, marble and quartzite. Our team of experts will be happy to help answer any questions you may have.