4 Countertop Options for Designing a Modern French Country Kitchen
When you think of the French country style, you probably envision a lot of wood and rustic appeal, along with some chic, yellowed whitewashing to brighten the mood.  However, the French country style is more versatile than you might imagine, and there are plenty of ways to modernize it without losing the homey appeal it evokes.  Here are just a few ways to incorporate modern natural stone countertops into your French country design.
A Walk in the Woodwork
Wooden elements are a staple of the French country aesthetic, which places an emphasis on natural materials. Traditionally, this could include the use of butcher block countertops, but for modern homeowners looking for something robust and resistant to microbes, staining, and other harm, you'll be happy to know that there are many durable natural and engineered surfaces that can help you achieve the modern French country aesthetic.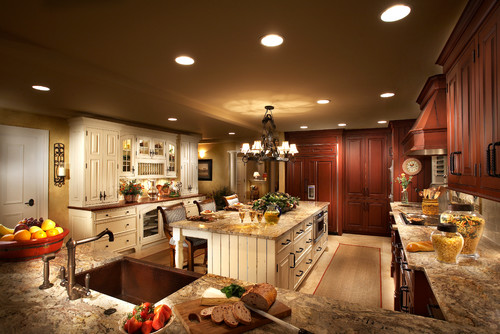 The question then becomes, how do you incorporate natural stone or engineered stone countertops that work well with all the wooden surfaces? Consider this largely traditional French country kitchen, featuring an impressive variety of wood surfaces.
Although it lacks the exposed wooden ceiling beams you might expect in French county design, it does feature cabinetry and paneled appliances in a dark, cherry wood stain, as well as beige cabinetry and an island with shiplap sides. That's a lot of wood to contend with, and there's a fine line between getting lost in the woods and creating a statement at odds with the country feel.
This kitchen, however, strikes a perfect balance with a beautiful, dynamic granite for the island and perimeter that pulls colors from the cabinetry, incorporating beige undertones marked by golden, brown, and black striations. It draws the eye in with dramatic movement, but still ties in perfectly with the natural colors and ambiance.  As far as granite goes, Colonial Gold or Typhoon Bordeaux granite would add the perfect modern touch to any French country kitchen.
Complementing a Showpiece Range
Massive range hoods are a staple of the French country look, and they can easily set the tone for the entire kitchen design. In some cases, they're painted to match walls or cabinetry, so they recede, rather than dominate the design. But in other kitchens, they're meant to stand out as a focal point. The difficulty, then, is choosing the right countertop materials to complement this eye-catching piece.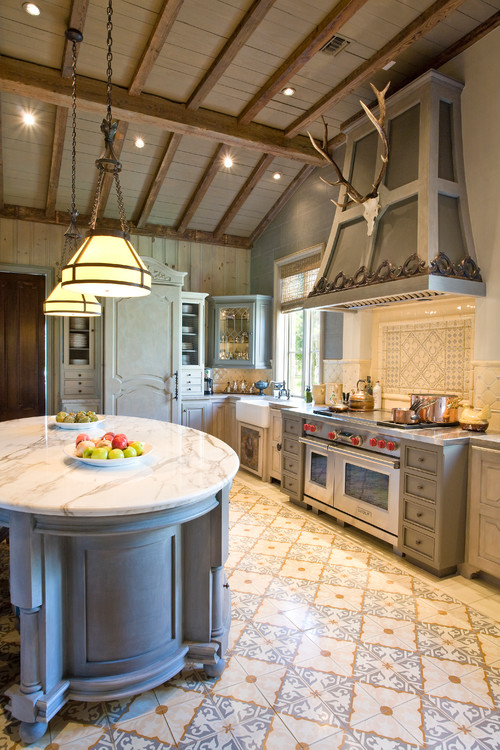 This custom country kitchen does it right, with complementary colors and a subtle pattern. There's a lot going on in the range hood, from two-tone gray paint on recessed panels and framing details, to an ornate runner around the lower edge, to the impressive rack of antlers affixed to the center of the hood. There's simply no competing with this statement piece.
Luckily, the countertops offer the perfect balance, so to speak, with a marble that has the look of Calacatta or Carrara marble, featuring a white background and sweeping gray striations. The white stands out, but ties in nicely with the patterned tile flooring. The gray veining, however, goes effortlessly well with the range hood and other gray elements in the room, contributing to a cohesive look.
Modernizing a Classic Style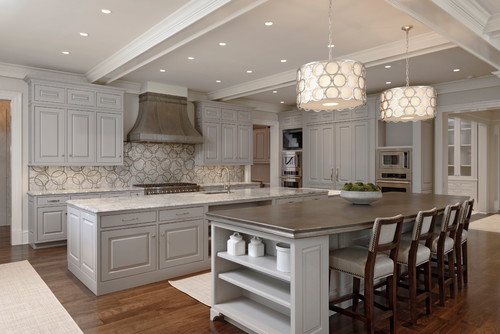 There are plenty of ways to update the classic French country look, but it's hard to imagine a better marriage of traditional and contemporary sensibilities than the balanced design in this expansive French country kitchen. You'll notice that the hallmarks of French country design are all present, from plenty of woodwork in the painted cabinets and exposed ceiling beams, as well as dark wood flooring, to the prominent range hood.
However, the finishes are thoroughly modern, including pale gray paint on walls and cabinets, contemporary drum pendant lights, and a multicolored backsplash with geometric elements that mimic the lighting fixtures. With such a delicate balance of old and new, finding just the right countertops could be difficult. However, the problem was solved by installing two different countertop surfaces.
The perimeter countertops and the nearest island feature a lighter stone with a white background and subtle, gray patterning. A Carrara or Vermont Danby marble would work perfectly here, although a White Ice granite would add a bit more depth and dimension.
Then there's the second island, which features a dark countertop more in line with the floors. Here you could go with a Jet Mist granite for added texture or a Black Galaxy granite for sparkle and dimension. Naturally, all manner of dark quartz could work, as well. Installing both light and dark countertops helps to delineate different areas of this large kitchen (cooking vs. seating) while still pulling from the lighter and darker elements of the design.
Playing with Contrast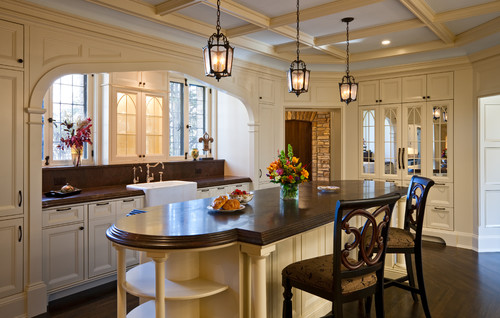 Black and white kitchens are a popular design choice, but they don't really work with the softer, more natural hues that define French country kitchens. Luckily, you can always take a subtler approach to achieving the contrast you crave, as with this elegant, traditional kitchen featuring off-white cabinets paired with dark brown quartz countertops.
All the cabinetry and even the ceiling beams are painted off-white, which creates a subtle interest and gives the kitchen a touch of character.  This kitchen strikes a good balance between light and dark elements with dark wood flooring to mimic the countertops. A dark stone slab backsplash adds dimension and substance to what might otherwise look like a mere sliver of darkness between the pale lower and upper planes of the room. With dark hardware for door/drawer pulls and pendant lighting fixtures, the overall look is cohesive and modern, without abandoning the modern French country style.
Can Academy Marble help?
With professional help, you can choose the countertop that matches your aesthetic preferences and complements the rest of your home, whether it is the French country aesthetic or another favorite design style. Contact us today to get started on your project.