Countertop Pairings for a Black and Gold Kitchen or Bath
 Interior design changes are always evolving; all-white kitchens and gray kitchens just had a moment with popular kitchen and bath design. Now, black and gold kitchen or bath design is on-trend. At one time, it was considered unthinkable to pair black finishes with gold hardware — gold went with white, while silver went with black. Today, however, you can not only pair whichever metals you like with your black or white kitchen or bathrooms, but you can even mix metals.
If you've got your heart set on black cabinets and bold, gold-toned hardware for the faucet, lighting, door and drawer pulls, and accents, the next thing you need to consider is how you're going to complement your design with the right countertop surfaces for your home. 
How can you choose the right pairing to create a space that fits in your home and suits your unique style? Here are a few natural stone options that will work well with a black and gold kitchen or bath design. 
White Countertops and Gold Accents
There are a couple of reasons why you might want to consider white countertops when the cabinets in your kitchen are black. For one thing, creating an entirely black kitchen could make for a very dark space that feels enclosed, especially if you don't find ways to visually break it up. This might work if you have a cavernous kitchen and you want it to feel cozier, but generally speaking, monochromatic design can be a bit dull.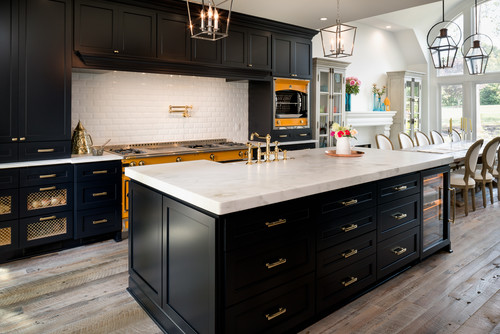 Adding contrast with white countertops can help to break up the space and create intense visual interest, making your rooms a lot more attractive. Consider this traditional kitchen that features black cabinets paired with bold, golden-yellow appliances. The color combo could be jarring, if not for the lighter touches throughout, including countertops in Calacatta Gold marble, a white subway tile backsplash, and light, weathered wood flooring.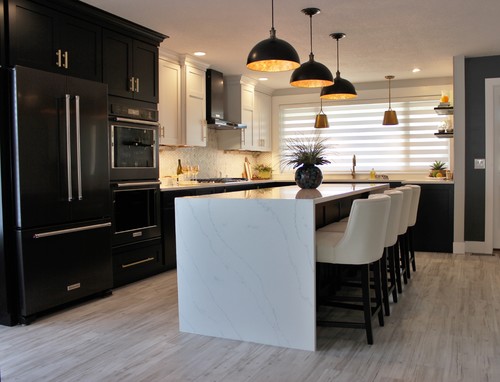 If you love the look of marble, but you're interested in something that rates higher on the MOHs scale,  you can achieve the same basic appearance with quartz, as you can see in this trendy, transitional kitchen, where Carrara-like quartz is used for perimeter countertops and the waterfall island, beautifully connecting the black cabinets and appliances with pale, natural wood-toned LVT flooring and a white backsplash. 
Black Countertops and Gold Accents
Even if you're not keen on the idea of an all-black kitchen or bathroom space, it doesn't necessarily mean that you want to have bright white countertops. The good news is that you can still go dark with countertop surfaces if you find other ways to lighten up the space.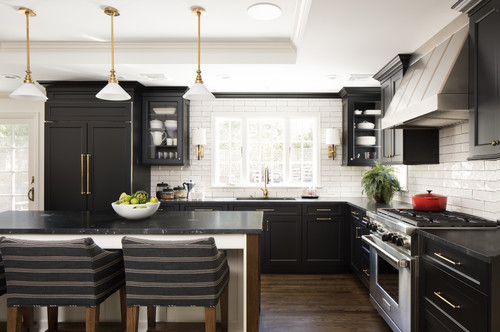 This New York transitional kitchen is a great example, featuring dark marble with subtle white veining for the perimeter and island countertops. 
Although the cabinets are also black — making the use of dark counters a more subtle choice than white — the space is brightened by an expansive, white subway tile backsplash. Stainless appliances, gold hardware, and a white seating area at the island all contribute to a balance of dark and light tones.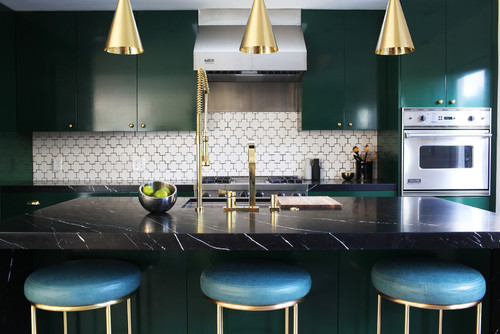 For a more interesting twist on the black kitchen aesthetic, consider this contemporary kitchen, in which Nero Marquina marble is used for counter surfaces throughout. If you look closely, you'll see that the cabinets are not actually black, but an incredibly dark green. 
With a white tile backsplash accented by black grout, as well as ample gold touches on the pendant lights, faucet, door and drawer hardware, etc., there's just enough contrast to give the room an incredible wow factor. 
Black and White Countertops with Gold Accents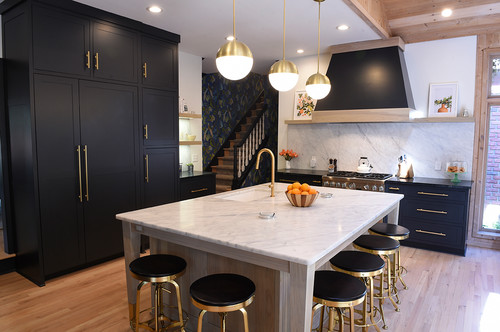 Who says you can't have your cake and eat it, too? If you're torn between adding white or black countertops to your black and gold kitchen, consider using both, as shown in this spacious, contemporary kitchen. 
With black perimeter countertops, the space could easily feel cramped, but the use of creamy, Alba Vera marble for the large island and the backsplash adds a soft, but stunning contrast, while also creating gorgeous focal points. 
The addition of black and gold stools around the island, along with gold globe pendants above, brilliantly connects the island to the rest of the design. 
Gray or Brown Countertops with Gold Accents
Adding gray or brown to a black and gold kitchen might not be your first choice, but the right stone can make a bold statement, even in a high-contrast black and white design.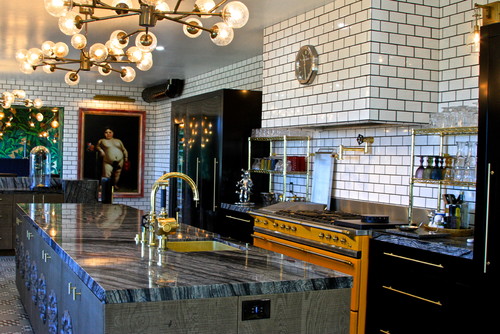 Just look at this eclectic, European industrial kitchen design. The bold patterns in the granite create such an eye-catching statement that the counters become the focal point of the room, even though they sit right between black cabinets below and white subway tile above. 
The trick is to pick just the right slab, such as a Tempest, Sequoia Brown, or Rainforest Brown granite. With so much visual interest, your countertop has a chance of competing in a high-contrast kitchen or bathroom space. 
This look is clearly not for the faint of heart, but it can work when done right. Just remember: Black, white, gray, brown, and even gold are all neutrals, so they should technically work together in just about any combination. 
Still, it's always best to view slabs in person to find the perfect piece for your kitchen design as no two slabs are ever alike. Whether you choose white, black, or other neutrals, you can strike a visual balance that makes your black and gold kitchen feel incredibly modern and inviting.
Our experts would love to discuss transforming your space with the right countertop surface for your home. Contact us today to get started on your project.