All You Need to Know about Alleanza Quartz
Quartz has become a popular choice for modern home renovations due to the incredible strength, versatility, and practical appeal of this engineered surface material. Not only will it stand up admirably to life in a busy household, but it comes in a range of colors, patterns, and styles to suit any design sensibilities.
Alleanza Quartz, imported directly from Italy, is a step above competitors, thanks to a strong commitment to quality products, green practices, and outstanding customer service and support.
Alleanza Quartz is the countertop material you need if you're ready to imbue your home with timeless beauty and exceptional utility. There are plenty of reasons to love this beautiful and practical counter surface.
Safe, Sustainable, Resilient Countertops that Match Your Modern Lifestyle
Quartz offers several practical benefits, starting with the fact that it's comparable to natural stone in terms of strength and durability. It's not quite as resistant to heat as granite or quartzite, for example, but it does resist scratching, etching, cracking, and other common forms of damage equally well.
In one aspect, it actually performs far better than natural stone — it's incredibly stain-resistant. Because quartz is composed of roughly 90% or more ground quartz, paired with resins and polymers for binding, it's a non-porous surface.
In addition to staving off stains, it's a food-safe surface resistant to bacteria, mold, and mildew. Anyone looking for a certified Kosher countertop will find it with Alleanza Quartz.
Products are also NSF Certified, meeting and exceeding standards for public health and safety, and because of sustainable practices, Alleanza Quartz has earned a GREENGUARD Gold Certificate. Plus, you'll enjoy an industry-leading lifetime warranty.
Ideal for Countertop Surfaces Small and Large
One of the great things about engineered quartz is that it comes in both small and large sizes to meet the needs of different homeowners. If you're renovating a smaller kitchen, you don't have to buy a massive slab that will leave you with tons of leftovers.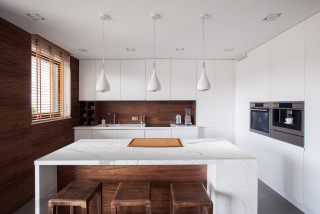 However, with jumbo slabs, you can cover a wide perimeter or a large waterfall island, like the striking centerpiece in this New York contemporary kitchen featuring Calacatta. You can also opt for bookend slabs that ensure a continuous pattern across a wide countertop or backsplash area.
Alleanza Quartz, in particular, offers slab sizes up to 20% larger than competitors, ensuring ideal solutions for anyone interested in covering a sizable surface area.
Stunning Collections to Suit Every Style
Remodeling your kitchen and bathroom is an incredibly personal undertaking. While function is of the utmost importance, you also need design elements that add elegance and sophistication to your living spaces, display your personal style, and turn your house into a comfortable and welcoming home.
Some designs are made to look like the natural stone varieties you love, as with the marble-look quartz featured on the perimeter and island countertops in this L-shaped kitchen.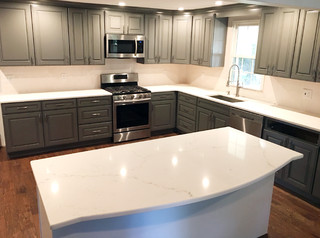 However, you might also like an unnaturally white or flat gray surface to complement an eye-popping tile backsplash, for example. Here, too, Alleanza Quartz delivers, with collections to suit every aesthetic.
Monarch
If you love the soft tranquility of marble and quartzite, you'll find plenty of options to suit your taste with the Monarch Collection. These timeless styles mimic the pure simplicity of Calacatta and Carrara marble, soothing soapstone, and more.
With a neutral palette spanning white, cream, gray, and soft black hues — and patterns ranging from low variation to bold veining and dramatic movement — this collection consists of classic styles that translate perfectly to modern design.
Cashmere
Chic and refined, the Cashmere Collection from Alleanza Quartz brings peaceful simplicity to your hectic living spaces.
Bright whites, pale taupes, warm greiges, and grays dominate this neutral line, with barely-there, low variation patterns that imbue your counter surfaces with a subtle visual texture. Consider the honed options offered in this line for trendy, casual appeal.
Manhattan
New York City is always on the cutting edge of design, and the Manhattan Collection deftly captures the fashion-forward vibe of this bustling metropolis.
While the palette is composed of beiges and grays, the products in this line up the ante on depth and dimension with color variegation and textured finishes that elevate the appearance of any kitchen or bathroom design.
Find Your Authentic Style
Living authentically means creating spaces that represent your personal style and support how you want to live. You need countertops that match your aesthetic preferences and minimize the time you spend cleaning and performing maintenance.
You deserve a home that makes your life easier and envelops you in the sense of security, even as it delivers visual appeal that's a joy to behold. The luxury and longevity of Alleanza Quartz will support your authentic style.
When you're ready to choose the perfect quartz countertops for your home, contact the qualified team at Academy Marble & Granite to learn more, or visit one of our convenient showrooms in Bethel, CT, or Rye, NY.