6 Alaska White Granite Countertops We Can't Get Enough Of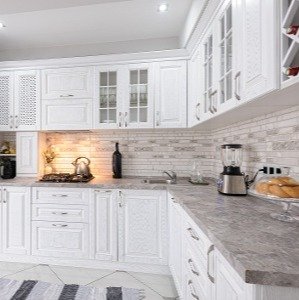 If you love the look of white countertops, but you're seeking something a little more durable and dynamic than popular marble varieties, there's no denying the beauty, personality, and longevity of granite, particularly Alaska White granite. While this dazzling, dimensional variety largely embodies the wintry quality of the U.S. state for which it is named, with a silvery-white background punctuated by coarse graining of gray and black, on closer inspection you'll find that there are also shades of beiges and browns throughout, lending an element of warmth to an otherwise snowy slab.
What this means for homeowners is a truly stunning and versatile natural stone variety that can complement any interior design, or alternately, serve as a showpiece in the kitchen, bathroom, or other areas of the home. If you're not quite sure how to incorporate stunning Alaska White granite in your living spaces, here are a few samples that illustrate why we can't get enough of this eye-catching natural stone.
Tackling a Tonal Kitchen
White kitchens are a standby of both modern and traditional décor for the simple fact that they deliver timeless appeal and a bright, clean, welcoming environment for food prep and entertaining. The only problem with a tone-on-tone kitchen is that it can get a bit boring.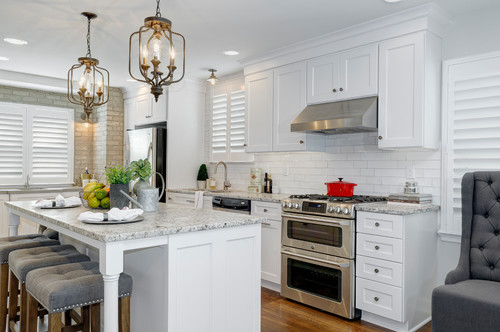 However, this traditional kitchen, featuring white shaker cabinets and a subway tile backsplash along with wood flooring, proves that a white kitchen can still be bold. The Alaska White granite countertops blanketing the perimeter and island surfaces not only add some much-needed visual interest to the space, but they act as the catalyst for pulling complementary accent colors, as with the creamy, off-white brickwork, the stainless-steel appliances, and silvery hardware (lighting fixtures, door and drawer pulls) throughout.
Black and White Done Right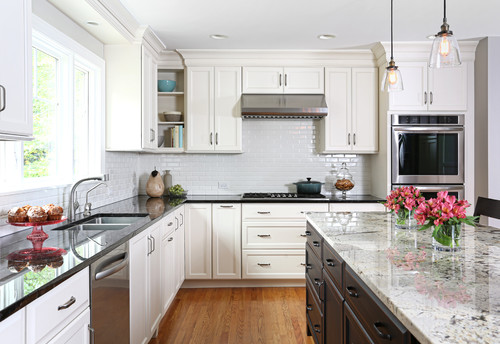 A classic black and white color motif have long been an upscale way to add style to your kitchen, but modern sensibilities eschew the checkerboard floor tiles of old in favor of a more eclectic approach to this trendy and timeless design choice. Just look at the mix-and-match attitude used to outstanding effect in this reimagined craftsman kitchen.
Dark granite offsets white countertops around the perimeter, with a white subway tile backsplash adding subtle texture to the mix. Then there's the island, featuring Alaska White granite atop dark cabinetry to create a bold focal point. Stainless steel appliances and neutral wood flooring round out a truly attractive, yet livable kitchen space.
Gray Day
It's easy to soften up a stark, black and white look by simply utilizing a modern gray palette instead, like in this updated take on a rustic kitchen space.  The dark gray cabinetry has received a weathering treatment on the decorative trim for added dimension, while the uneven backsplash tiles in slate offer a refined take on the rough, stacked stone look.
The Alaska White granite countertop, by comparison, is a bright, sleek contrast to the darker hues and rougher surfaces. In order to make it fit the overall aesthetic, however, the edges have been left chiseled, creating a rustic, natural, unfinished appearance.
Warming Up with Wood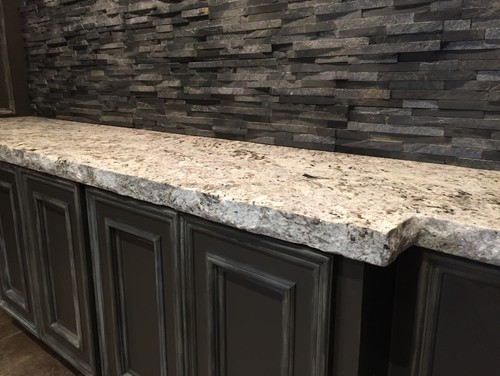 If the warmth of wood is what you crave, you needn't veer from your desire to install white countertops, as this traditional, U-shaped kitchen proves. Because of the warmer tones sprinkled throughout otherwise black, white, and gray Alaska White granite, it pairs just as well with wood tones as with black and white cabinetry.
In this example, mid-tone wood flooring is paired with dark cabinets on uppers and lowers, with a creamy travertine tile backsplash softening the transition between the lighter granite and darker cabinetry. For the island, off-white cabinetry performs the same function as the backsplash, creating a gradient that smooths the transition between counters and flooring.
Ultra-Modern Appeal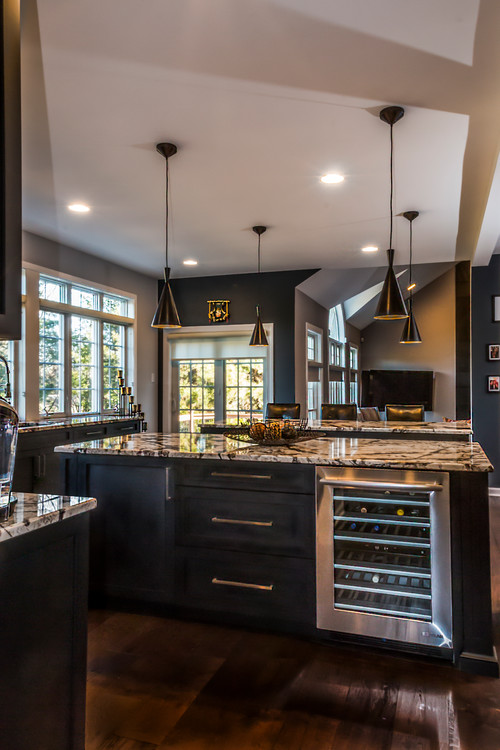 You can easily veer into a look that is a bit "cold" when you opt for sleek, ultra-modern interiors. But you cannot deny the upscale appeal of this masculine, contemporary kitchen, which finds ways to add welcoming warmth to a dark and somewhat spartan design. With matte black cabinetry, dark gray subway tile for the backsplash, and dark paint on the walls, this kitchen eats up light like it's going out of style.
Although the wood flooring planks are dark, they add an element of warmth and some essential shine to an otherwise dim space. The highlight of the kitchen, however, comes in the form of Alaska White granite countertops, which creates a stunning contrast to all the dark surfaces. The slab itself features intense black veining, which ties in perfectly with the overall vibe of the space.
Bathroom Zen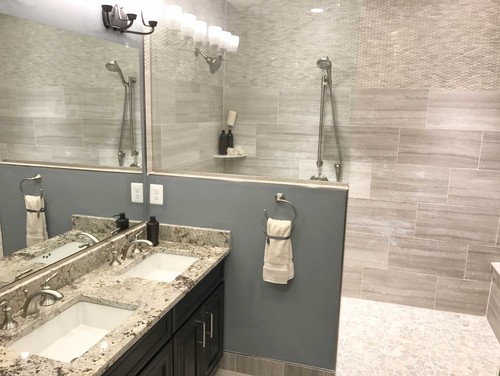 Alaska White granite works just as well in bathrooms as in kitchens, as evidenced by this inspiring, contemporary bathroom. The huge, walk-in shower in shades of taupe tile is offset with soothing, blue-gray paint on bathroom walls to create a dreamy, Zen-like bathroom space.
Of course, too much of the same color can feel dull, but the addition of a double vanity featuring black cabinetry and Alaska White granite is the perfect remedy, adding a focal point that takes this bathroom design from banal to stunningly beautiful.
Ready to Design Your Kitchen?
With so many options to explore, you can design a gorgeous kitchen using Alaska White granite. We would love to help you pick the countertop material for your next project. To request a complimentary consultation with one of our design experts, click here.