4 Carrara Marble Countertop Design Ideas for Your Next Remodel
The bright, white foundation and subtle gray veining of classic Carrara marble have made it a go-to countertop choice among homeowners, interior designers and builders.  Beloved for its classic appeal and versatility, this marble surface can be transformed to fit your style preferences.  If you're looking for a sophisticated way to update your kitchen, you really can't go wrong with Carrara marble.
Of course, like any home improvement project, you need to consider how a range of design elements work together to create a harmonious and attractive space. While neutral Carrara can easily pair with lighter hues for a monochromatic look or darker shades for more dynamic appeal, there's more than paint and woodwork to consider. 
The following design ideas will help you make the most of your Carrara marble countertop when you're ready for a remodel or addition.
Carrara Marble Blended with Warm Metallic Accents
While metallic elements don't tend to dominate the kitchen space, there are certainly plenty of fixtures in metal, including faucets, lighting, and range hoods.  While metallics are generally considered neutral, there are both warm and cool options that can impact the overall ambiance of your kitchen space.
When it comes to cool Carrara, your natural inclination may be to stick with chrome, stainless steel, or brushed nickel fixtures that parallel the cooler vibe of your marble.  You might think gold or rose gold will prove too gaudy when paired with white.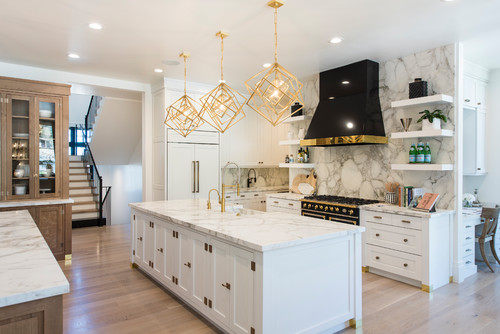 However, the juxtaposition of warm and cool features can make for a more dynamic tableau, as in this contemporary kitchen featuring eye-catching faucets, hardware, and pendant lighting in gold.
When you think about it, fixtures are a small accent in your kitchen space, so they won't likely overwhelm your larger design aesthetic. That said, there is an emerging trend in kitchen design that makes metallics a much bolder addition: metal backsplashes. Long used in commercial kitchen settings for resilience and hygiene, metal backsplashes have recently made their way into residential kitchens, albeit in more stylish forms.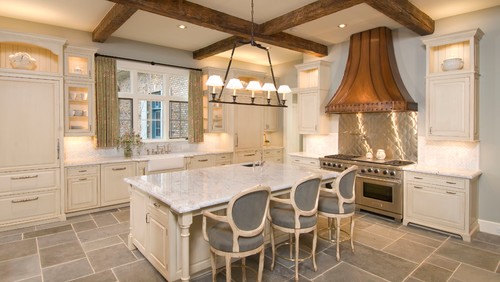 Consider this French country kitchen that pairs Carrara marble with silver-hued fixtures, a coppery range hood and stainless backsplash to match appliances. When you opt to add metallics as more than an accent, you'll have to put some thought into the options you choose. The end result could be a daring, metallic counterpoint that perfectly complements your serene, Carrara countertops.
Green Cabinetry with White Countertops
Color trends change dramatically over the years, probably because it's relatively inexpensive and easy to update the look of your home with a new coat of paint.  At the moment, green hues are dominating interior design, with everything from crisp mints, to subdued sages and bold teals finding their way into kitchens, and every other room in the house.
When it comes to cabinetry, it pays to be choosy with your color palette, especially with greens that can cast a sickly pallor over your kitchen if you select the wrong hue.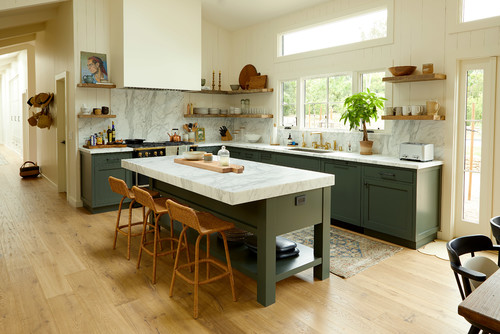 This farmhouse kitchen gets it right with cabinets in rich Midnight Spruce (Dunn Edwards 6294) that create the visual appeal of mighty pines rising from the rustic, hardwood flooring, beneath the snow-capped peaks of creamy, white marble.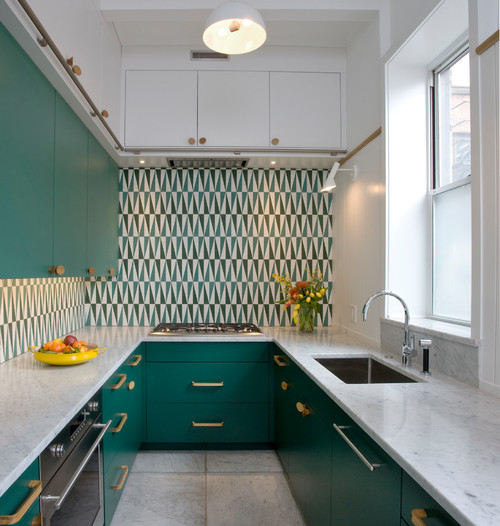 For a bolder dynamic, you can follow the lead of this galley kitchen that pairs marble countertops (and flooring) with jewel-toned teal cabinetry; a bold, geometric, tile backsplash; and gold hardware on cabinets.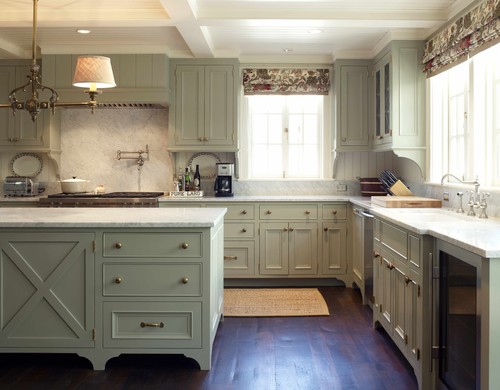 Looking for something a little more subtle?
You might prefer the pale, almost gray-green of the cabinets in this traditional kitchen, which underscore the cloudy striations in the marble.
Modern Classics Paired with Carrara Marble
Even if you have a traditional home, you might not want your kitchen to look like it is dated. While it's always better to work with the bones of your house than to risk a renovation that stands out like a sore thumb, there are definitely steps you can take to introduce a modern twist on classic designs.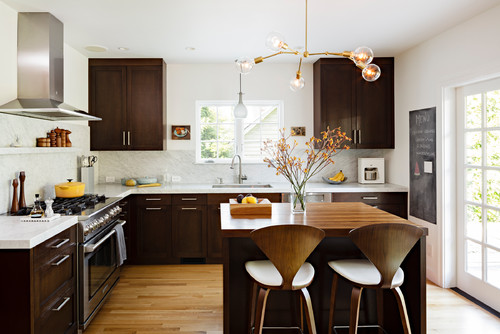 A great example is this Tudor style kitchen that combines traditional and modern elements to create a stunning effect. The pairing of bright Carrara marble countertops with simple, shaker cabinets in dark wood offers classic appeal, while eye-catching Cherner stools imbue a touch of mid-century zest. The spidery, gold pendant with exposed bulbs adds modern, industrial flair.
Warm Interiors with White Marble Countertops
A bright, white kitchen conveys a sense of cleanliness that any homeowner can appreciate. And, the monochromatic palette lends itself well to making subtle Carrara countertops the star of the show. However, recent trends are moving toward warmer, homier kitchens that exude the relaxed vibes of a lived-in space.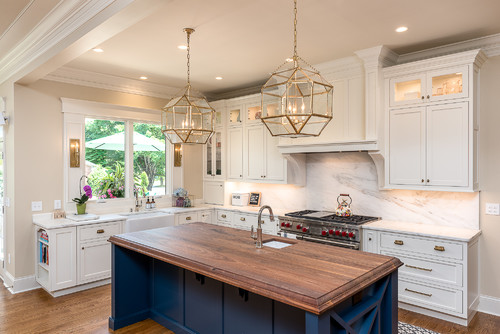 A wood-topped island in bold blue infuses this L-shaped kitchen with tons of personality. The gold fixtures (pendant lights and wall sconces) and golden lighting bring a lot of warmth to white cabinetry and marble countertops around the perimeter.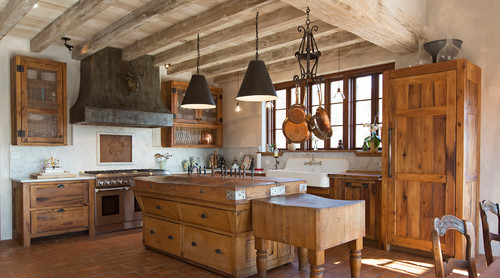 This farmhouse kitchen, on the other hand, surrounds the marble countertops and backsplash with a range of rustic elements, from brick flooring and plaster walls to richly grained wood in both light and dark hues (blonde ceiling beams, golden cabinets, and auburn window frames).
There's no denying that Carrara marble, with its white underpinnings and delicate, gray striations, makes for a gorgeous addition to any kitchen space. It's what you pair with it that determines the overall success of your modern kitchen remodel.
Can Academy Marble help?
As you can see, there are many ideas to explore when you start looking for a countertop surface for your kitchen. With professional help, you can choose the countertop that matches your aesthetic preferences and complements the rest of your home. Contact us today to get started on your project.