5 Unexpected Kitchen Color Trends to Incorporate in Your Next Renovation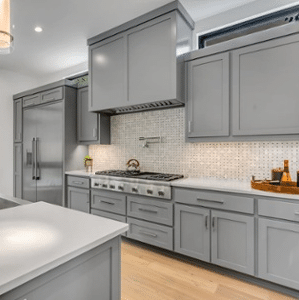 We've entered a new decade, which is an opportune time to practice "out with the old and in with the new" if you're considering a kitchen redesign.
If your kitchen is relatively new, an update could be as easy as changing out some colors, such as painting the walls or cabinets. This is especially true if you already have timeless countertops installed and want to complement your existing investment in marble, granite, quartzite, or engineered stone options such as quartz or porcelain.  Of course, a truly outdated or inefficient kitchen space may require significantly greater renovation.
In either case, the quickest way to bring your kitchen into the modern design era is by carefully choosing your color palette. We've got our eyes on the latest and unexpected kitchen color trends that are soon to dominate both residential and commercial spaces. What colors are trending now and how can you incorporate them into your kitchen remodel? Here are a few strategies to consider.
Kitchen Color Trend #1:
Green
Green seemed to be the "it" color trend heading into 2020. The good news is, almost any homeowner can find a shade of green that suits their color preferences, from pale, minty shades, to saturated teals, for example. If you want to incorporate this color trend, you can do it with paint. But considering colored cabinetry is also trending, you might want to try painted cabinets in green.
The middling, shamrock shade in this transitional kitchen is great for anyone who's a little nervous to stray from neutrals, thanks to grayish undertones that create a muted hue. It pairs beautifully with quartz countertops in white, silver hardware, and light wood flooring. Snowdon White quartz countertops are a great choice if you're looking for pure white countertops.
For a brighter look, you could go with a mint green, as in this retro kitchen featuring light quartz countertops, a white subway tile backsplash, and white and black tile flooring. The 1950s retro appeal brings to mind an old-school diner. We recommend Caesarstone's 6011 Intense White quartz countertop if you're searching for white countertops with small grey flecks.
If you're looking for something a bit more subdued, you might like the deep teal cabinets in this eclectic New York kitchen, accented by charcoal concrete flooring and dark quartz countertops. For sleek black countertops like this, try Shadow Gray quartz from MSI Surfaces.
Kitchen Color Trend #2:
Dark Blue
Blue, the color of serenity, goes well in any room in your home, but choosing the right shade of blue for your kitchen is no easy feat. 
Pale blues are a classic cabinet color, as seen in this Connecticut beach house, featuring white subway tile backsplash and countertops that are similar to White Carrara or Calacatta marble.
The updated way to display this color trend, however, is with darker hues, and there are a couple of ways to go about it. 
In this coastal contemporary Connecticut kitchen, Caesarstone's Pure White 1141 quartz countertops and simple cabinetry are paired with dark wood flooring and accents to complement a bold, range wall backsplash in royal blue glass tiles. The nautical look is stunning, but you may be hesitant to choose a bold color for such a permanent element in your kitchen.
For less commitment, consider dark blue cabinetry, as in this New York kitchen, featuring navy cabinets juxtaposed against light flooring and countertops in a Calacatta or Statuario marble look. With the right cabinetry, you can always repaint as color trends change.
Kitchen Color Trend #3:
Warm Neutrals
Gray became the neutral of choice in the last decade, but now it's on the decline as homeowners lean into warm neutrals instead.
One of the best ways to incorporate warm neutrals is with a granite countertop, as evidenced by this inviting Connecticut kitchen. The medium tone wood flooring and espresso island create a dark base upon which to place a warm granite, such as Colonial Gold, Typhoon Bordeaux, or in this case, Solarius granite. With a travertine tile backsplash and white cabinetry around the perimeter of the space, this kitchen is warm and inviting in neutral hues.
Kitchen Color Trend #4:
Gold
In keeping with the warming trend in neutrals for your kitchen space, you'll want to go for the gold hardware trend to complement your cabinet and countertop upgrades. 
While the Calacatta Gold marble countertops and tile backsplash in this New York kitchen are white, the dark wood flooring and gold hardware (pendant lights, faucet, door/drawer pulls, etc.) lend warmth to what could be an otherwise cold kitchen space.
Kitchen Color Trend #5:
White
No surprise here – white kitchens never go out of style. However, you'll want to avoid the whitewashed look and opt instead for swaths of white on countertops and backsplashes, paired with warm woods or colored cabinetry for an all-around more personal and welcoming aesthetic.
This rustic kitchen is a prime example, featuring medium tone, chestnut cabinetry and shelving, paired with white granite countertops and white subway tile walls. When trends change again, you can always update to white or colored cabinets in trending hues, keeping your timeless, white backsplash and counters in place. To achieve this look, you can try pairing your kitchen with a timeless granite option, such as Wisconsin White granite.
Ready to Get Started with your Kitchen Design?
If you're ready to get started with your kitchen project, we're here to help with your countertop selection. Please visit our Fairfield County, CT and Westchester County, NY locations or contact us here to learn more about our inventory of marble, granite, quartzite and other engineered stones.