The New Trend of Waterfall Granite Countertop Ideas
Natural design elements help to make a house feel like a home. Wood, stone, plant life, water features, and natural light are part of biophilic design, which reflects a love of nature. Waterfall granite countertops are becoming the newest trend right now in Connecticut and New York.
A home interior that includes natural elements is imbued with a feeling of harmony and connectedness to nature. This, in turn, can create an inviting and tranquil space in which to live your life.
When it comes time to upgrade your kitchen, bathrooms, or other interior spaces, you may be unsure of how to create soothing rooms that deliver a respite from the fast pace of a busy, modern lifestyle. Natural stone countertops are a great place to start.
Granite is a popular choice in home design, not only because of its strength and durability but also because of its unique aesthetic qualities, including dynamic patterns and incredible depth and dimension.
When you opt to extend counter surfaces to the floor in a waterfall design, you'll enjoy both the beauty of natural stone and the added flow as the horizontal surface drops vertically, like a waterfall.
How can you incorporate this trending design element into your home?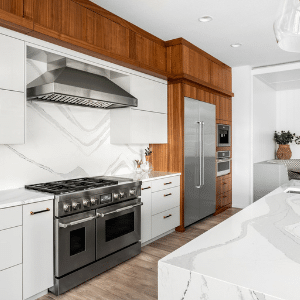 A Refined Peninsula
Whether you have an open floor plan or an expansive kitchen layout, a peninsula is a popular feature that delineates open spaces and provides additional seating for families and guests.
Adding a waterfall edge to your peninsula will help bridge the gap between separate spaces, making for a more cohesive whole. It can also increase the sophistication and luxury appeal of your design.
Consider the stunning waterfall peninsula in this contemporary kitchen. Dark, eye-catching Tortuga granite stands out against a backdrop of wooden surfaces (cherry cabinets, ash flooring, and wood window and door framing).
The peninsula could look a bit out of place, but with the waterfall feature, the standout counter seamlessly connects the kitchen to the eat-in counter and coffee bar.
Create an Elevated Focal Point with Waterfall Granite Countertops
Kitchen islands are among the most common places to see waterfall granite countertops, probably because this feature can have such a huge impact on a standalone fixture in the center of the room. By extending the counter into vertical space, you can ensure attention is squarely on the beautiful and luxurious granite you've chosen.
If you want to make a dynamic pattern the star of the show, you could mimic the concept of this tropical kitchen, where dramatic granite (possibly Alaska White) stands out against beige flooring, mid-tone wood cabinets, and a pale green glass backsplash tile.
Or you could choose a bold color, like the shocking red granite in this modern, minimalist kitchen. A waterfall countertop on an island is always attention-grabbing, but when you go all out with a striking granite variety, you'll make an even bigger visual impact.
Pronounced Bar Seating
Building trends aren't always easy to understand. Case in point: pony wall bars affixed to the back of a food prep counter. Oftentimes, these walls simply block the view between the kitchen and other spaces and the bar doesn't feature enough of an overhang to comfortably add seating.
With that being said, adding a waterfall granite countertop provides an opportunity to increase function and create a statement design element at the same time.
This breezy contemporary kitchen offers a great example. Designers made the most of the limited footprint by adding a waterfall countertop in what looks to be Fantasy Brown granite, highlighting the added seating area and creating a visual separation between spaces.
Defined Zones
If you really want to make a splash with a granite waterfall countertop and you have extra space to work with, a double island is a great way to boost the impact of your counter surfaces while delineating spaces for specific activities.
This expansive, contemporary kitchen illustrates the concept perfectly, with two parallel islands of the same shape and size that are differentiated by varied cabinet configurations and counter surfaces.
The waterfall counter-frames the island that offers a seating area, while the second island is set up as a food prep area facing those who are seated. The visual separation of design elements helps to reinforce activity zones in an otherwise open space.
A Spa-Like Bathroom
The kitchen isn't the only room in the house where you can elevate your interior with a waterfall countertop. You can also use this design feature in a primary bath to enhance the feeling of luxury when creating a spa-like space, as in this calming, contemporary bathroom.
The use of similarly colored elements throughout creates a tranquil and cohesive space. The pattern on the granite countertop adds just enough visual interest to stand out — a perception that is only enhanced by the waterfall design.
If you love granite and want your countertops to make a major statement, a waterfall edge is a great option to consider. When you're ready to choose the perfect stone variety for your home upgrade, simply visit an Academy Marble & Granite showroom in Connecticut or New York to speak with a qualified professional.