Going Green? Check Out These Sustainable Countertops for Kitchen and Bath
While plenty of homeowners are dedicated in doing their part to protect the environment, they don't necessarily want to rewind the clock on modern innovations when it comes to the style and aesthetic of their home. The good news is that there are plenty of ways to cut your carbon footprint while still enjoying a modern and beautiful kitchen or bath.
Whether you're choosing materials for a newly built home or you're renovating your current one, you may want to select materials that are sustainable, but offer long-term benefits, including durability and the option to recycle down the road.
If you like the look of natural stone countertops, but you want something with an environmentally friendly appeal, you'll be happy to learn that you can have the aesthetic you crave without betraying your eco-conscious ideals.
Homeowners that want to go green with countertop upgrades for the kitchen or bathrooms have several options to consider. Here are a few that deliver the upscale ambiance, functional appeal, and eco-friendly features that modern homeowners desire.
Locally Sourced Stone
Natural stone doesn't top the list when it comes to sustainability, due to the energy required to quarry stone and the impact of transporting it. With that being said, if you have your heart set on marble or granite, consider looking into slabs that are available locally or domestically. This can significantly reduce the impact of shipping stone from overseas and support local businesses in the process.
Texas, Massachusetts, Indiana, Wisconsin, and Georgia, are the top producers of granite in the U.S. and comprise 64% of the U.S.'s production. As of now, there are 276 quarries within 34 states.
Silestone ECO Line
Engineered quartz is one of the best choices for sustainable countertops in your home for a number of reasons. This durable surface is made from crushed quartz and other materials, which means that it isn't quarried the same way that natural stone slabs are.
In some cases, engineered quartz contains recycled materials left behind after quarrying other types of stone.
Highly functional and long-lasting, engineered quartz is a non-porous surface, which makes it safe and easy to clean. It's also resistant to etching, scratching, cracking, staining, heat, and UV fading, which means that it is ideal for busy kitchen and bathroom spaces in the home. Because it's so durable, it could last a lifetime.
Quartz also comes in a wide range of colors and patterns. Because the crushed stone that makes up 90% or more of the counter surface is mixed with polymers and resins that bind the materials together, it's easy to add pigments to make it look like popular natural stone surfaces, including marble and granite. This allows homeowners the opportunity to choose the look of the natural stone that they love in an eco-friendly package.
Silestone is one of the more popular engineered quartz options to begin with, but their ECO Line takes it to the next level. This line is made from 50% recycled materials, including crushed porcelain and earthenware, mirror glass, and vitrified ash. So how does it look?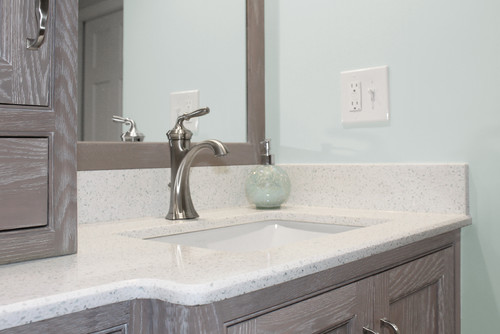 Take for example, this peaceful, transitional bathroom space that is bright and modern, thanks to custom oak cabinetry with a gray stain, which is topped by Silestone ECO Line quartz in White Diamond.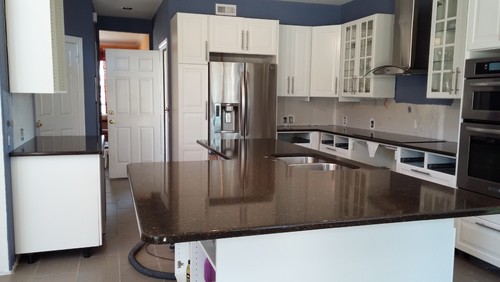 ECO looks equally stunning in darker hues, as evidenced by this contemporary kitchen that features bright white cabinetry that's offset by rich Silestone ECO in Terra. Not only does it match up to other quartz options, but it rivals the appearance of natural stone.
ECO by Cosentino
Considering that Silestone is a Cosentino brand, it's no surprise that the company has other eco-friendly options to offer. If 50% recycled material doesn't seem like enough, you'll be pleased to discover that the ECO line of countertop materials by Cosentino contains 75% of the same recycled materials found in Silestone ECO.
What's more, 94% of the water used during the manufacturing process is recycled, making the process incredibly sustainable. This has earned the line a number of eco-friendly certifications, including LEED, Greenguard, and Cradle to Cradle (C2C), among others.
Dekton Trilium
This ultracompact surface from another Cosentino brand is made from quartz, glass, and porcelain, delivering a durable and non-porous surface for kitchens, bathrooms, and other places with countertops. The Trilium surface is particularly notable because it is made from up to 80% recycled materials, including leftovers from previous Trilium production runs.
The rustic appearance of this surface material — which is available in shades of gray, brown, and black that are meant to mimic volcanic stone — works well with a variety of design styles.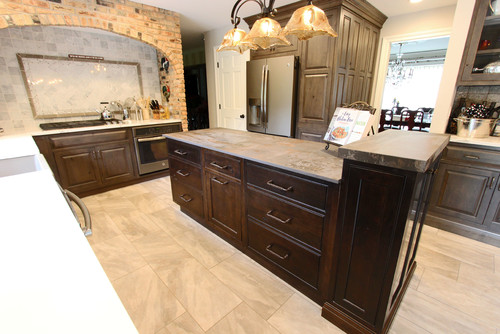 It looks just as good in this
rustic, transitional kitchen
, paired with dark wood cabinets and brickwork.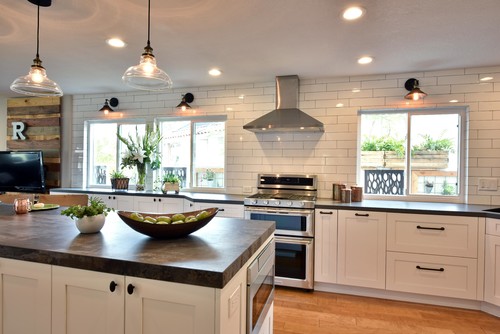 Or check out this modern, industrial kitchen for inspiration, which features white cabinets and subway tile backsplash, stainless steel appliances, and glass lighting fixtures.
Porcelain
It's hard to deny the appeal of porcelain countertops for kitchen and bathroom spaces, considering that porcelain is resistant to heat, staining, scratching, etching, and UV fading. These countertops don't typically require a sealant and they come in a wide range of colors and patterns, including options that mimic the look of popular natural stone.
Made from kaolinite clay, this surface material is not only relatively eco-friendly, to begin with, but it's also completely recyclable. With so many green options to choose from, you should have no trouble finding the eco-conscious counter surface that's just right for your home and your sensibilities.
When you're ready to start your remodel, the experts at Academy Marble & Granite can help you select the perfect materials. Contact us today to get started or visit one of our conveniently located showrooms in Bethel, CT or Rye, NY.