How to Expertly Pair Silestone Calacatta Gold in the Kitchen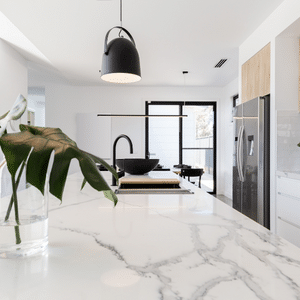 Part of Silestone's Eternal Collection, the Calacatta Gold quartz design is meant to imbue your living spaces with all of the beauty and character of natural stone, including variations in color and veining similar to what nature creates. In other words, you'll get the originality you desire, paired with the many benefits inherent to non-porous, damage-resistant quartz that is durable and easy to clean and maintain.
Calacatta Gold quartz, as expected, mimics the look of Calacatta Gold marble, with a pure white background marked by sparse, thick veining, as well as thinner veins in pale gray. Golden highlights dance throughout, adding subtle flair and warmth to this appealing countertop material.
What you're sure to love most, however, is the versatility of Calacatta Gold, which makes for an elegant addition to tonal, white kitchen designs, a striking counterpart to darker elements, and a perfect complement to more colorful kitchen spaces.
How can you pair it like a pro in your kitchen? Here are a few concepts to kick off your home project.
Graceful White and Gold
If you're looking for classic elegance in a bright and airy kitchen space, you really can't go wrong with a tonal white motif, elevated by glimmering gold fixtures and hardware. Calacatta Gold quartz is the ideal countertop material for this interior design choice because of its pure white background and golden accents.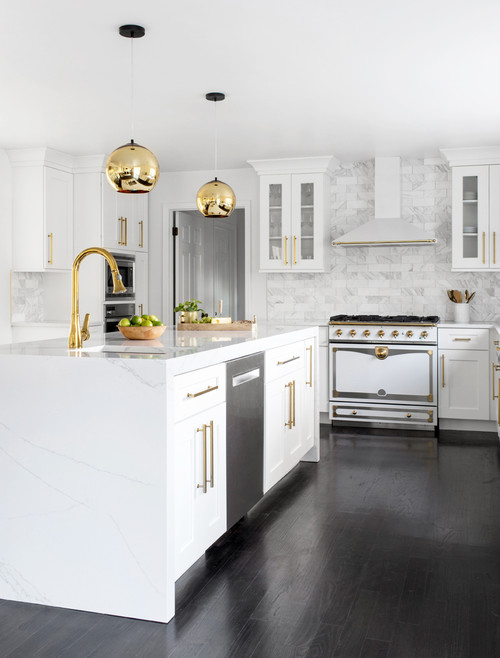 Consider the beauty of this transitional New York Kitchen, featuring bright white cabinets and Silestone's Calacatta Gold countertops, including a massive waterfall island. The dark wood flooring grounds the airy kitchen design, while pale gray marble backsplash tile mirrors the veining on the counter surfaces. Gold door and drawer hardware,  faucet and lighting fixtures elevate the entire design, creating a timeless sense of style and luxury.
Sophisticated Black and White
There's no more classic design pairing than black and white, especially when it comes to the kitchen. The stark contrast creates instant visual interest and a clear delineation of spaces. It also lends an air of sophistication to your overall design when done right.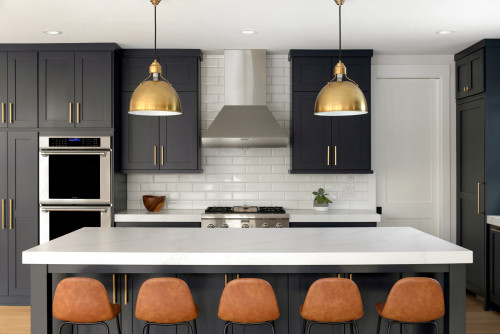 This modern transitional kitchen offers an ideal example of a fresh way to do black and white, with suede finish Calacatta Gold quartz countertops and cabinetry in soft, iron-like black.
Not only do the colors and finishes create a gentler, more livable version of the traditional black and white aesthetic, but elements like burnished gold pendants and door and drawer hardware – as well as bourbon leather chairs and light wood flooring – lend a charming patina and warmth to an otherwise austere space.
Warming Up with Wood
Cool, white and gray countertops might not be your first pick to pair with wood, but the delicate addition of golden highlights in Calacatta Gold quartz ensures a good union with warm wood tones, as seen in this inviting modern kitchen.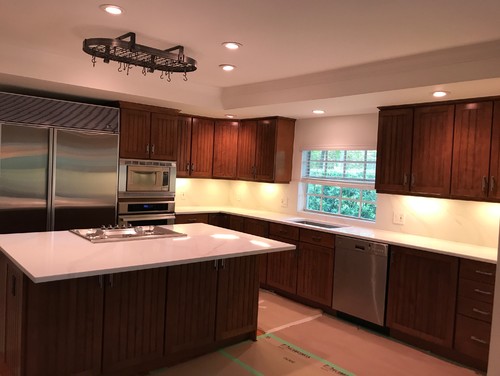 The dark, cherry finish of the cabinets serves as a striking counterpoint to expansive white countertop surfaces, including a large island and perimeter counters that extend vertically into the backsplash. Stainless appliances draw on the gray in the countertops, while black hardware recedes – rather than standing out – against dark cabinetry.
Give Up on Gray – Go for Periwinkle
Pantone has dubbed periwinkle the "it" color for 2022, calling it the happiest of all blues. This purply-blue hue, which features violet and red undertones, is vibrant and versatile, pairing well with both cool and warm palettes.
Whether you go all out with periwinkle cabinets, you limit yourself to a backsplash, or you play it safe with accessories in this creative color, you'll find that periwinkle is the perfect complement to Calacatta Gold countertops in your kitchen.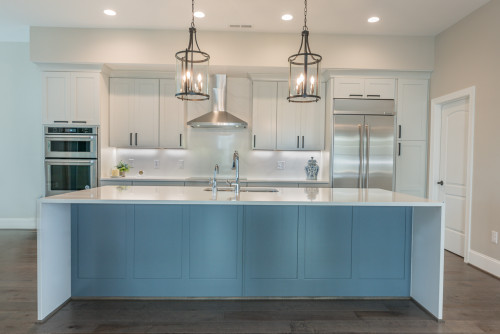 This modern kitchen remodel features a touch of blue-gray cabinetry for the island, paired with a waterfall countertop and perimeter cabinets in a soft white shade, but you can use it to get an idea of how an accent in periwinkle might look. Just imagine the blue in a more vibrant hue to add loads of inspiration and personality to your space.
Make Them Green with Envy
Green hues have dominated design over the past couple of years, and while you may be a little late to the party, you can still take advantage of this design trend in your kitchen when you choose Calacatta Gold quartz countertops.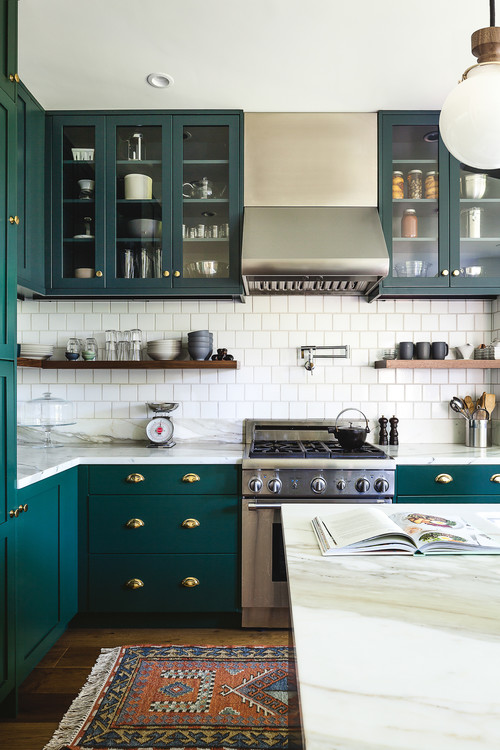 If you're drawn to the saturation of jewel tones, you're sure to love vibrant teal, as seen in this transitional kitchen remodel, where both stainless appliances and gold hardware pull from colors in the countertop surface.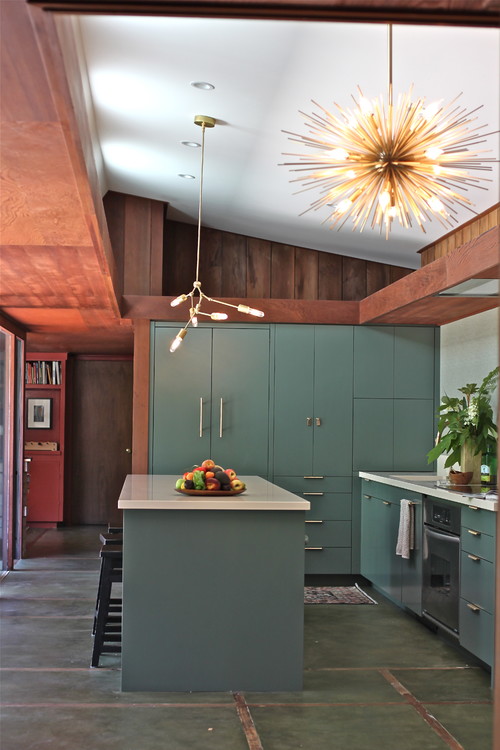 If a bold color choice is a little too far outside your comfort zone, you can always tone it down with a soft, sage green, like the muted, gray-green cabinets in this mid-century modern kitchen. The countertops pictured here are in Silestone Haiku, a creamy, off-white hue. Choosing brighter Calacatta Gold would simply add a bit more pop and eye-catching appeal.
Academy Marble & Granite has the quartz countertops you're looking for, as well as the expertise to help you choose the perfect options for your kitchen upgrade. Check out our portfolio for design inspiration or visit one of our convenient showrooms in Bethel, CT, or Rye, NY today!