Santa Cecilia Granite: A Sure Bet for Most Any Kitchen Design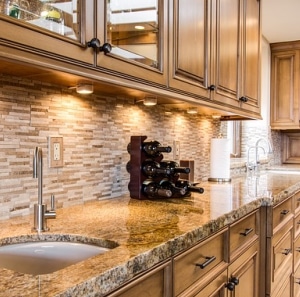 Granite has long been a solid choice for kitchens, especially given the variety of different granite colors and slabs available. Although it is commonly used for kitchen countertops, people also love it for flooring, tiling around a fireplace, as a backsplash or even in the bathroom around the tub since granite can withstand all the elements, which even makes it an ideal option for outside use. But among all the granites, Santa Cecilia Granite has established itself as a popular choice among homebuyers and designers looking for an always satisfying, versatile natural stone surface.
Reputation
Those in the know will have heard of Santa Cecilia granite, St. Cecilia or "Venetian Gold". It is one of the oldest stones in existence and has quickly become one of the most popular and sought-after granite styles.
Appearance wise it is heavy, hard and dense but absolutely gorgeous with its signature soft, beige color with speckles and veins in shades of burgundy, gold and deep, dark grey. It is named after St. Cecilia, the patroness of church music that brings beauty to the ears of all, and while it might not necessarily appeal to ears, it most certainly appeals to the eyes.
Low Maintenance and Durable
Santa Cecilia granite is the perfect granite choice for a high traffic kitchen, whether it be entertaining or busy parents with active children, given its durability and low maintenance characteristics. With a simple mix of water and mild soap or a granite countertop cleaner, daily care and maintenance could not be easier – a huge time saver for active households!
Versatile Color of Santa Cecilia Granite
There is no way one to describe the specific color of St. Cecilia granite. The bedrock of the stone gives it an overall creamy tone, but the variations formed inside the granite can range from a light or off-white through a light cream, to a dark color and even gold. The most defining feature of this granite are the black mineral deposits; they can range from a pure black to a very deep and dark red color and can cover up to 30% of the stone. Part of its allure is how the dark black or burgundy contrasts against the soothing cream base, resulting in a nice blend of visually appealing scene.
Rare Santa Cecilia Stone

Rare varieties often have orange or taupe stripes running through the granite. Just like with any other type of granite, it's important to keep in mind that no two granite slabs will look the same or have the same pattern. Also, depending on the light source and how it catches the slab, St. Cecilia granite shines in different colors.

Santa Cecilia White Granite

Interestingly primary colors of Santa Cecilia granite are gold and white. The gold color is due to the oxidization, as mentioned and comes from deep depth quarries, while the white granite is from bigger depth quarries.

Brazilian Santa Cecelia Granite

Some suppliers may offer a similar version of Santa Cecelia granite, but the true variety from Brazil showcases a beautiful beige background with burgundy, gold and dark gray veins. This durable polished slab granite is recommended for all indoor and outdoor projects including walls, countertops, landscape features, and flooring.
Santa Cecelia Granite establishes an elegant look while providing flexibility in color and application, making it a go-to choice for designers and homeowners in their modern or classic interior designs.  We invite you to visit the Academy Marble warehouse to see the true beauty of Santa Cecilia Granite for yourself!  Please contact us to schedule a warehouse tour.