How to Factor in New Countertops During the Kitchen Remodel Process
The kitchen remodel process can be an exciting but stressful affair. On the one hand, you get to update everything to provide for modern amenities and styles as well as suit your personal preferences.
On the other hand, there are dozens of details to juggle. While picking materials is fun, you also have to incorporate a range of practical considerations, from strength and durability, to how well all of the elements work together to create a cohesive whole.
Luckily, you don't have to go it alone or reinvent the wheel. When you follow tried-and-true processes, you can find the statement kitchen countertops of your dreams and easily factor this element into your kitchen remodel.
Create a Kitchen Remodel Budget
While you don't necessarily want cost to be your first or only criteria, it's certainly important, and knowing what you can afford to spend up front helps you to allocate funds to different design elements accordingly.
If you want to splurge on a rare and exotic natural stone countertops, island, and backsplash, like the Butterfly Green granite in this modern kitchen, you might have to cut back in other areas.
Alternatively, you could opt for a practical and affordable quartz countertop that mimics the look of popular natural stone varieties like Calacatta marble or Carrara marble in order to stretch your budget to upgrade other elements like cabinets, appliances, or fixtures. With a solid budget in place during your kitchen remodel process, you can more easily determine how best to spend your money.
Choose Your Kitchen Countertops First
Countertops are often where homeowners elect to make a statement. While you might go for a bold cabinet color, this foundational element is more often left neutral, with white, black, or wood tones. The good news is when you choose neutral cabinets, you can go all out with counter styling.
Whether you love the beauty and movement of marble veining, you prefer the color and dimension of granite, or you're interested in exploring the many options available in quartz these days, the right counter surfaces can draw the eye and act as the lynchpin of your entire design.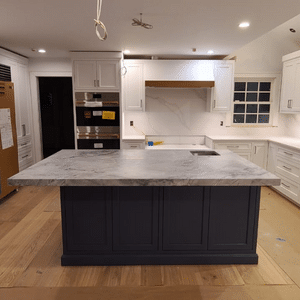 Consider Your Home Style
One aspect of design you'll want to consider when choosing a countertop material is your home style. While mix-and-match is becoming more acceptab
le, you don't necessarily want to install an ultra-modern kitchen in, say, a Victorian or Colonial-style house, as it could stick out like a sore thumb.
That said, some materials offer incredible versatility. Consider this traditional New York kitchen featuring marble counters and backsplash in what looks to be a Calacatta or Statuario variety of marble.
The timeless appearance with a white background and variable gray veining feels just right with embellished white cabinets, dark wood flooring, and fixtures like a crystal chandelier.
Compare that to this sleek, modern New York kitchen, featuring Glacier White Corian quartz counters and a backsplash in Statuario marble, paired with glossy, flat panel cabinets and pale, nude wood tones. The marble is equally impactful in this setting but with a completely different vibe.
Consider Your Personal Style
Your home is an investment, and as such, you may be tempted to choose materials that are safe and neutral when remodeling, with the goal of eventual resale in mind.
However, if you plan to remain in your home for the foreseeable future, you might as well select countertops that reflect your personal style, even if what you love is something like the exotic Azul Macaubas quartzite counters and backsplash that define the style in this stunning Mediterranean kitchen.
Consider Your Lifestyle
When choosing kitchen countertops, don't forget to consider the role your lifestyle plays. Do you have a house full of kids and pets? Are you a messy cook that loves to entertain?
In such cases, you might want to choose a countertop material like quartz that's resistant to staining or dark options, like the Black Galaxy granite in this traditional kitchen, that will hide messes between cleanings.
Complete Your Design Before You Cut
Adhering to the "measure twice, cut once" principle is incredibly important when it comes to countertops. If you change your mind about the layout of the space or the size of your sink after your counters have been cut, you could find yourself facing both significant delays and cost increases.
It's imperative that you take the time to nail down your design, including layout and specific elements, before you cut and install countertops. It could save you time, money, and heartache during your remodel.
Coordinate with Contractors/Installers
Once you've completed your design, all that remains is to coordinate with the many suppliers and contractors involved in making your kitchen remodel happen. These professionals will help you understand the appropriate order of events and nail down demolition and installation dates.
Are you ready to start a kitchen remodel process?
Visit an Academy Marble showroom in Bethel, CT, or Rye, NY, to pick the perfect marble, quartz, or other countertop selection.