How to Pair Cherry Cabinets and White Countertops Effortlessly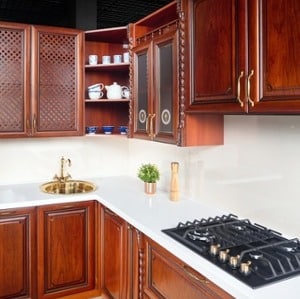 If you're in the beginning of a kitchen remodel or update, there are a lot of factors to consider along the way. Everything from choosing the right countertop surface and color to coordinating it with the other components in the room can be challenging. One question we are often asked by homeowners is how to pair warm, cherry kitchen cabinets to white kitchen countertops, as cherry cabinets are a popular design staple in the kitchen.
Cherry wood adds incredible warmth to any interior, thanks to its handsome orange and red undertones, but it's most often paired with dark countertops, particularly in golden or brown tones. 
If you're interested in white countertops, you might not know how to pair them with the attractive cherry cabinets that have caught your eye. Here are a few of the ways to get the contrast and cohesion you want when you combine cherry cabinetry with white countertops in your home.
Consider Cabinet Color
Like most kinds of wood, cherry comes in a range of colors. You can opt for cabinetry in medium tones that skew golden or orange, choose a deeper shade of russet, or go much darker with a black cherry look. Finding the perfect pairing for cherry cabinets and white countertops could largely depend on the precise tones that you choose.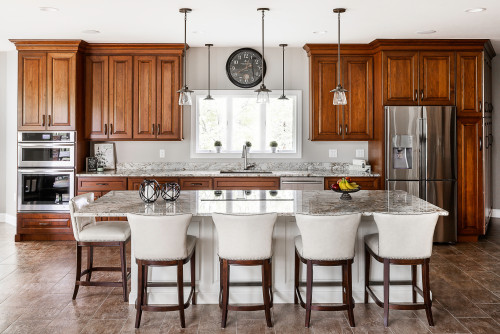 For example, if you like the lighter, golden orange appeal of a mid-tone cherry finish, you'll want to complement it with a slightly warmer white, as cooler tones are more likely to clash. Consider this traditional cherry kitchen that features medium, orange-leaning cherry wood paired with a Bordeaux granite.
The cream, brown, red, and burgundy hues of a Crema Bordeaux or the cream and coffee tones of a Typhoon Bordeaux, for example, beautifully complement warm wood. The distinctive pattern of these eye-catching granite varieties can add a lot of movement and visual interest, highlighting the contrast of a lighter stone against the backdrop of medium-tone cabinets.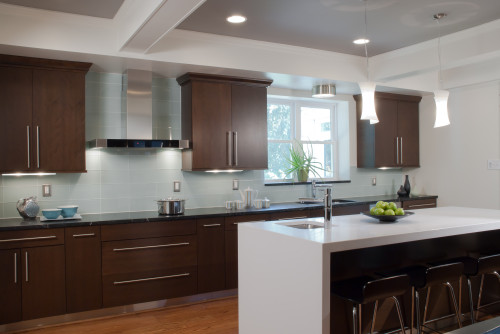 What if you want a brighter, whiter countertop or a cooler stone variety? Consider a darker stain for cabinets that will deliver a high contrast — closer to the black-and-white design style — as seen in this contemporary kitchen, where a clean wash of white quartz on the waterfall island stands out brilliantly against dark wood cherry cabinets below and around the perimeter.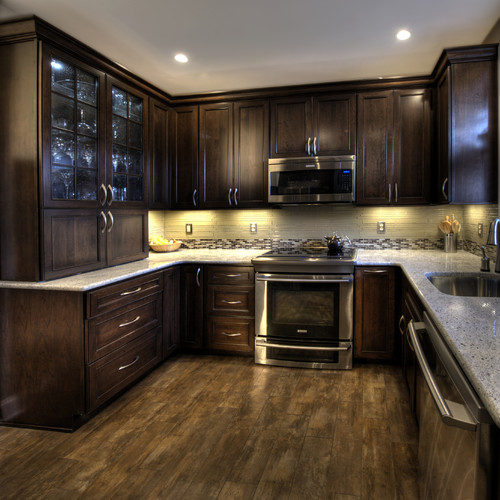 Darker wood pairs best with cooler whites, as you can see in this traditional row home kitchen, where dark cherry cabinets are topped with a white granite. If you have your heart set on a White Ice or Wisconsin White granite with a gray and black patterning on a white background or something like a Calacatta or Carrara marble, a darker wood is going to be a better offset to the cabinets.
Blend in White Cabinetry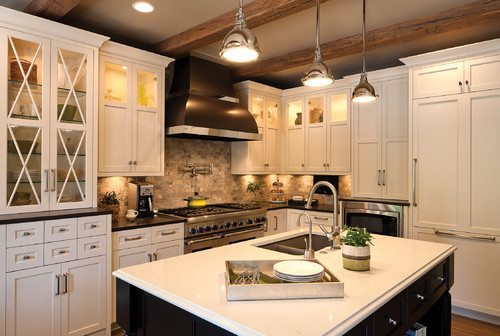 If you feel like the combination of cherry cabinets and white countertops is a bit too stark, you can always soften the overall look of the room by adding white cabinets that create a better balance of lighter and darker tones. This transitional kitchen space offers a stunning example of this principle at play, thanks to the contrasting island with perimeter countertops and cabinets.
While the perimeter showcases white cabinetry and dark quartz countertops, the island stands out with rich, dark cherry cabinetry that is topped with Caesarstone in Misty Carrara. The stone features a white background that's dotted with hints of gray for added dimensionality. You could even opt for lower cabinets in cherry woods and upper cabinets in white, especially when you use a patterned white stone to distinguish the countertop from the upper cabinetry.
Add More Color to the Mix
Although cherry wood cabinets can add some color to your kitchen, bathroom, or laundry room, wood tones are still essentially considered to be neutral. When paired with a relatively neutral, white countertop surface, this leaves a lot of room to play with color in your palette.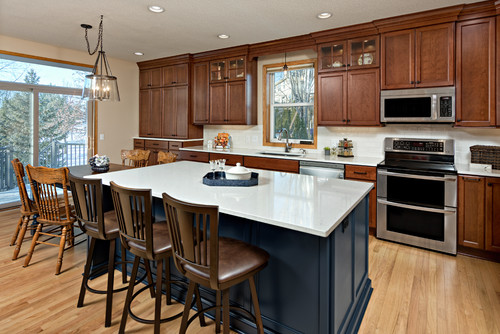 This is great news, as the introduction of color can help to bridge the gap between the white and wood in your design. It can even add a whole new dimension to your overall look, like you can see in the punched-up double island in this cherry and blue traditional kitchen. The blue of the island not only offers a classic color combo with white quartz countertops, but it acts as a stunning counterpoint to the red tones in the surrounding cherry cabinets.
Even so, white countertop surfaces stand out stunningly against the island and perimeter cabinets. The overall effect is dazzling, creating a sophisticated look for any homeowner who wants to add a splash of drama and dimension to their space with the simple addition of a single, bold color.
By carefully selecting cabinet and countertop colors that work together, you can create a look that you'll love using cherry cabinets and white countertops.
Ready to Update Your Kitchen Countertops?
With so many options to explore, you can design a gorgeous kitchen using countertop surfaces that seamlessly match your home. We would love to help you pick the material for your next project. To request a complimentary consultation with one of our design experts, click here.