What to Expect During Your Countertop Installation New York
Anyone who has undergone home renovations knows it's no walk in the park. Even quick renovations can entail days or weeks of appointments with contractors, demolition, noise and dust, and the inability to use a portion of your home while it's under construction.
While upgrading countertops alone isn't as intensive as, say, an entire kitchen or bathroom renovation, it's still going to cause some disruption to your life. Of course, you might be itching to remove outdated, unsightly, or damaged counter surfaces and refresh your space with materials that are strong, durable, and more suited to your personal style.
The good news is countertop installation in New York is much easier when you fully understand the process, so you can plan accordingly. Once you've chosen the natural stone, engineered quartz, or porcelain that best meets your practical needs and aesthetic preferences, counter specialists will help you to determine the design and take accurate measurements before fabricating and installing new counters.
Here's how it works.
Choose Your Preferred Counter Surface
The best place to start is by considering different countertop materials. Knowing what type of counter surface you prefer can help you to figure out a budget and, in some cases, a timeline for product delivery and installation.
Natural stone is always a popular choice, and white marble is particularly desirable due to its versatility, luminosity, and timeless appeal.
If you love Calacatta and Carrara varieties but you're looking for something a bit off the beaten path, you could always opt for something like a Lilac marble, as seen on the counters and backsplash in this contemporary East Village kitchen. It's still relatively neutral but has more personality and a statement style.
For outstanding strength and durability, paired with a non-porous, food-safe surface, you might also consider a practical selection like engineered quartz or porcelain. Both can be made to look like natural stone varieties, or you can select a completely unique design.

Layout and Design
Now that you have an idea of the counter material that will work best for you, the next step in your countertop installation in New York is figuring out the layout and design of your kitchen. If you're happy with the existing cabinetry or on a tight budget, keeping the layout the same could help you save time and money.
On the other hand, you may be fed up with a layout that doesn't flow or function well. You might have a lot of space to work with that allows you to change it up. Perhaps you want to tear out a peninsula and cramped breakfast nook to install a large island with seating and modern blue-gray quartz countertops, like in this New Rochelle transitional kitchen.
Nailing down the layout and design early on, in addition to the preferred materials, is essential to ensuring a speedy installation process and staying on budget. Making changes down the line can lead to a lot more expense and a longer timeline.
Measurements and Templates
You know the old adage: measure twice, cut once. This rule of thumb is baked into any design process because mistakes can be incredibly costly. The good news is that you can typically rely on your counter installation team to manage the measurements for you and create professional templates to ensure that every cut is accurate.
Fabrication
Now that all the important decisions have been made and measurements have been taken, the actual work of creating your countertop can begin. Whether you've chosen a slab of marble-look porcelain, like the surfaces in this contemporary kitchen, you've selected actual marble, or you prefer engineered quartz, your unique slab or slabs must be cut, edged, and polished to your specifications.
Some counter materials will have more options for edge styles or finishes (polished, honed, leathered, antique, etc.), while others might not have as many. These details may or may not add some expense and time to the fabrication process. Planning ahead means you'll have a better idea of what fabrication entails when the time comes.
Countertop Removal and Installation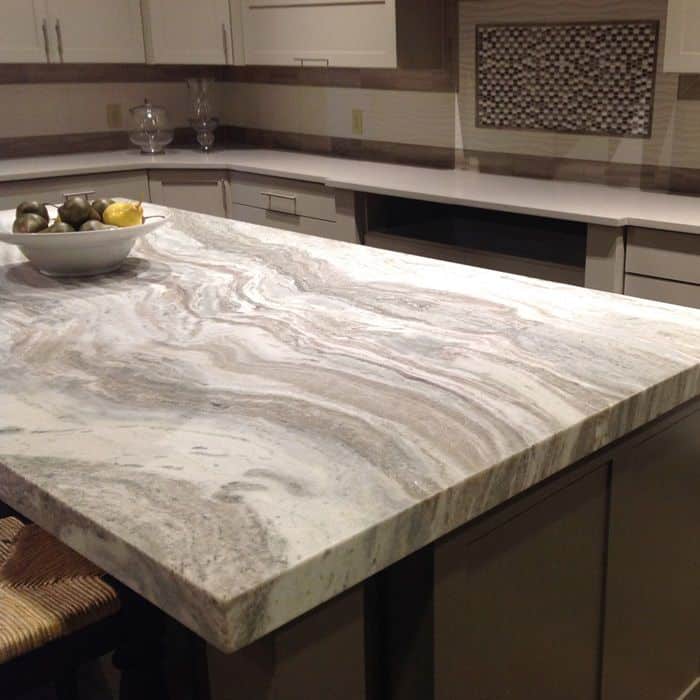 Before countertop installation in New York can proceed, you'll need to remove old counter surfaces, or if you're conducting a more intensive remodel or renovation, you'll have to arrange for demolition. Removal or demo should be scheduled to line up with the installation of the countertops (and cabinets and other foundational elements like flooring, electrical, or plumbing) so that you can minimize downtime when your kitchen is unusable.
Revamp Your Kitchen
Several steps are involved in the countertop installation process, but with help from a trusted counter specialist like Academy Marble, you can plan accordingly and minimize hassle. Visit one of our showrooms in Bethel, CT, or Rye, NY, today to choose your favorite countertop material and get the ball rolling.