Trending Natural Stone Fireplace Ideas for 2023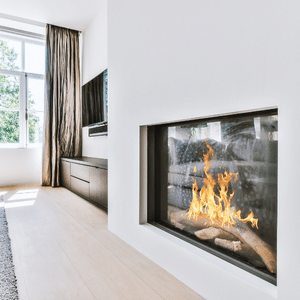 For some homeowners, a fireplace is a luxury item that creates a stunning centerpiece for the family room. For others, it serves as a very real and practical source of heat during the cold winter months.
Fireplaces may burn wood or run on gas or electricity. Some are merely decorative, giving off no heat but helping to create a cozy ambiance. Whether your fireplace is functional or cosmetic, it can be an attractive feature not only for prospective buyers down the line but also as the focal point of your interior design.
While there are many timeless designs that still look fantastic after hundreds of years, your fireplace can also look outdated, tying your interior to a specific era. If you're searching for an upgrade that better suits your style and modern trends, there are plenty of ways to include the luxury and value of natural stone in the process.
Here are just a few fantastic stone fireplace ideas that are sure to create the chic or cozy vibes you're looking for.
White Marble Fireplace
Creamy, luminous, white marble varieties are not only a classic addition to any home, but they've become a popular modern addition to kitchens and bathrooms of late as well, thanks to gray taking over as the "it" neutral of the last few years.
Stunning varieties like Calacatta and Carrara that feature bright white and soft gray hues are timeless options for fireplace surrounds.
This transitional living room space offers a great example of how to add traditional marble in a modern way.
The simple, low-profile design in Statuario marble takes up a sizeable, but not overwhelming, portion of the wall and creates a central focus for the seating area. It mimics the cool, gray-and-white color palette and upscale vibe of the room.
Then, there's this midcentury living room, which offers an altogether different take on using white marble.
While it also features clean lines and a relatively minimalist aesthetic, the floor-to-ceiling Calacatta Gold marble fireplace wall pairs perfectly with the golden-toned wood that dominates the rest of the space, including the flooring, ceiling, and shelving.
Overall, white marble is an incredibly versatile choice for modern design applications.
Black Marble Fireplace Surround
If you want your fireplace to make a statement, there are few better ways to do it than with a massive, monolithic slab of black marble that spans two stories of vertical space, as in this double-height transitional living room. The marble, which looks to be Black Marquina or a similar variety, stands out in high contrast against the neutral walls and décor, primarily in white, beige, and gray.
While the wall itself pulls your focus, the inset ribbon fireplace and flat-screen TV do not — they are camouflaged by the marble. This makes for a great way to have modern electronics in plain sight without necessarily calling attention to them.
Moody Granite Stone
Marble may offer the classic appeal of traditional luxury, but there's also no denying the depth, dimension, and drama of granite, which can help to create a definitive statement style in your modern design.
If you're looking for dynamic, eye-catching patterns that will draw your attention but not necessarily dominate the room, then you're sure to appreciate the trendy fireplace surround in Labradorite Jade granite featured in this traditional family room.
This green and black granite, with shiny flecks of mica throughout, is a stunner in and of itself, and it certainly stands out against the white cabinets that flank it and the pale bricks in the firebox. However, the effect is subdued somewhat by the corbels, mantel, and over-mantel in a complementary, green-gray hue.
Soothing Gray Granite Fireplace
While you might be willing to take some risks with statement stone for a fireplace in a common area of the home, like the living room, you'll likely want to go with something more tranquil for your bedroom, if you're lucky enough to enjoy a fireplace in this private living space. The fireplace wall in this contemporary New York bedroom is ideal.
Unlike many lively granite varieties, this gray granite offers little to no variation, creating a smooth expanse that's incredibly calming. Paired with soft neutral walls and décor, along with rustic wood beams and warm, rich wood flooring, the overall aesthetic is modern Zen.
Contrasting Stone for the Fireplace
If you're having trouble deciding on a stone you like, you can always take a mix-and-match approach to your fireplace design, like the one featured in this traditional living room.
This design gives you an idea of the impact you'll have when you nest a border of dark stone, such as leathered antique brown granite, inside a larger fireplace surround by a lighter stone — in this case, polished rainforest-green granite.
The effect is incredibly eye-catching and dynamic, so you're definitely going to make a statement with this type of design.
When you're ready to choose the modern marble, granite, or other stone that will give your fireplace a standout style, the qualified professionals at Academy Marble & Granite can help you select the best options for your home. To learn more about creating your dream fireplace, contact us today.