Tips for How to Match Countertops and Backsplash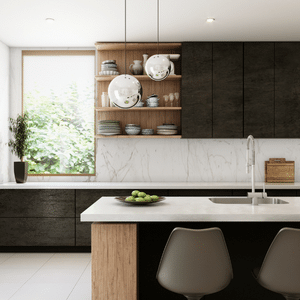 Starting a kitchen or bathroom remodel is fun and exciting. Once you start looking at flooring, cabinets, countertops, fixtures, and other design elements, you can quickly become overwhelmed with choices. 
Never fear! Like any journey, take it one step at a time. A good place to start is by choosing your countertop material. That often serves as the focal point of a room. After that, you can choose a complementary backsplash, and soon the other pieces will fall into place.
Here are a few tips to help you kick off your kitchen remodel right with the perfect countertop and backsplash combo.
Start with the Countertop Material
Whether you prefer natural stone like marble or granite, or you love engineered quartz's aesthetic, an eye-catching countertop frequently serves as the showpiece of a kitchen or bathroom design. This is the perfect place to start when choosing the elements that will make up your new space.
You'll bring incredible personality to your kitchen or bathroom. With a beautiful black Nero Marquina marble, a pattern-heavy Alaska White granite, or even a Carrara look-alike quartz.
After choosing your countertops, you simply have to select elements to support them, starting with backsplash material.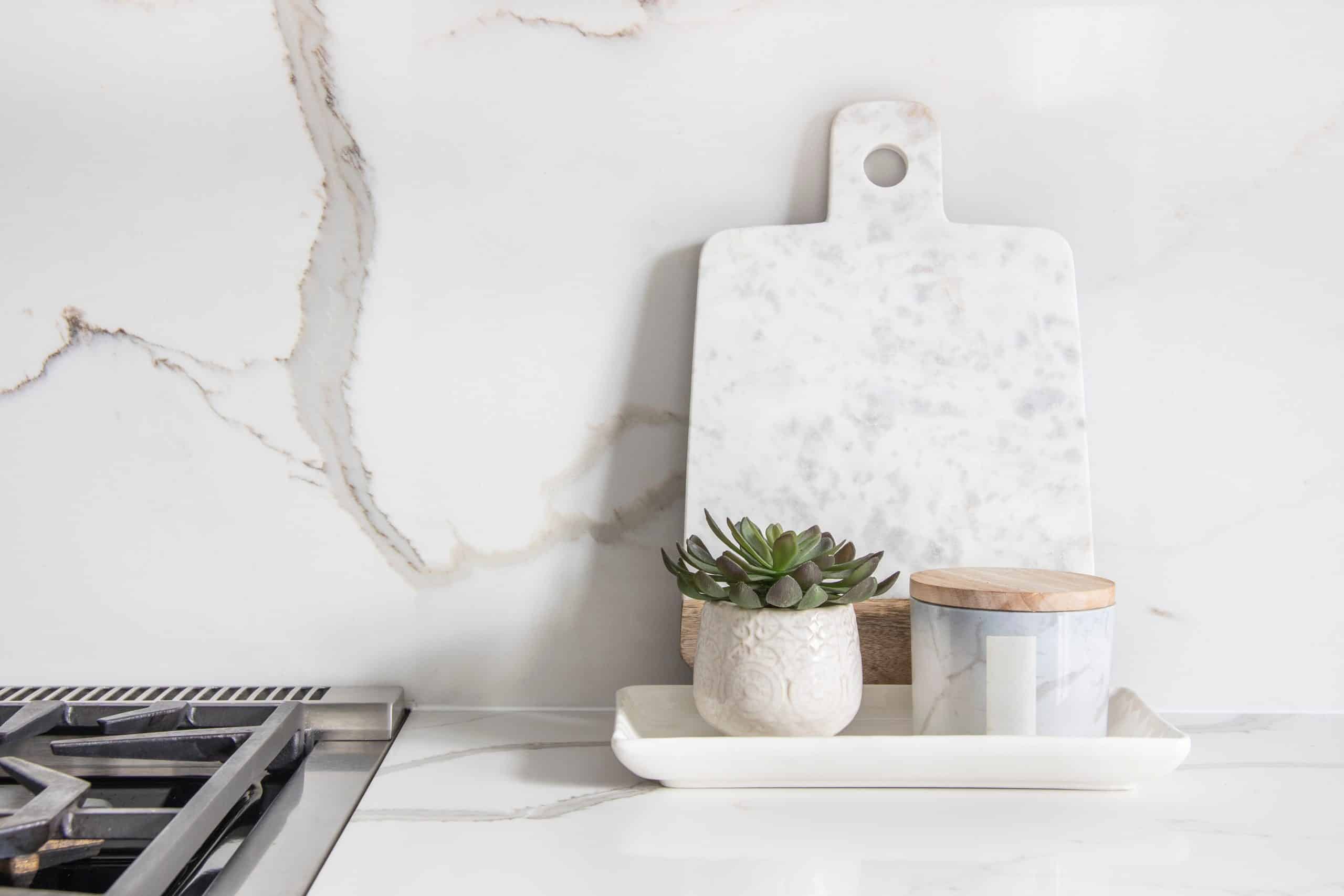 Use the Same Material
There's something to be said for a cohesive design. One that enhances the visual impact of horizontal surfaces by extending them into the vertical plane. This New York transitional bathroom offers a prime example.
The use of Calacatta Gold marble is extensive, to be sure—it accounts for the sink/counter area, walls, flooring, and even the tub and shower. The only accents are flat-panel wood cabinets, a large mirror, and a white ceiling.
Even so, the large-scale veining and three-color palette (white, gray, and golden tones) create enough visual interest to deliver a timeless space. Choosing the perfect stone is essential to strike a balance with this much coverage.
This New York apartment kitchen offers a more practical and subdued option. The marble extends from the countertops up into a tiled backsplash, adding a patterned contrast to the bright white cabinets.
Pull Color from Your Countertop
In this traditional kitchen, the backsplash tile in variable shades of pale gray matches the gray veining in the polished Carrara marble countertops—tying the two elements together.
White perimeter cabinets offset the gray tones, making upper cabinets pop from the background and creating depth in the design. The darker island cabinetry creates a focal point in the room, while dark flooring grounds the primarily light-hued palette.
Create Contrast and Visual Interest
The pristine, all-white kitchen is a popular design choice, but when your space is all one color, with no contrast, it can look flat, lacking in personality. Even in a tonal design, it's important to have some variation to create visual interest.
Offsetting the counter and backsplash is a great way to do this—provided the elements don't clash. There are a few options to consider. You can contrast different shades or you can use the same material for both like in the example below.
Make a Statement, but Self-Edit
It's not always easy to see the big picture when working with countertop and backsplash samples. Avoid going overboard with standout elements that compete visually and make your design seem chaotic.
Academy Marble & Granite is the perfect place to find the counter material—and perhaps even the backsplash—that's just right for your home remodeling project. Check out our portfolio to find design inspiration, or visit one of our showrooms in Connecticut or New York to speak with a qualified professional and get started today.