How to Select the Right Silestone® Quartz for Your Connecticut Home
There's a reason Silestone® is a leading supplier of quartz worldwide. Its products are designed to meet the needs of modern homeowners, with outstanding strength, durability, and resistance to common forms of damage like staining, scratching, etching, chipping, cracking, and more.
This non-porous, food-safe surface is ideal for busy households, and Silestone quartz is available in a wide range of attractive colors and patterns, some of which mimic the look of natural stone, while others offer unique characteristics.
When you're ready to upgrade the kitchen countertops, bathroom vanity counters, or other rooms in your Connecticut home, Silestone quartz is an ideal choice. How can you select the perfect design for your upcoming home improvement project?
Placement in the Home
The first thing you should think about is where your quartz countertops will go, as the placement could have some impact on the products you select. You might want a different look and feel for your kitchen than you'd choose for the primary bath or laundry room, for example.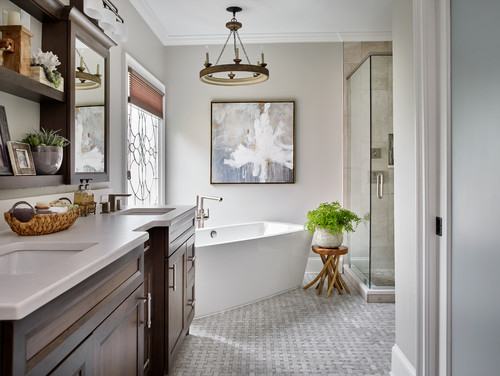 This primary bath retreat has a tranquil, spa-like ambiance, largely accomplished by the rich, dark wood vanity base with a creamy Silestone countertop in a matte finish, paired with floor tile in white and gray, a shower enclosure in beige and taupe, and hardware in both brushed nickel and antique brass.
The combination of cool and warm elements offers a zen take on modern bathroom design.
Functionality
The kitchen is the heart of any home, serving not only as a workspace for meal prep and cooking but as a gathering spot for family and friends to socialize. As such, the kitchen in your busy household really needs a countertop that's strong and resilient and is chosen, first and foremost, for function.
The good news is the design you select can contribute to both practical and aesthetic concerns.
Consider the gray countertops in this contemporary midcentury kitchen. Not only do they hold up to daily use because of a hardness level that matches the strongest natural stone counters, but the color will help to hide common messes like dust and grime until you have time to clean.
Additionally, the neutral hue offers a lovely transition from pale blue cabinets to a white subway tile backsplash.
Natural vs. Manmade Designs
While practical concerns should always come first, you certainly want to select a design that suits your overall remodeling scheme and your personal style. With Silestone quartz, you can choose from designs that mimic natural stone, pick something completely different, or try both, as in this industrial loft kitchen.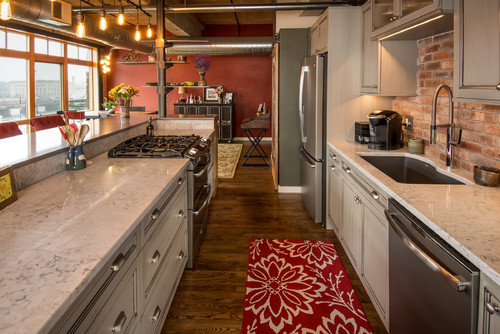 The perimeter and island countertops in Helix Nebula sport the appearance of soothing Carrara marble, while the bar-height counter backing the island features the concrete look of Grey Expo.
Paired with antique finish, off-white cabinets, a brick-look backsplash, and rustic, heavy-grained wood flooring, this design fully embraces the rustic tone of an industrial loft, paired with sleek, modern materials.
Pairing Silestone Quartz with Other Design Elements
In many interior design plans, a unique countertop brings statement style to the kitchen or bath. However, you may prefer bold cabinetry or flooring. How can you choose a quartz counter that won't compete?
This farmhouse kitchen is a perfect example of how to find the right balance. The knotty, golden French Oak island base, flooring, and ceiling beams dominate this kitchen design.
However, other elements, including white perimeter cabinets and countertops in Calacatta Gold from Silestone's Eternal Collection, keep the wood from overwhelming the space.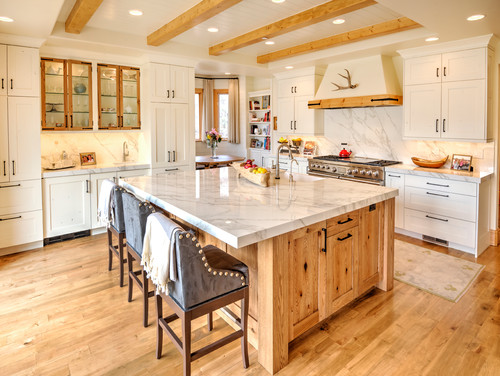 Making a Statement
One thing you'll have to decide when selecting the perfect Silestone quartz is whether you want a soft, soothing look or prefer to make a bold statement. You'll find options that suit both sensibilities.
If you're looking to elicit gasps of approval from anyone who sees your kitchen renovation, consider this contemporary New York kitchen featuring what appears to be Et Marquina quartz. The design is incredibly impactful, thanks to shocking white veins on an ebony background.
However, the real wow factor comes from the expansive usage for both island and perimeter countertops, as well as the backsplash. With grayish cabinets and white flooring and walls, the contrast is breathtaking.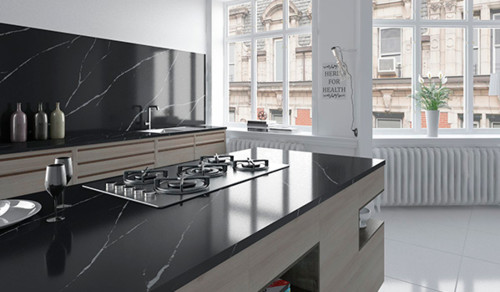 Representing Your Personal Style
Maybe you're drawn to a rustic interior featuring natural elements, or you love an industrial look with plenty of brick and metal. Perhaps you prefer the modern, coastal vibes of this sleek, contemporary kitchen, featuring white, flat panel cabinets, luminous Ariel quartz, and a backsplash in glass.
Whatever your personal style, you'll have no trouble finding a Silestone quartz design that perfectly suits your practical and aesthetic needs.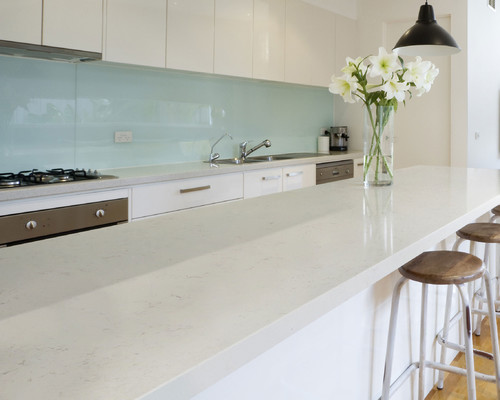 Selecting Your Silestone Quartz
The talented and experienced team at Academy Marble is always happy to help you decide which surface is best for your project and then guide you through the process, from selection through to installation. Visit one of our showrooms in Bethel, CT, or Rye, NY, to speak with our friendly and qualified team about using Silestone quartz in your home. Contact Us to Request a Quote.