Fantasy Brown Marble: Beauty and Functionality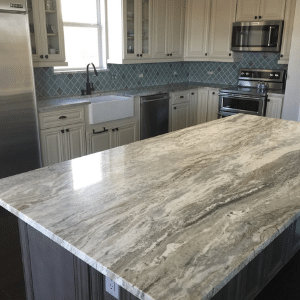 There's been a lot of contention over whether Fantasy Brown is granite, marble, or quartzite. While it features the river-like striations and soft coloration of marble or quartzite, you can't discount the hardness of the stone, which is more in line with marble.
Even so, the composition tends to have more of the calcium carbonate found in marble, as opposed to the silica that granite is largely composed of. Some say it most closely resembles a hard type of marble known as dolomite marble. It's a conundrum, to be sure.
No matter how you categorize it, though, there's no denying the beauty and function you'll enjoy when you choose this unique, high-variation stone for your kitchen countertops.
As with any major purchase, it's always best to start by understanding the pros and cons. Here are a few things you need to know about Fantasy Brown granite Countertops before installing them in your home.
The Neutral Colors Go with Everything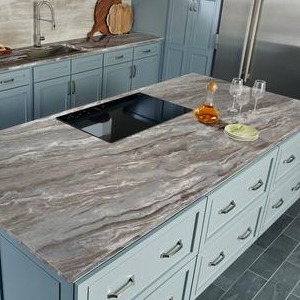 Perhaps one of the most attractive aspects of Fantasy Brown is the range of neutral colors on display. Browns are certainly present, as the name implies, but these patches are mixed with striations in white, cream, and gray tones.
These hues make Fantasy Brown an incredibly versatile stone. It works well with both cool and warm design palettes, as well as spaces that are generally neutral, like this luxurious transitional kitchen.
All of the colors in the room, including cream cabinetry, beige tile flooring, gray walls, and white trim, draw on colors in the granite, making for a cohesive and tranquil kitchen space.
Dynamic Patterns Are the Star of the Show
You might think a counter surface in neutral colors would be boring, but that's hardly the case with Fantasy Brown, which is renowned for bold patterning, like other granite varieties.
This high-variation stone features dramatic striations ranging from bright white to rich espresso and graphite hues, making for an intensely dynamic and eye-catching centerpiece.
The slab used for the island in this transitional kitchen is a great example. Thick bands of white and dove gray are broken up by darker rivulets, creating the effect of swift-moving river rapids. It's a breathtaking display that will add loads of personality to your space.
A Polished Finish Is Preferred
If you've chosen Fantasy Brown granite, it's probably because of the dramatic graining, at least in part. A polished finish will show these striations to the greatest effect. While you can certainly choose a modern, matte finish like leathered, honed, or antique, it simply won't appear as brilliant as polished.
Consider this rustic kitchen. Both the perimeter counters in Absolute Black granite and the island in Fantasy Brown have been treated with a leathered finish.
You can still see the pattern of the Fantasy Brown, but it's somewhat dull and muted. The matte look works much better for the featureless black granite, providing it with a slight texture that adds, rather than detracts, visual interest.
It Will Stand Up to a Lot of Abuse
Like most natural stone options, Fantasy Brown is strong and durable. While marble falls at 3-5 on the Mohs' hardness scale and granite comes in at 6-7, Fantasy Brown is somewhere in between.
Still, it's resistant to staining, scratching, etching, cracking, chipping, and other common damage that could occur in the kitchen setting. Whether you're banging pots on the countertop, your kids go crazy with the markers, or you're just dealing with the general spills and grime of daily cooking, Fantasy Brown stands up to wear and tear.
Proper Cleaning and Maintenance Is Necessary
If you want a countertop that will stand the test of time, you can't go wrong with durable natural stone. The only potential downside is that this material requires a little special care to prevent damage and preserve the pristine appearance of the stone.
When you choose Fantasy Brown granite, proper cleaning and maintenance are vital. For daily cleaning, warm water and a soft cloth will do the trick, or you could use a gentle cleanser like dish soap (as long as you rinse thoroughly to avoid filminess that could dull your finish). You'll also need to reseal regularly to prevent staining and other harm.
This Popular Stone Variety Is Readily Available
Quarried in Northern India, Fantasy Brown granite has become a popular choice for kitchens, bathrooms, fireplace surrounds, and more. It's not hard to see why when there's so much to recommend it, from its versatile, neutral coloration with dramatic patterns to its incredible strength and durability.
If you're ready to incorporate Fantasy Brown granite into your kitchen, it's time to speak with the qualified and experienced professionals at Academy Marble & Granite. Just visit one of our conveniently located showrooms in Bethel, CT, or Rye, NY, today to find the perfect slab for your kitchen upgrade.