5 Trending Kitchen Countertops in Connecticut You'll Want in Your Home
Connecticut is known for its breathtaking fall foliage, delectable seafood and syrup, rich history, and a surprising number of notable authors and poets. Stately and picturesque architecture is also part and parcel of this storied region. Connecticut is also known for its impeccable kitchen design, and countertops are the main statement of any kitchen.
While modern, minimalist design sensibilities don't tend to permeate interiors in this New England state, there are plenty of inventive and inviting styles to inspire your own home improvement projects.
Rustic, traditional, and coastal designs are all in ample supply, but modern homeowners are finding ways to update and elevate classic designs for functional and aesthetic improvement.
With a blend of old and new foundational pieces, from wooden flooring and cabinets to natural stone or quartz kitchen countertops, Connecticut's mixed designs are dominating. Here are a few trends you'll definitely want to explore when updating kitchen countertops in Connecticut homes.
Elevating Rustic Style
Simplicity and rough, natural elements are the hallmarks of rustic styling, which is often associated with the log cabin aesthetic. Neutral colors and textured materials like distressed wood, natural stone, and exposed brick are part and parcel of this style, as is an abundance of natural light and exterior views.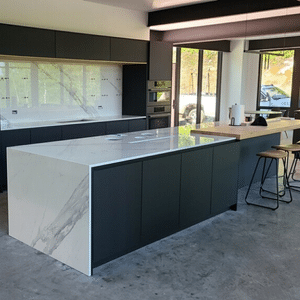 This style can feel heavy and dark, even with ample windows, which is why modern designers and homeowners are finding ways to elevate the form by mixing in more contemporary touches, as in this rustic Burlington kitchen.
Heavy-grained, responsibly reclaimed chestnut cabinetry with a honey stain could be overwhelming with other wood elements.
However, when paired with open shelving, a full-height backsplash in white subway tile, countertops in classic gray and white marble, such as Calacatta or Carrara, and beigey tile flooring in a sophisticated herringbone pattern, the overall effect is rich and warm but also light and uplifting.
Updating Farmhouse Design
Traditional farmhouse design can often feel quaint, precious, or kitschy. While some homeowners like the feeling of cozy familiarity this style promotes, and the grand millennial movement embraces the "grandma's house" aesthetic of calico, gingham, and doilies, many adults prefer a trendier take on the farmhouse interior.
This New Milford farmhouse kitchen adopts the classic, neutral palette with bright whites, nude wood flooring, and ceiling beams. However, the look is updated by open shelving, stainless appliances, a subway tile backsplash in dove gray, and pure white countertops throughout, probably in a modern quartz product like MSI's Arctic White.
Details, like turned legs and beadboard on the island and accessories like gingham dish towels and a trio of ducks, maintain the farmhouse aesthetic, while the overall design speaks to modern sophistication and simplicity.
Modern Design with Traditional Elements
The best contemporary interior designs of late tend to incorporate both traditional and modern elements in ways that feel fresh and cohesive. Take this modern Bridgeport kitchen, for example.
It's easy to see the modern elements on display, from pale, flat-panel cabinets, to stainless appliances, a mosaic tile backsplash in white and gray, and recessed lighting throughout. A quartet of contemporary glass pendants at varied heights over the island round out the modern touches.
Traditional elements are introduced through the chair selection, featuring riveted detailing; rich, dark wood flooring; and natural stone countertops, which look like a beige/gray quartzite with tons of movement from dynamic striations.
The clean lines throughout make the design feel incredibly modern, but the use of traditional materials and design in a few key areas add a comfortable vibe.
Embracing Color Trends
When you're working with a specific design style, like Tudor, you may be understandably hesitant to mix in elements that don't fit. However, with careful consideration and tasteful design, you can create spaces that observe tradition while embracing modern trends.
This transitional Tudor kitchen is a great example. Foundational pieces complement the structured, traditional feel of the home with dark wood flooring and sturdy, stately cabinetry.
This could feel a little staid if not for fun and unexpected touches like industrial pendant lighting, an island base in a rich navy hue, a picket fence backsplash tile in modern gray, and pristine, white countertops, likely in engineered quartz.
A Chic Twist on Coastal
The neutral, washed-out palette is common to coastal design is typically made more dynamic with the addition of rich textures and natural elements. However, you can also lean toward a more modern interpretation of the beachy aesthetic that incorporates clean lines, structured design, and ocean hues of green and blue.
This beach-style Connecticut kitchen gets the mix just right, starting with cabinets in a typical blonde wood but with a flat-panel design that speaks to modern minimalism.
The waterfall island, in what looks like bright white quartz, and the glass backsplash and island base in blue are in line with the coastal palette, but they imbue the space with a vibrancy that feels fresh.
On-Trend Kitchen Countertops for You
Homeowners in search of an outstanding selection of modern kitchen countertops in Connecticut will find just what they're looking for at Academy Marble. Visit a showroom in Bethel, CT, or Rye, NY, to speak with a knowledgeable and friendly team member today.