Shadow Storm Quartzite Offers the Cool Perfection of an Arctic Sky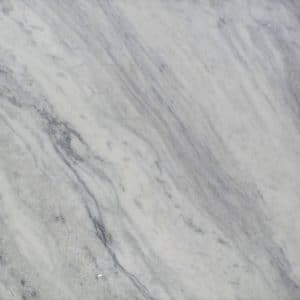 Shades of cool white and gray permeate this variable quartzite, which is quarried in Brazil. Similar to Carrara or Calacatta marble, this natural stone features a bright white background with intricate patterning in shades of pale to mid-tone gray.
Veining ranges from soft, feathery strokes to much more aggressive and striking striations, depending on the slab, so you'll definitely want to look at a few to find the best option for your home and your style.
Whether you're leaning toward the subtle, soothing whispers of misty gray or bold rivulets of pewter streaming across the surface, you'll find that Shadow Storm quartzite offers a surprising range of patterns to choose from.
This versatile quartzite pairs well with almost any interior design aesthetic. If you want a chic, all-white kitchen, even mild striations will serve to imbue your countertop surfaces with movement, adding depth and visual interest to an otherwise monochromatic palette.
It also contrasts beautifully against darker cabinetry if you favor a classic black-and-white motif. It acts as the perfect transition between black or gray lower cabinets and white upper cabinets. Shadow Storm quartzite will also stand out starkly in a more masculine design featuring darker cabinets throughout.
With cool undertones, this neutral isn't ideal with warmer wood tones, but it can look lovely with wooden cabinets in blonde or ashy hues. It's also stunning with colored cabinets in cooler shades, like jade, teal, indigo, or navy.
Shadow Storm quartzite pairs well with stainless steel appliances and fixtures in silvery hues like brushed nickel, but if you're looking for touches of contrast, consider faucets, door and drawer pulls, and lighting fixtures in black, antique bronze, or even bright gold. These options can add a modern flair and complement your Shadow Storm quartzite countertops in an unexpected way.
Although there's no denying the eye-catching appeal of this gorgeous quartzite, homeowners are sure to appreciate the functional benefits of this natural stone, as well. Quartzite is especially ideal for busy households and high-traffic areas due to its durable nature.
Often cited as the hardest natural stone for countertops, quartzite ranks at around 7 on the Mohs hardness scale, as opposed to granite (6-6.5) and marble (3-5). This means that it's incredibly resistant to scratching, etching, staining, chipping, cracking, heat, UV fading, and other forms of damage, especially when it is properly and regularly sealed and maintained.
If you love the look of Carrara marble but you're worried about the damage rambunctious kids might cause, Shadow Storm quartzite delivers the aesthetic you long for with the strength and durability you need.
Quartzite is easy to clean and maintain, whether you place it indoors or out. Oftentimes, wiping with a damp cloth is enough to remove daily dust, but you can also clean with warm water and gentle soap, rinsing thoroughly and wiping with a microfiber cloth to prevent water spots that could dull the sparkling surface.
If Shadow Storm quartzite is everything you want for your kitchen, bathroom, laundry room, or other countertop surfaces in your home, don't hesitate to request a consultation to learn more. You can also simply stop by our Bethel, CT or Rye, NY showrooms to view options today.